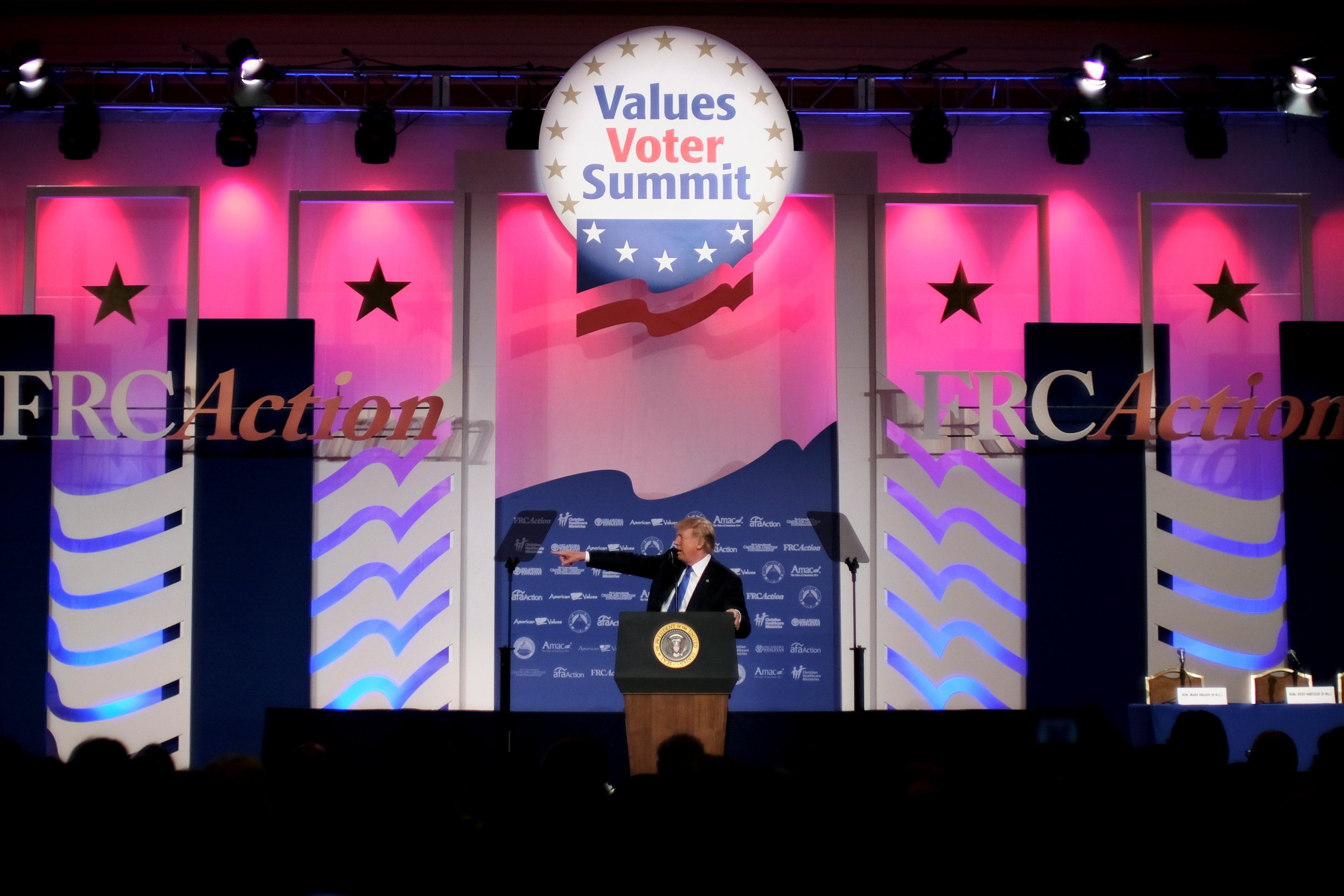 President Donald Trump told conservatives gathered Friday at the Values Voter Summit, an annual gathering of Christian leaders, that Americans "don't worship government, we worship God."
"George Washington said that 'religion and morality are indispensable' to America's happiness, really, prosperity, and totally to its success," Trump said. "It is our faith and our values that inspires us to give with charity, to act with courage and to sacrifice for what we know is right. Our Creator was invoked four times in the Declaration of Independence. How times have changed, but you know what? Now they're changing back again. Just remember that."
Trump, the first sitting president to attend the event hosted by the Family Research Council (FRC), a group that has been labeled a hate group by the Southern Poverty Law Center (SPLC), also boasted that his administration was making rapid progress in protecting religious liberty.
"We are stopping cold the attacks on Judeo-Christian values," Trump said, mixing in a now familiar refrain that Americans are "saying 'Merry Christmas' again."
During his speech, Trump returned to many familiar ideas from his days as a campaigner, when he worked aggressively to woo Evangelical Christians, many of which were initially reluctant to endorse a candidate with a vulgar, recorded history with women. They eventually came around, however, and helped him sweep states across the nation and win the White House.
The SPLC designated the FRC a hate group back in 2010, largely for peddling bogus science on LGBT people. As recently as last year, FRC wrote that "homosexual conduct" inherently harmed people's health.
"Family Research Council believes that homosexual conduct is harmful to the persons who engage in it and to society at large, and can never be affirmed. It is by definition unnatural, and as such is associated with negative physical and psychological health effects," the organization published on its website in 2016.
As a candidate, Trump promised a warmer approach to the LGBT community than previous Republican administrations, saying during his speech at the Republican National Convention, "As president, I will do everything in my power to protect LGBTQ citizens from the violence and oppression of a hateful foreign ideology."
One of the other speakers at FRC's Values Voter Summit this year is Brigitte Gabriel, the self-fashioned anti-terrorism activist that runs ACT for America, another group that has been labeled a hate group by civil rights organizations, specifically for the aggressively anti-Muslim rhetoric they use in propaganda and rallies. Gabriel is rapidly becoming an influential figure in far-right circles and helped organize a series of rallies this summer protesting against the alleged threat of the so-called creeping Sharia Law across the country. (Sharia Law, a form of strict Islamic Law, is not in place anywhere in the United States.) One of the rallies, scheduled to be hosted in Arkansas, had to be canceled after the SPLC pointed out that avowed neo-Nazi Billy Roper was set to host it.
"President Trump's speech was surely music to the ears of those who would like to use religion to justify discrimination against the LGBT community," Richard Cohen, president of SPLC, told Newsweek.
Gabriel, who was scheduled to speak at the Values Voter Summit later in the day, tweeted about Trump's speech, calling it a "knockout" performance. House Majority Whip Steve Scalise and former White House officials Sebastian Gorka and Steve Bannon were also invited to speak.