Trump Tells Iowans to Support His 2020 Reelection Bid: 'If We Don't Win, Your Farms Are Going To Hell'
President Donald Trump told a rally crowd in Des Moines, Iowa Thursday that if Democrats win the presidential election this year, their "farms are going to hell."
Trump was extolling the virtues of deals he had completed during his administration including a trade agreement with China, which is expected to purchase five billion dollars worth of American agricultural products.
"USMCA done, China done, for the farmers, it's done, I can tell you," Trump said. "You're gonna have to get bigger tractors and a hell of a lot more land. You're going to have to produce more."
While speaking about defeating his Democratic political opponents, Trump said that if Iowa doesn't vote Republican, their farms will "go to hell."
"We're going to win the great state of Iowa and it's going to be a historic landslide," Trump said. "And if we don't win, your farms are going to hell, I can tell you that."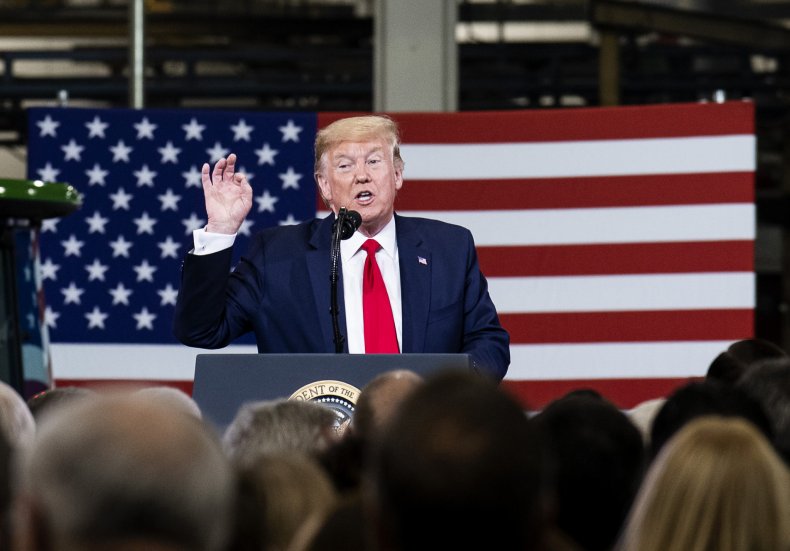 Trump won Iowa in the 2016 presidential election with over 50 percent of the vote. Trump referenced a recent New York Times/Siena poll that showed him leading the state, outranking his Democratic opponents.
"We're beating them like they've never been beaten before," Trump said. "It's all about the debates. They don't care about the farmer. Everything out here, they love Trump—and you should love Trump with what I've done."
Signed in January, the trade deal with China also saw the U.S. agreeing to cut some tariffs it had previously imposed on China in half instead of completely removing them. Trump said keeping the tariffs in place will allow for the negotiation of a second phase of the deal.
"I will agree to take those tariffs off, if we are able to do phase two," Trump said during remarks at the deal signing ceremony at the White House. "In other words, we're negotiating with the tariffs."
Trump did tout other aspects of the agreement during the signing, especially the agricultural aspect.
"The agreement tears down major market barriers for U.S. food and agricultural exports," Trump said. "China will now welcome American beef and pork, poultry, seafood, rice, dairy, infant formula, animal feed, biotechnology, and much, much more. Because frankly, you know, they were not doing things that they were supposed to be. And that's okay. Because now they will."
"We're delighted that the Chinese consumers will now enjoy the greater access to the best products on Earth—those made, grown, and raised right here in the USA," Trump added.