Trump Tells Kids Fearful of Returning to School After Shootings 'They Have Nothing to Worry About'
President Donald Trump assured schoolchildren that they have "nothing to worry about" following two mass shootings that left 31 people dead over the weekend.
Trump's comments were made to a group of reporters outside the White House before he left Washington D.C. for two fundraisers and then for a vacation at his golf club in New Jersey.
During the question and answer sessions, the president again touted the need for "meaningful background checks" to prevent "sick and demented people" from legally purchasing firearms.
"You have to remember, and I've said it, it's a big mental illness problem," Trump said. "The gun doesn't pull the trigger––the mind, a sick mind, pulls the trigger. So we want to take that out of the equation."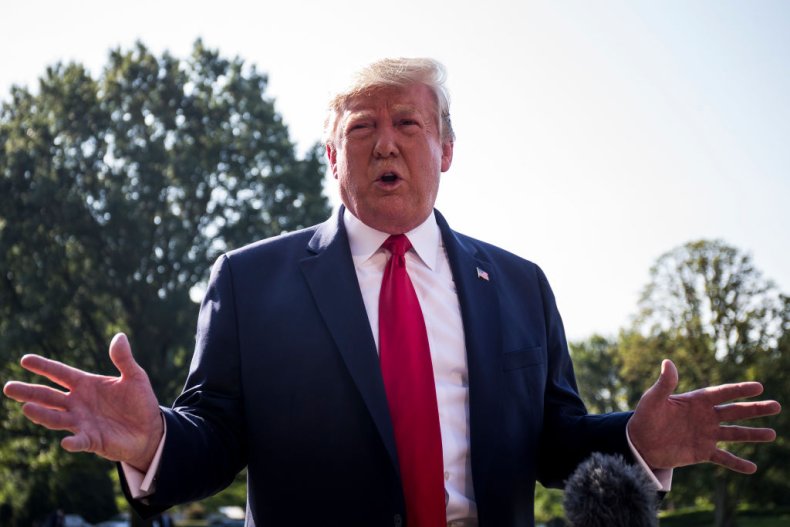 Fox News reporter Jon Decker later asked the president what he would say to schoolchildren that might be concerned that their school or college could be the target of an active shooter. Some schools have already begun classes for the 2019-2020 school year, while others will start in the coming weeks.
"My message to children going back to school is go and really study hard and someday you'll grow up and maybe be President of the United States or do something else that's fantastic. They have nothing to fear, nothing to worry about," Trump said.
According to Ed Week, 14 school shootings occurred from January through May 2019, with two people killed and 24 injured. In 2018, 24 school shootings happened, with 35 people killed and 79 injured.
The numbers dramatically increase for mass shootings. According to the Gun Violence Archive, 254 mass shootings have occurred in 2019, with 340 happening in 2018.
Trump's comments follow two recent mass shootings, which occurred at a Walmart store in El Paso, Texas, and in the Oregon District in Dayton, Ohio, over the weekend. An additional 59 people were shot in Chicago over the weekend in various shootings, with seven of them dying as a result of their injuries.
The shootings have once again highlighted the political debate on gun control, and have seen Democrats and some Republicans urging Senate Majority Leader Mitch McConnell to order the Senate to reconvene in Washington D.C. for a vote on two measures passed by the House of Representatives in February.
Those bills, the Bipartisan Background Checks Act and the Enhanced Background Checks Act, would expand background checks so that individuals who purchase firearms at gun shows, through the internet and via private owner sales would also be subject to the process that occurs if a gun is purchased through a licensed dealer.
McConnell blocked both bills from being presented in the Senate during the congressional session.
However, in speaking to reporters Friday, Trump indicated that McConnell is willing to work with Speaker of the House Nancy Pelosi and Democrats when Congress reconvenes in September.
"I talked to Mitch McConnell yesterday. He's totally on board," Trump said.
McConnell said Thursday that background checks will be a main issue for the Senate when Congress returns to Washington D.C.
Correction 08/11/19: This story originally credited CNN Reporter Daniel Dale with asking Trump about concerns of schoolchildren when the question was posed by Fox News reporter Jon Decker.