Trump Tells McConnell to Resign if Biden Social Bill Passes, Vows to Withhold Endorsements
Former President Donald Trump is calling on Senate Minority Leader Mitch McConnell to resign if President Joe Biden's Build Back Better legislation passes and has vowed to withhold his endorsement from any Republicans in Congress who vote in favor of the social spending package.
McConnell has had a target on his back since he blamed Trump for the Capitol riot and the former president has chastised him for being an ineffective leader who allows the Democrats' agenda to move forward. In August, McConnell and 18 other Senate Republicans voted in favor of a $1 trillion infrastructure package, a staple of Biden's presidency, which the president signed into law on Monday.
Democrats now have their eye on passing Biden's Build Back Better Act, a social spending package that Republicans have railed against being costly and full of socialist policies. On Wednesday, Trump called on McConnell to do everything in his power to stop the bill from becoming law.
"McConnell is a fool and he damn well better stop their 'Dream of Communism Bill' and keep his Senators in line, or he should resign now, something he should have done a long time ago," Trump said in a statement. "Any Republican in the House or Senate who votes for this bill will never get a Trump endorsement."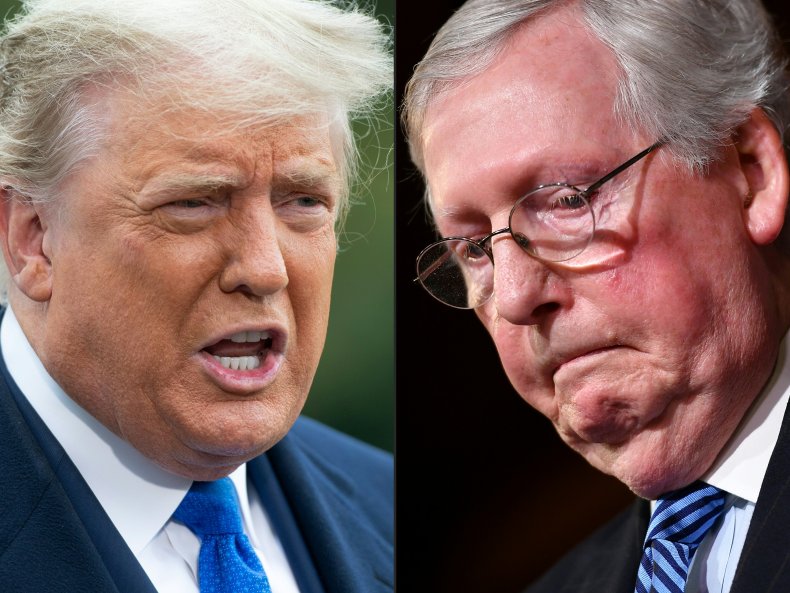 While Trump's upping pressure on McConnell to block the bill, it may not be up to Republicans. Democrats are looking to use reconciliation, a legislative strategy that allows a bill to pass the Senate with a simple majority instead of a two-thirds majority. This would let Democrats bypass Republicans if they can get a unified caucus together.
However, it remains to be seen if Democrats can get all 50 members in their Senate caucus on board. Senator Joe Manchin, a moderate Democrat from West Virginia, has vocalized his opposition to parts of the package, including the price tag, and passing it without bipartisan support. Senator Krysten Sinema of Arizona also hasn't signed onto the bill.
Without their support, Democrats would have to convince two Republicans in the Senate to vote in favor of the bill, which is unlikely to happen.
Despite the criticism from Trump and other Republicans for voting in favor of Democrats' infrastructure package, McConnell has stood by his vote. On Tuesday, he told reporters it was "extremely good" for Kentucky and that he was "proud" of his vote.
Trump was also critical of Republicans voting in favor of a two-month extension that raised the debt ceiling into December. Senate Majority Leader Chuck Schumer said on Sunday that lawmakers will need to extend funding past the December 3 deadline, something McConnell has said he won't help do.
Update 11/17/21 12:35 PM ET - This story has been updated with additional information.