Trump Tells Party Goers This Is 'the Most Dangerous Time' in U.S. History
Former President Donald Trump redefined the "n-word" and "The Big Lie" on Wednesday, and said that Russian President Vladimir Putin's invasion of Ukraine could lead to the demise of the United States.
"Are we going to have a country in two-and-a half years? I really don't know," Trump told 500 fans at a movie premiere at his Mar-a-Lago club and estate in Palm Beach, Florida. "I believe this is the most dangerous time in the history of the United States, because we have a major power—who is being somewhat embarrassed—but who has a nuclear force of…1,700 powerful nuclear weapons. Actually, slightly more than us."
"We have a man who, every single day is mentioning he's a superpower," Trump said of Putin.
During his own presidency, Trump said that he "called it the n-word. It's the 'nuclear' word. The n-word was never supposed to be mentioned.… We have a man, for the first time from a major country, a major power, that's using the 'nuclear' word like you use the word, 'the,' and you can't allow it to happen. I believe our country is in the most precarious position it's ever been in, by a factor of a hundred."
Trump was co-hosting with Dinesh D'Souza the premiere of the latter's 2,000 Mules, which alleges, via video allegedly obtained from various state governments, that thousands of people illegally stuffed multiple ballots into multiple drop boxes during the 2020 presidential election that had President Joe Biden beating Trump.
While liberals and many journalists have called the notion that there was cheating in the last election "The Big Lie," Trump claims that the actual big lie was "Russia, Russia, Russia," a reference to thousands of media reports that he colluded with the Russian government to steal the 2016 presidential election from Hillary Clinton.
"These people are corrupt. These people are practicing misinformation…the worst is those people over there, the fake media," he said, motioning toward reporters in the room.
At the premiere, Trump called D'Souza and his partners, Salem Media Group and True the Vote, "true patriots" for making a film that is destined to be very unpopular with "the radical left" and "the fake news," as Trump put it, and he warned the 500 invited guests that they could find themselves victims of "cancel culture" should they publicly suggest there were election irregularities.
Trump called for voter ID; just as it was required to show ID to enter the Democratic National Convention, so voters should prove who they are before casting their ballots, he said to cheers. And he suggested that Facebook founder Mark Zuckerberg may have violated laws when he donated hundreds of millions of dollars to assist with pandemic-related procedures during the 2020 election.
"There must be a full investigation of the $417 million that Mark Zuckerberg poured into local election offices," Trump announced.
Of Biden and Democrats in general, Trump said: "They want high taxes. They want high interest rates.… They want to have men participate in women's sports…and the women are afraid to speak up. It's ridiculous. Everybody is afraid to talk about it. But I'm not."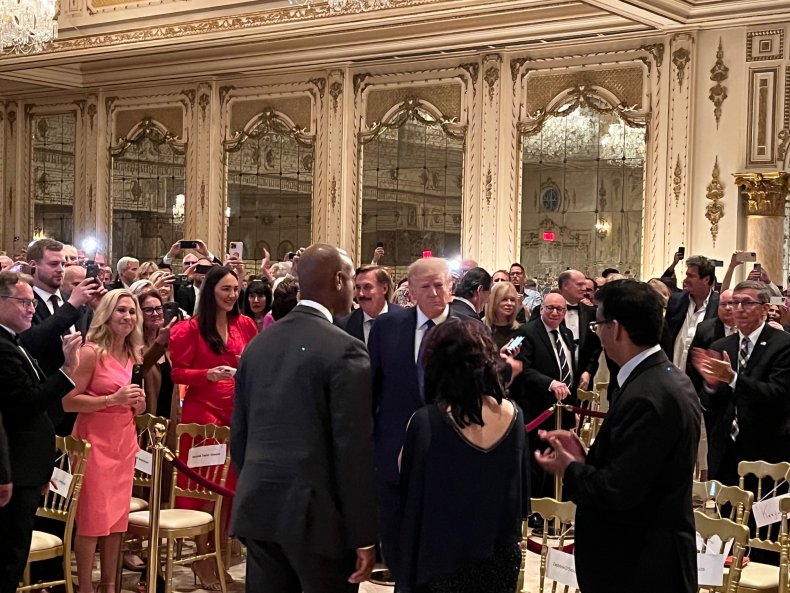 One guest, former New York mayor and Trump attorney, Rudy Giuliani, told Newsweek he was compelled to attend the party because, "I give Trump credit for being the best president in my lifetime, with the possible exception of Ronald Reagan. I call them tied." Trump "had the best economy in 50 years, unlike this idiot," Giuliani said. "The difference between this demented president who belongs in a nursing home and Donald Trump are impossible to describe."
As for D'Souza, he is sometimes referred to as the conservative Michael Moore, given his first film, 2016: Obama's America, made more money at the box office than any other political documentary except for Moore's Fahrenheit 9/11. For 2,000 Mules, he bought out 300 theaters at $5 a seat and sold them for $20 apiece on Monday and again on Wednesday, thus the premiere technically comes after its theatrical release.
He's also conducting a virtual premiere on Saturday at $20 a pop and the movie is available via Salem Media Group and Rumble, a competitor to YouTube with ties to Trump's media company. D'Souza told Newsweek he may buy out more theaters in the future and that he is considering a Los Angeles premiere with former members of Friends of Abe, which was a private organization of conservatives in the entertainment industry that was founded by actors Gary Sinise, Kelsey Grammer, Patricia Heaton and others, but it disbanded after it was outed by the The New York Times six years ago.
In 2,000 Mules, D'Souza claims that the January 6, 2021, riot in Washington was not an "insurrection," as many in the press have called it, but "a primal scream.…They just wanted their elected leaders to adjudicate their claims of election fraud."
The film acknowledges that the mainstream press, law enforcement and a variety of federal authorities have called the 2020 presidential election the "most secure in American history," before segueing into video of voters allegedly putting multiple ballots into several drop boxes.
The video comes courtesy of the nonprofit organization True the Vote, a conservative vote-monitoring organization based in Houston, which claims it obtained via open-records requests 4 million minutes of video taken from cameras trained on ballot boxes in swing states. The group says it also used "geotracking" to locate through cellphone usage the people they call "mules," those who allegedly visited liberal get-out-the-vote organizations before heading to ballot drop boxes set up to make voting safer during the coronavirus pandemic.
Newsweek reached out to election officials in several states who verified they had received the open-records request. Some say the request was denied while others complied, sending the video to True the Vote without first viewing it themselves. After watching a trailer for 2,000 Mules in March, a spokesman for Georgia Secretary of State Brad Raffensperger told Newsweek that the claims made in the movie are "under investigation."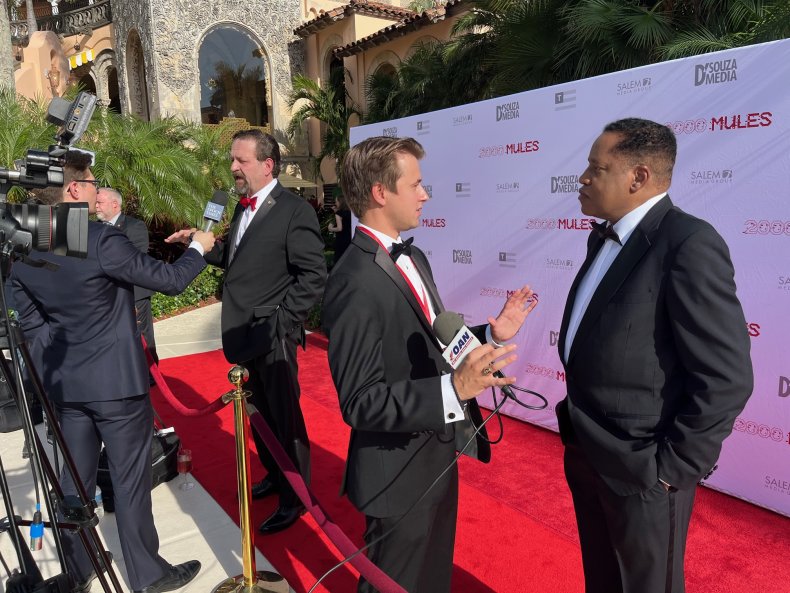 D'Souza says in the film that in Atlanta, he counted 242 mules who went to an average of 24 drop boxes apiece, this after stripping out "false positives" in order to focus solely on those dropping in stacks of ballots at a minimum of five boxes. He claims his investigation revealed mules were paid up to $10 per ballot, though he blurred out the faces of suspected mules after attorneys advised him to do so.
Even if all claims made in the film are accurate, there's no way of knowing if the ballots cast were for Biden or Trump, but D'Souza claims that many of the mules he identified were also seen at antifa and Black Lives Matter protests.
"There's an overlap," he says in the movie. "You're not going to go to an Antifa riot and find it overpopulated with patriots or conservatives or Republicans. These are people, generally, really on the far left ... These are people who also make up the mule population."
D'Souza claims to have identified 200 mules in Phoenix; 100 in Milwaukee; nearly 500 in Detroit; and 1,100 in Philadelphia, many of whom drove from New Jersey and visited, on average, 50 drop boxes. But in the movie, D'Souza interviews only one alleged mule, who says she brought hundreds of ballots to drop boxes where there were no visible video cameras.
The film shows D'Souza screening the video of purported mules to radio talk-show hosts Larry Elder, Dennis Prager, Sebastian Gorka, Eric Metaxas and Charlie Kirk. Prager is the skeptic in the group, but later says, "This at least is suggestive. Who votes at 3:57 a.m. with a whole bunch of ballots?"
"You gotta beat the lines," Elder jokes in response.
"This is a smoking gun. This is O.J. Simpson being seen leaving the scene of the crime. I don't care how partisan you are, you can't dismiss all of this," says Elder.