Trump Tells People to Pray for Brett Kavanaugh Following Sexual Misconduct Claims
President Donald Trump has once again lambasted the Democrats for their treatment of Supreme Court nominee Brett Kavanaugh, telling his followers to "pray" for the judge, who he said was being treated unfairly.
In a tweet on Monday evening, the president claimed Kavanaugh—who is accused of sexual assault by two women—was being targeted by Democrats as part of a "con game."
"The Democrats are playing a high level CON GAME in their vicious effort to destroy a fine person. It is called the politics of destruction. Behind the scene the Dems are laughing. Pray for Brett Kavanaugh and his family!" he wrote.
Trump's tweet came a day after he called the allegations against the Supreme Court nominee "false."
"The Democrats are working hard to destroy a wonderful man, and a man who has the potential to be one of our greatest Supreme Court Justices ever, with an array of False Acquisitions the likes of which have never been seen before!" Trump wrote in a since-deleted tweet, in which he misspelled the word "accusations," later sending the same tweet with the correct spelling.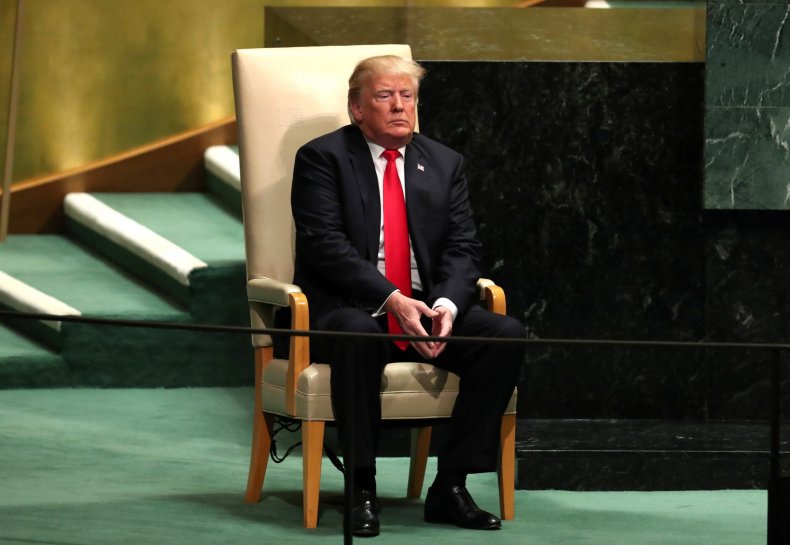 Although the president said last week that Christine Blasey Ford, the woman who accused Kavanaugh of sexual assault, should be heard, he has since gone to great lengths to defend Kavanaugh's character and discredit Ford's allegations.
Following allegations by Ford that Kavanaugh had forced her into a bedroom at a house party in the early 1980s, attempted to pull off her clothes and put his hand over her mouth to keep her quiet, a second woman came forward and accused Kavanaugh of sexual misconduct.
Deborah Ramirez claimed Kavanaugh exposed himself to her during a drinking game at college, when they were both at Yale.
The Supreme Court nominee has denied Ford's and Ramirez's allegations, and is set to testify before the Senate Judiciary Committee, along with Ford, on Thursday.
In an interview with Fox News on Monday, Kavanaugh continued to deny the allegations.
"I have never sexually assaulted anyone. Not in high school, not ever," he said. "I have always treated women with dignity and respect. Listen to the women who've known me since high school, the 65 who overnight signed a letter from high school saying I always treated them with dignity and respect," he said.