Trump Tells Protester Being Booted Out of Toledo Rally to 'Go Home to Mommy'
President Donald Trump on Thursday evening stopped his speech at his rally in Toledo, Ohio to tell a protester being escorted out by security to "go home to mommy."
"That's okay, they're gone, they're gone," Trump said on stage as security approached a protester in the crowd and removed him from the event. "They're going home to mommy. It's a beautiful sight. Thank you security. Go home to mommy."
The incident occurred during the first half of Trump's address to his supporters in Ohio. Shortly after the commotion died down, the president told the crowd that he had "completed more promises" during his presidency than he made.
"In 2016, I said what I was going to do, but now I've completed more promises than I've made. I mean, I've actually completed more than I've made," Trump said, as his supporters chanted "four more years."
"I never talk about Space Force prior to the election," he explained. "I did Space Force. Did we ever speak about it? No. There were many things that we've done that we never spoke about."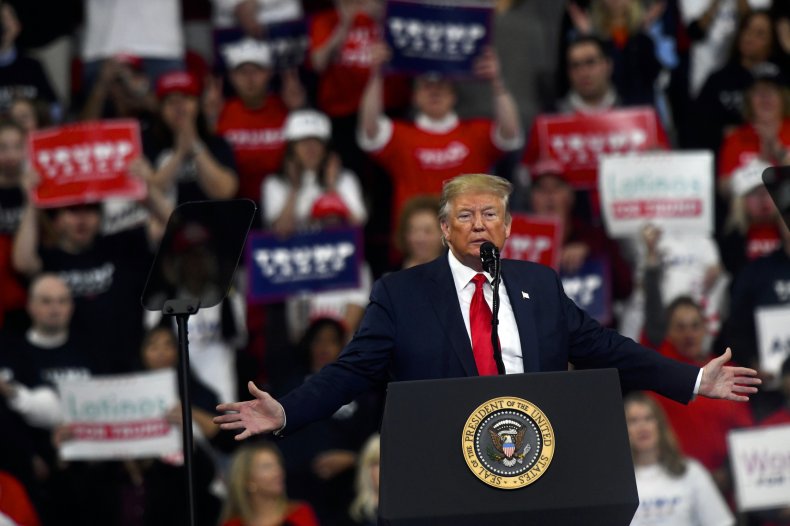 Protests are relatively common at Trump rallies, generally leading Trump to ask security to remove them. On Thursday, Dallas Frazier, 30, was found guilty of punching a protester outside the August 1, 2019 rally in Cincinnati, Ohio. Frazier punched Michael Alter, 61, breaking his glasses, according to the Cincinnati Enquirer. Frazier will be sentenced January 17, and could spend 180 days in jail for the crime.
The president's Toledo rally was his first after the U.S. killed top Iranian military commander Qassem Soleimani in an airstrike late last week. Since then, Trump has faced mounting backlash from Democrats and his critics for his decision to attack Soleimani without prior consent from Congress. Hours before his rally on Thursday, the Democrat-led House voted to pass a resolution seeking to limit his war powers with Iran amid fears of further escalation.
In Toledo, Trump attempted to convince his supporters that the strike against Soleimani was part of his administration's efforts to reach "peace through strength."
"Last week, the United States once again took the bold and decisive action to save American lives and deliver American justice," the president said. "Soleimani was actively planning new attacks and he was looking very seriously at our embassies and not just the embassy in Baghdad. We stopped him and we stopped him quickly and we stopped him cold."
Although the Iran crisis has largely overshadowed impeachment talks in recent weeks, Trump briefly mentioned the proceedings during his nearly two-hour-long speech, calling it a "hoax."