Trump Tells Puerto Rico 'We Love You' as FEMA Cuts Off Food and Water Aid to Island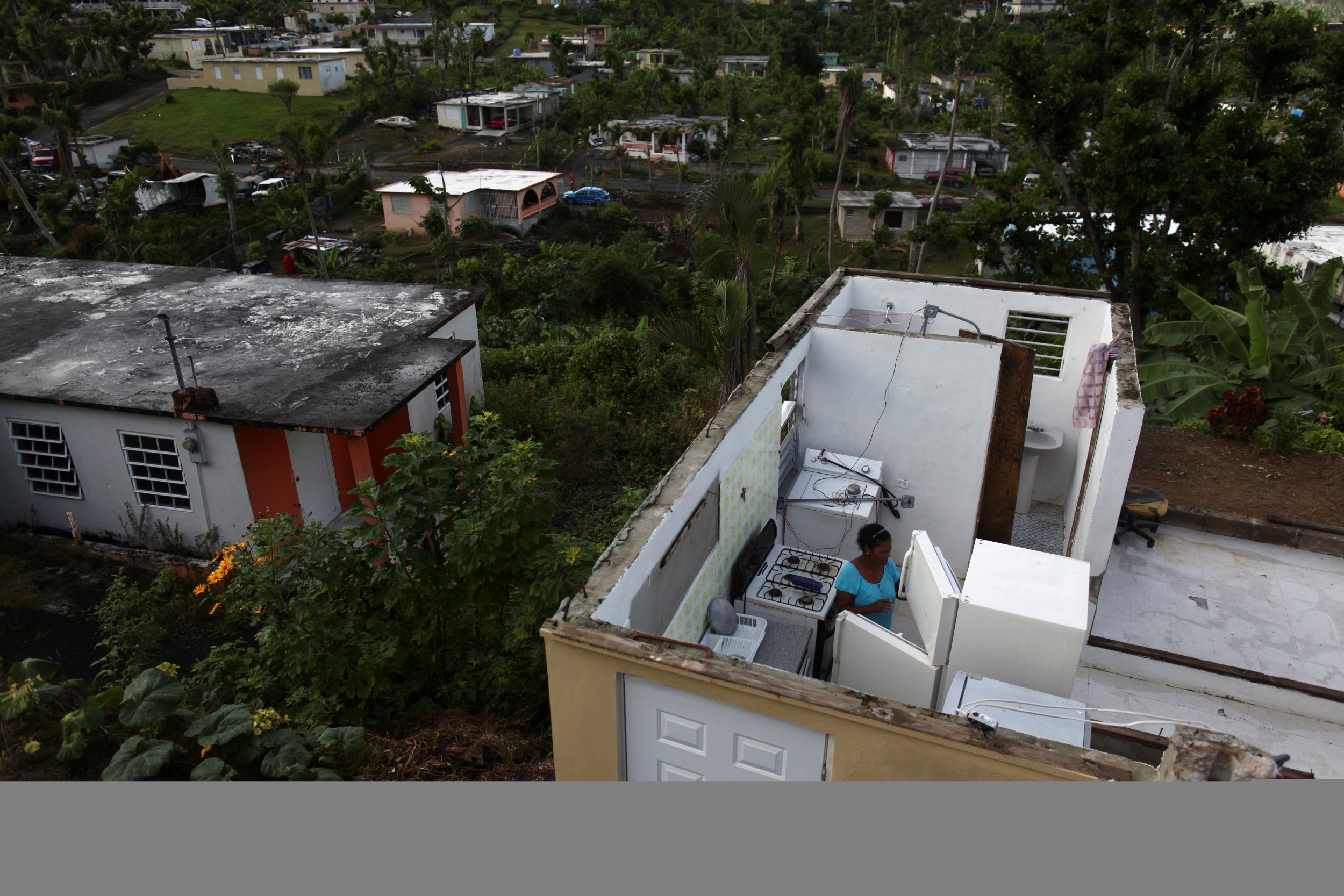 Updated | President Donald Trump told the island of Puerto Rico and other U.S. regions struck by natural disasters last year that America stands by them in his State of the Union address Tuesday.
Yet critics wonder how far that solidarity goes as the Federal Emergency Management Agency prepares to stop giving out food and water on the island territory of Puerto Rico Wednesday. About 35 percent of people there remain without power four months after Hurricane Maria left the island in ruins.
"A third of Puerto Rico still lacks electricity. Many do not have running water. But FEMA will 'officially shut off' tomorrow," wrote activist Erin Schrode on Facebook Tuesday. Schrode is COO of World Central Kitchen, who is leading the #ChefsForPuertoRico project with chef José Andrés to distribute millions of meals on the island.
In Trump's State of the Union speech before a joint session of Congress, he addressed "everyone still recovering" from a series of hurricanes that struck Texas, Florida, Louisiana, Puerto Rico and the Virgin Islands last year. "We are with you, we love you, and we will pull through together," the president said.
That show of solidarity, however, stands in contrast to "the startling, unimaginable reality here for millions of Americans over 4 months after Maria," wrote Schrode.
"I am here on the island. Our team traverses its 78 municipalities daily. The post-hurricane emergency is still all too real for large segments of the population, where the majority of multiple regions remain without power and below the poverty line."
Read more: Puerto Rico proposes hundreds of school closures, with many students looking to U.S. mainland
Food and water shipments will "officially shut off" Wednesday, according to FEMA, because these supplies are now commercially available, suggesting the immediate emergency after the storm has lifted. Some 65 million liters of water and 58 million meals have been given out on the island at a cost of $2 billion, FEMA has said.
The agency will continue to support other organizations working on the island but will focus on those serving the most remote areas. "FEMA will continue to support any documented needs and will provide supplies to volunteer agencies and other private non-profit organizations who are working with households in rural, outlying areas to address ongoing disaster related needs as power and water is gradually restored," FEMA Public Affairs Director William Booher said in a statement.
"The reality is that we just need to look around. Supermarkets are open, and things are going back to normal," FEMA's director in Puerto Rico, Alejandro De La Campa, told NPR early this week.
San Juan Mayor Carmen Yulín Cruz—who clashed publicly with Trump over the government's response to the disaster last year—disagrees. Speaking directly after Trump's State of the Union address, which she attended as a guest of New York Democratic Senator Kirsten Gillibrand, Cruz said "there is need still" on the island.
In a speech at the Latino Victory Summit Tuesday, Cruz condemned the plan to end FEMA support. "Yesterday, I had to help—because it is a moral imperative to help—a school about 45 minutes from San Juan that still has no water, no electricity and no milk for their children," she said.
Congress is expected to soon sign off on $80 billion more in disaster relief to add to some $50 billion in aid that it approved last year.
In a letter sent to FEMA's chief, Brock Long, 30 members of Congress warned that ending food and water supplies to Puerto Rico would hurt the island's people.
Nonprofit organizations like World Central Kitchen "can only do so much," wrote Schrode Tuesday. "The federal government MUST step in and show up in major ways, not disappear or abandon ship at a pivotal moment."
Updated: This story was updated to include a quote from FEMA.