Why the Brussels Attacks Could Help Donald Trump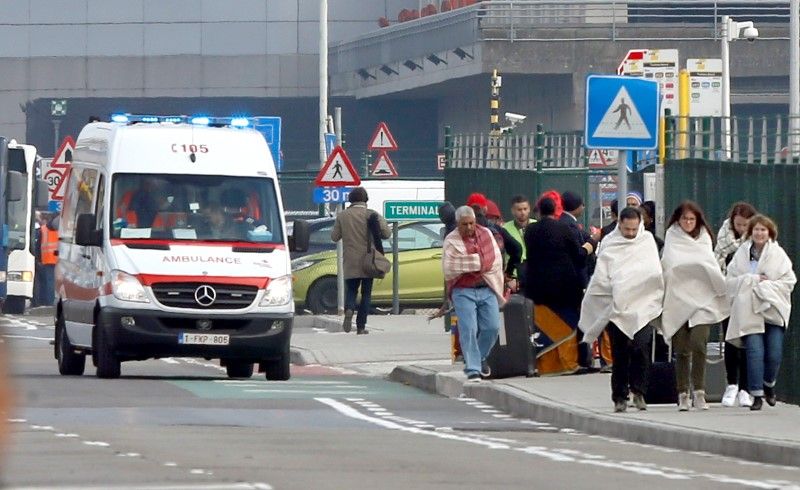 It's hard to remember how much the attacks in Paris this past fall helped the Trump campaign. His polls spiked after the ugly assault on the city of lights. And they spiked again following the attacks in San Bernardino. A Trump campaign that began as tough-on-trade and tough-on-immigration is now being driven in large part by fear of terrorism. How that will affect Trump and Hillary Clinton, should they face each other, is interesting, to say the least.
The irony is that Trump began as a dove. He staked out a dovish position on the Iraq War, repeatedly calling it a "disaster" and denouncing George W. Bush for not keeping America safe on 9/11. But while Trump managed to denounce the Bush administration, he also made himself into the toughest-on-terrorism candidate.
He said he would be tougher on ISIS than President Barack Obama, and part of his shtick was that he'd find kick-ass generals such as George Patton and Douglas MacArthur.
After Paris, he entered his Muslim crackdown phase. The mogul read a statement on of his rallies calling for the "complete and total shutdown" of Muslims entering the U.S. His unworkable, unenforceable and widely denounced ban on allowing Muslims into the U.S. "until we figure out what the hell is going on," was widely ridiculed, but it has allowed him to take the toughest position on terrorism when he comes to defending the homeland. And his claim that he wants to bomb the hell out of ISIS and bring back waterboarding and worse has allowed him to have the most aggressive posture in the race.
The dove became a hawk. Or, really, Trump has managed to be both a hawk and a dove, vowing decisive retribution against ISIS even while he denounces the efforts of the Bush administration.
Terrorism has had a huge hold on American life for longer than we like to think. Thirty-six years ago, it helped bring down Jimmy Carter's presidency when Iranian militants held Americans hostage at the U.S. Embassy in Tehran. The Iran-Contra scandal helped Democrats win back the Senate in 1986 after it was discovered that the Reagan administration traded arms for hostages. George W. Bush was foundering in the late summer of 2001. The 9/11 attacks buoyed his presidency, allowed the Republicans to take back the Senate and eventually propelled him to re-election. In 2006, Democrats won the House and Senate largely because of the attacks on U.S. troops in the Sunni-controlled parts of Iraq. At every turn, fear of terrorism has influenced the way we vote.
Trump was well on his way to the nomination before the attacks in Brussels. Assuming he is the GOP standard bearer, it's hard to know how such attacks will affect his candidacy, but Clinton may have a harder sell. ISIS rose up on her watch. Her let's-work-with-our-allies approach is the right thing to do, but it may not have the same emotional resonance as Trump's cri de coeur. We've seen the political fallout from diffidence. Obama calling ISIS the JV team didn't help him, nor have his reminders—all true—that terrorism is not an existential threat.
With Trump, Clinton would need to find a voice on terror that's a few octaves higher that a Council of Foreign Relations meeting. She doesn't need to counter Trump with equally foolish demagoguery, but she'll need to take it up a notch.
Clinton showed some of that emotional depth in the weeks after 9/11, as she saw the burning embers of the towers, fought for aid to New York and went to countless funerals. She may need to call on that emotional reservoir again.