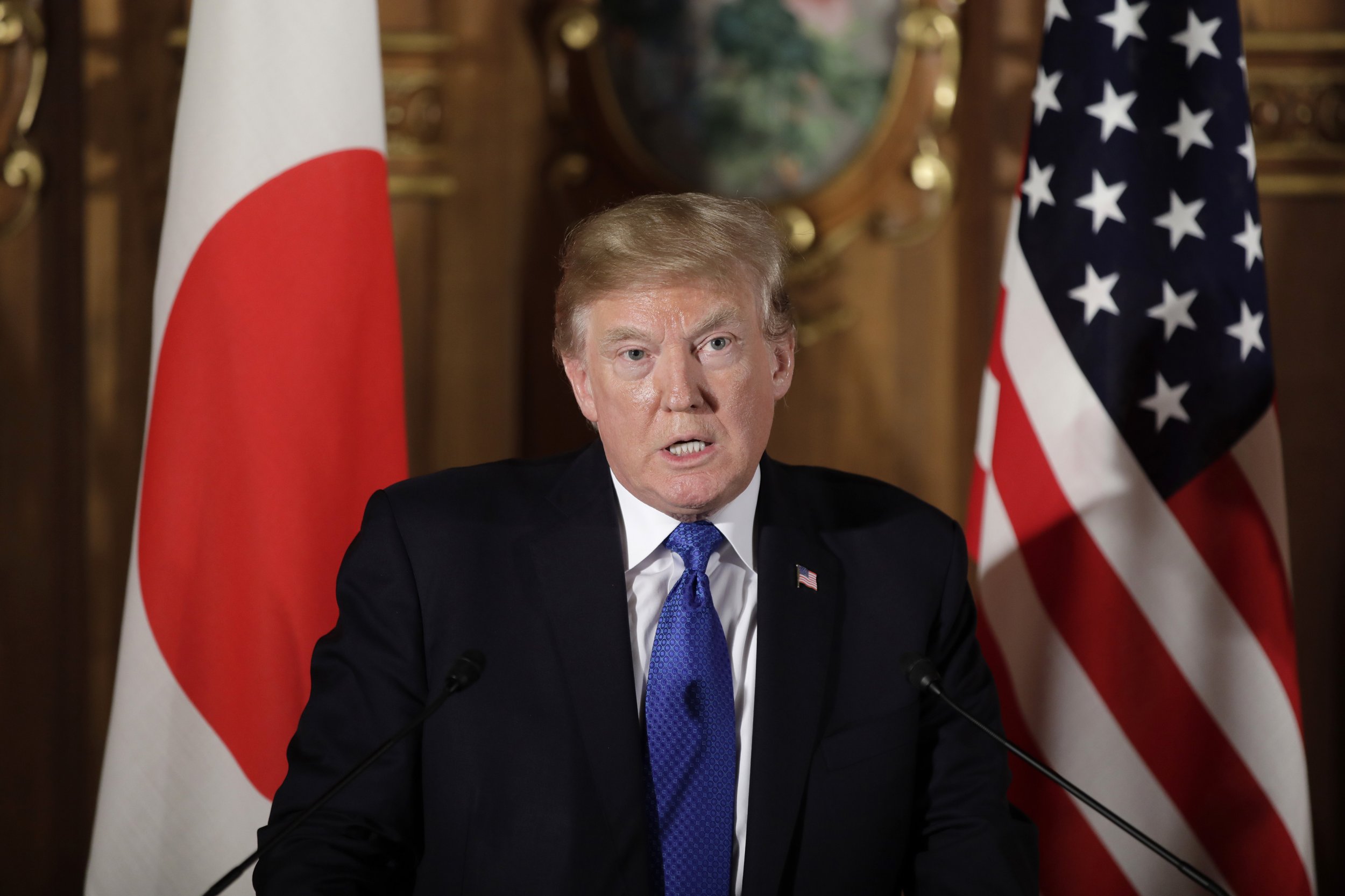 Even though 26 people were gunned down at a church in Texas Sunday, there was to be no change to President Donald Trump's scheduled golfing and negotiating in Asia. Trump was two days into a five-country trip when an armor-clad gunman walked into First Baptist Church in the rural town of Sutherland Springs and fired an AR-15-style assault rifle, killing 26—around half of them children, including one as young as 18 months—and injuring at least 20 more.
Related: Trump and GOP offer 'prayers' after Sutherland Springs, Texas, church mass shooting
Shortly afterward, while Trump gave a statement on the massacre from Tokyo, it was confirmed that his trip would continue as planned. It means that although Vice President Mike Pence will fly in Wednesday, it will be well over a week before Trump will have an opportunity to visit the affected community.
That will represent a stark departure with presidential precedent. President Barack Obama, for example, visited Newtown, Connecticut, just three days after a shooting at Sandy Hook Elementary School killed 26 people, 20 of them children. Obama also cut short a trip to Europe last year after the killing of five police officers in Dallas. President George W. Bush, meanwhile, gave a speech at Virginia Tech just a day after a student shot dead 32 people on the school's campus.
Robert Denton, the head of Virginia Tech's communications department and an expert on political and presidential discourse, was in attendance when Bush spoke a decade ago. To him, Trump's absence from the scene and the country in the aftermath of such a tragedy sticks out.
"I think this is out of the ordinary," Denton told Newsweek Monday. "One is a little puzzled by this. President Obama, you could see how genuine and honest it was with his tears and emotion. George W. Bush you could just see and sense that authenticity and that shared community and pain and anguish. Comforter in chief is certainly the president. This is certainly an hour of need. There's just so much empathy you can put in a tweet."
In addition to Bush, then–Virginia Governor Tim Kaine spoke at the memorial, having cut short a trade visit to Asia to return home.
"We walked out of there still with a heavy heart but breathing easier," Denton added. "Their words could sum up our emotions and what it means.
As well as failing to provide that "parental" comfort, as Denton put it, Trump is missing an opportunity to improve his reputation with the American public, the majority of which has far from warm feelings toward him.
"It's a very important part of the job and it does translate beyond the immediacy of the one area and that one event," Denton said. "All of us as Americans can get a sense of that shared sorrow and hope and perspective. So I'm a little bit surprised. When your approval rating is only in the mid-30s, it would provide an opportunity to show a little empathy. This is a little bit of a strategic risk."
To others, there are different reasons for Trump's decision.
"I think for this president, who has shown that he is beholden to the gun lobby, it's par for the course," Shannon Watts, founder of gun control advocacy group Moms Demand Action, said.
The largest gun-rights lobbying group, the National Rifle Association, was the biggest outside donator to Trump's campaign for president. And, in stark contrast to his predecessor, Trump has rejected any calls for even a debate about gun control in the wake of mass shootings. His stance differs sharply with his responses to perceived "terrorist attacks," when he has immediately and aggressively called for tougher immigration laws.
In a little more than 24 hours following an attack in New York City last week that was labeled "terrorism, Trump had tweeted 16 times about it. In contrast, Trump has so far just tweeted twice about the shooting that left more than three times as many people dead in Texas than in New York.
"I think the fact that Donald Trump is not immediately dropping everything and going to Texas, shows you what his priorities are," Watts added. "Had this been an act of terrorism that stole the lives of 26 Americans and injured 30 more I think that there may have been a different response."
Trump's decision to remain in Asia rather than to return to a grieving community and a country grappling with yet another tragic massacre has, though, received little attention. That suggests there could be another reason at play for the president's decision: Increasingly, much of America, just like Trump, is continuing life as normal amid the frequency of such atrocities.
Notably, just hours after Sunday's shooting, as night fell, both CNN and MSNBC cut away from live coverage of Texas to show regularly scheduled pre-taped programming.