Trump Thanks Himself, Again, This Time Over Oil Prices
President Donald Trump thanked himself on Sunday for falling oil prices in a tweet on Sunday. Trump also compared the low oil prices to a big tax cut in his tweet.
"So great that oil prices are falling (thank you President T). Add that, which is like a big Tax Cut, to our other good Economic news. Inflation down (are you listening Fed)!" Trump tweeted.
Oil prices dropped below $55 last week, CNBC reported. On Wednesday, Trump praised Saudi Arabia on Twitter for the low oil prices and also compared the low prices to a big tax cut for the U.S. He implored Saudi Arabia to "go lower."
"Oil prices getting lower. Great! Like a big Tax Cut for America and the World. Enjoy! $54, was just $82. Thank you to Saudi Arabia, but let's go lower!" Trump tweeted on Wednesday.
Trump reaffirmed the relationship between the U.S. and Saudi Arabia last week despite calls to punish the kingdom for the death of Saudi journalist Jamal Khashoggi, who was killed last month. The CIA reported that Saudi crown prince Mohammed bin Salman ordered the assassination of the journalist inside the Saudi consulate in Istanbul.
Trump has said that issuing sanctions or punishing Saudi Arabia over the death of Khashoggi could cause a hike in oil prices, The Hill reported.
"If you want to see oil prices go to $150 a barrel ... all you have to do is break up our relationship with Saudi Arabia," Trump told reporters.
This is not the first time the president has praised himself. During a phone call with reporters and members of the military on Thanksgiving Day, one reporter asked Trump what he was "most thankful for" this year, to which he replied his family and himself.
"For having a great family and for having made a tremendous difference in this country," Trump said. "I made a tremendous difference in the country. This country is so much stronger now than it was when I took office that you won't believe it."
Trump continued and said that foreign leaders have also praised the U.S.'s progress in the past two years under the Trump administration.
"And I mean, you see it, but so much stronger that people can't even believe it," he said. "When I see foreign leaders, they say we cannot believe the difference in strength between the United States now and the United States two years ago. Made a lot of progress."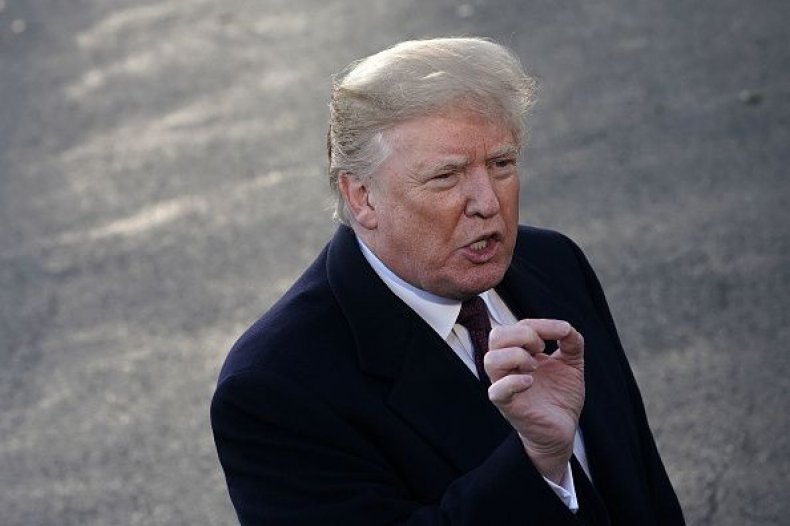 When Trump made similar comments to the United Nations earlier this year, representatives of the world's nations broke out into spontaneous laughter at the suggestion he had improved America.