Trump Thanks Military, Healthcare Workers in Christmas Message: 'Our Gatherings Might Look Different'
In a message shared on Christmas, President Donald Trump, without mentioning the coronavirus pandemic, recognized fact that many citizens were unable to be with their family for the holidays this year.
"The First Lady and I send our warmest wishes to all Americans as we celebrate Christmas. While our gatherings might look different than in years past, this Christmas, like every Christmas, is an opportunity for us to celebrate the birth of our savior, Jesus Christ, and show our heartfelt gratitude for the abundant blessings God has bestowed upon our lives and country," the message read.
The president went on to thank the many members of the military and first responders for their work and help throughout the year, writing that their "daily contributions are an example of the selfless love of God and remind us of the noble principles we strive to live especially during this time of year."
"We are forever indebted to those who courageously serve our country in uniform—and those who walk alongside them. We also thank our Nation's first responders, law enforcement officers, and frontline medical professionals who work tirelessly to serve and protect our communities," the message continued.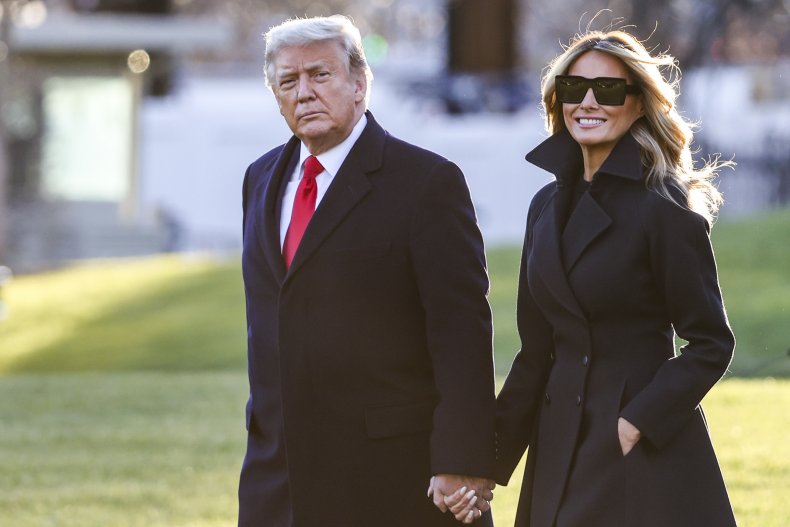 The message comes following the Christmas address Trump and First Lady Melania Trump delivered on Thursday, in which they celebrated the two COVID-19 vaccines—one produced by Pfizer and BioNTech, the other by Moderna—as a "Christmas miracle." The Trumps noted how grateful they were for the tireless efforts scientists, researchers, manufacturing workers and service members made to not only develop the vaccine and distribute it among Americans before the holiday.
"As you know, this Christmas is different than years past. We are battling a global pandemic that has affected all of us," Melania Trump said in the video. "Teachers have worked extraordinarily hard to keep our children learning. Students have delivered groceries to elderly neighbors. Communities have found new ways to stay connected to one another."
The president and his wife are spending Christmas in Florida, where they arrived on Thursday on the first day of his winter vacation. He was spotted golfing at his Palm Beach golf club by reporters, who were later told that Trump "will continue to work tirelessly for the American People. His schedule includes many meetings and calls," according to an ABC News report on Friday.
Trump left congressional leaders scrambling amid the holiday after he demanded Congress rewrite an end-of-year spending bill and remove some of the foreign funding included in the annual budget and increase the $600 stimulus checks in the bill to $2,000. House Republicans rejected the proposal on Christmas Eve by blocking a Democratic proposal for unanimous consent to amend the bill for the increased check amount.
While the House will return Monday to hold a full vote for the measure, ABC News reporter Bill Gittleson reported Friday that the current congressional spending and COVID relief bill has arrived in Florida where Trump can choose to veto or approve the measure. It's unknown if the president will make a decision over the holiday weekend.
This story has been updated with additional information and background.