Trump Thanks Sanders After Showing Rally Clip of Democrat Accusing Biden of Cutting Social Security
President Donald Trump presented a video package during Friday night's campaign event in Pensacola, Florida which purported to prove that Democratic presidential nominee Joe Biden had attempted to cut Social Security.
Trump and Biden have battled over the safety of Social Security funds during their presidential campaigns. Biden has claimed that Trump would bleed Social Security coffers dry within three years. Trump has said that Biden attempted to cut both Medicare and Social Security during his decades in the Senate.
"Joe Biden spent his entire time in the Senate—long, long days, hours, nights—working to cut your Social Security," Trump said during Friday's rally. "You don't know about that. To cut your Medicare. People don't know about that. He denies it. He denied it last night."
Trump then introduced the video which featured footage from a March Democratic Presidential debate between Biden and Vermont Senator Bernie Sanders.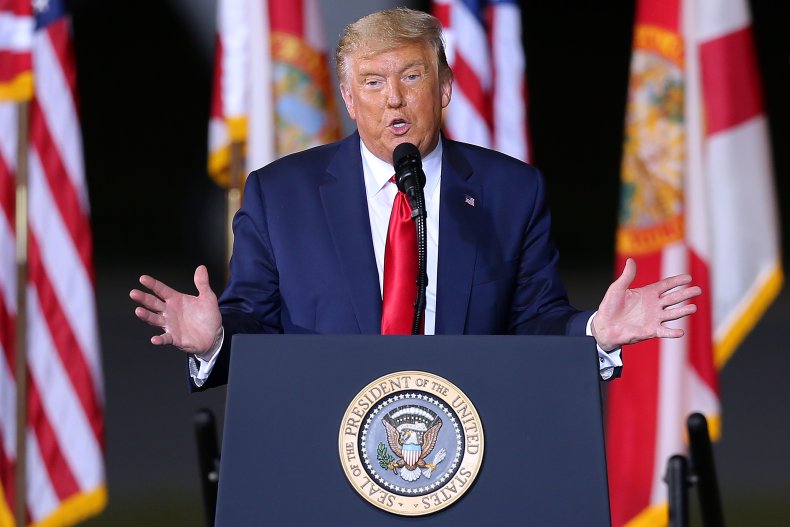 Sanders asked Biden if he had been on the Senate floor "talking about the necessity—with pride—talking about the necessity of cutting Social Security, cutting Medicare, cutting veterans' programs."
"No," Biden said. "When I argued that we should freeze federal spending, I meant social security as well. I meant Medicare and Medicaid. I meant veterans' benefits. I meant every single solitary thing in that government."
"So when I said last night he tried to cut social security, he said he didn't," Trump said. "Just like he said he never talked about fracking. Look at that. There it is. Thank you, Bernie. I appreciate it, Bernie. Thank you very much. Bernie Sanders, everybody. The great Bernie Sanders."
The video appeared to be from Sanders' presidential campaign, with a card at the end directing viewers towards Sanders' website.
Newsweek reached out to the Biden campaign and Sanders' office for comment.
During Thursday's debate, Biden referenced an executive order Trump signed in August which allowed employers to stop withholding payroll taxes from their workers' paychecks. Payroll taxes go directly towards funding Social Security. According to Biden, the lack of constant income going towards Social Security would cause the program to go bankrupt within three years.
According to Trump's order, payroll taxes would be deferred, not waived. After the order expired at the end of December, those taxes were expected to be paid back. Businesses were given the option to follow the order. However, employees of the federal government and members of the U.S. military were prohibited from opting out.