Trump Thinks Bernie Sanders Will Run Against Him 'In A Wheelchair' In 2020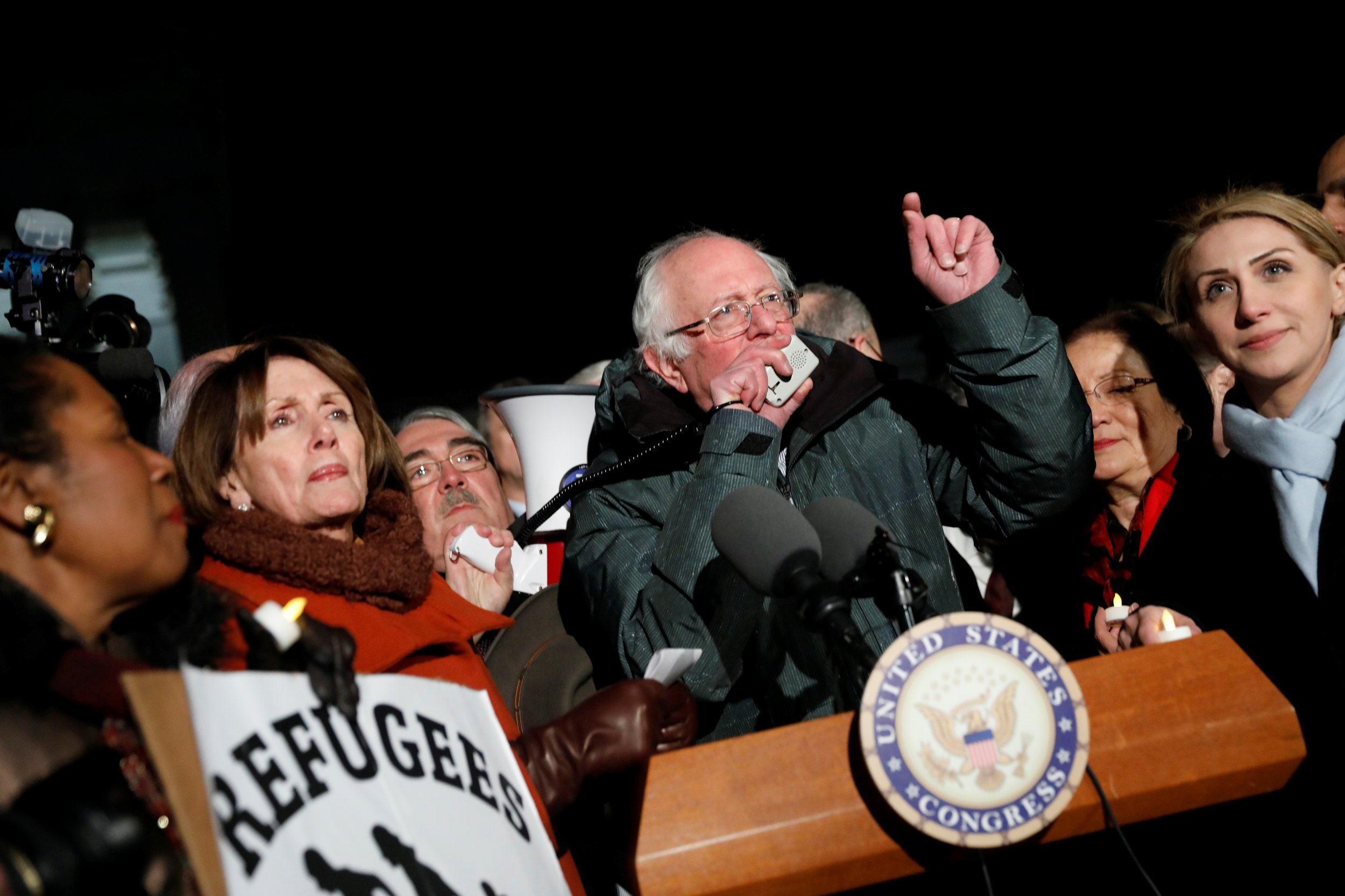 President Donald Trump forecasted that Bernie Sanders would run against him in 2020 "even if he's in a wheelchair," and mocked the Vermont senator by imitating a scrunched-up body.
Trump expressed that opinion over the summer when he invited four Democratic lawmakers to the White House, and also asked, "Who is going to run against me in 2020? Crooked Hillary? Pocahontas?" the New York Times reported on Saturday.
At 70 years old, Trump was the oldest president to be inaugurated in the U.S. Trump, now 71, is nearly five years younger than Sanders, who would turn 79 in 2020.
But Sanders's wife Jane in June said that the senator was actively advocating for policies benefiting the working class and that his age wasn't a factor.
"Ageism is the last 'ism' that seems to be acceptable to people, and I never felt that it was whether somebody was too young or too old," she told the New York Times. "You win some. You lose some. And you keep on going and maybe you can win the next one."
Bernie Sanders, who lost the Democratic nomination to Hillary Clinton last year, has started addressing some of his political shortcomings including his lack of foreign policy connections, a sign he may be gearing up for a 2020 bid, POLITICO reported late last month.
Other Democrats that Trump called out over the summer have not indicated they will make a bid for the presidency.
After Trump in October tweeted he hopes Clinton will run against him, Clinton told BBC Radio 4, "No, I'm not going to run again," but that she would continue to speak out against Trump.
Massachusetts Senator Elizabeth Warren, who Trump refers to as "Pocahontas" because she claims to have a Native American background, is considered a top Democratic contender. In August, she brushed off the idea, saying, "I'm doing my job every single day. I am not running for president, I'm doing my work."
Meanwhile, some Republicans recently have cast doubt over whether Trump will seek reelection—even though he is raising millions of dollars for a campaign.
New Jersey Governor Chris Christie in October told the Today show that if Trump runs again, "I would support him, yes, but I'm not so sure what will happen."
Shortly after, Senator Rand Paul said Republicans "need to know (if) President Trump (is) running for re-election," and, "I think you won't know that until you get into sort of second, third year of his presidency."
Trump's approval rating has remained very low as a probe into whether he and his campaign colluded with Russians in the 2016 election widens.