Trump Thinks Democrats Are 'Going Crazy' Because They Can't Beat Him in 2020
President Donald Trump has said he thinks Democrats are "going crazy" because they know they can't beat him in the 2020 presidential election.
Taking to Twitter on Saturday evening, the president also touted potential Republican success in the upcoming 2018 midterms, suggesting election night would be "interesting."
"The Dems have tried every trick in the playbook-call me everything under the sun. But if I'm all of those terrible things, how come I beat them so badly, 306-223? Maybe they're just not very good! The fact is they are going CRAZY only because they know they can't beat me in 2020!" Trump wrote, ignoring the fact that his Democrat rival Hillary Clinton won the popular vote in 2016, although not the all-important Electoral College vote.
"Republicans are doing really well with the Senate Midterms. Races that we were not even thinking about winning are now very close, or even leading. Election night will be very interesting indeed!" he said in an earlier tweet.
Trump's messages came following a speech by former President Barack Obama at a Democrat rally in California, during which Obama appeared to criticize President Trump.
Newsweek subscription offers >
""It's always tempting for politicians, for their own gain and for people in power, to try to see if they can divide people, scapegoat folks, turn them on each other," Obama said in Anaheim. "Because when that happens, you get gridlock and government doesn't work and people get cynical and they decide not to participate."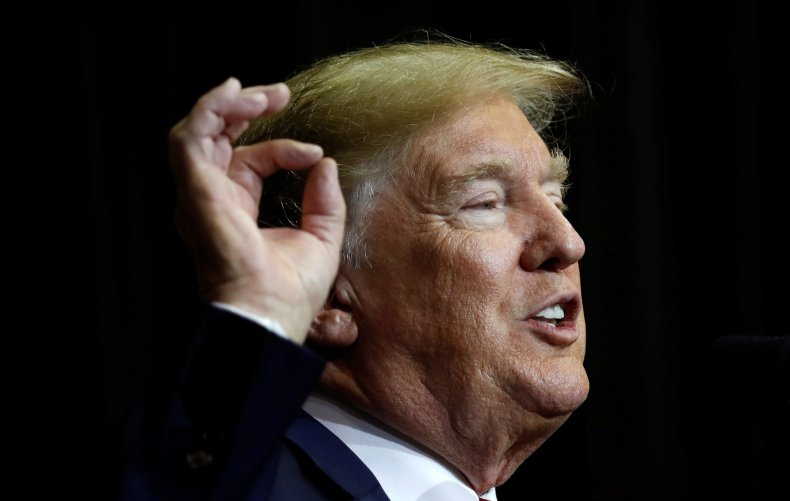 "And when people don't participate, then that vacuum is filled by lobbyists and special interests and we get into a downward spiral where people get more and more discouraged and they think nothing's going to make a difference," he continued.
"We are Americans, we're supposed to stand up to bullies. Not follow them. We're supposed to stand up to discrimination, and we're sure as heck supposed to stand up clearly and unequivocally to Nazi sympathizers," Obama added in comments that clearly took a dig at Trump.
And Trump aides had reportedly expressed concern that Obama's comments would rile Trump ahead of the midterms, Politico reported, with the president's team keen that Obama did not get inside his head ahead of the November polls.
Trump Thinks Democrats Are 'Going Crazy' Because They Can't Beat Him in 2020 | U.S.