Trump Offers 'Thoughts and Prayers' Over Kentucky School Shooting One Day After Deadly Attack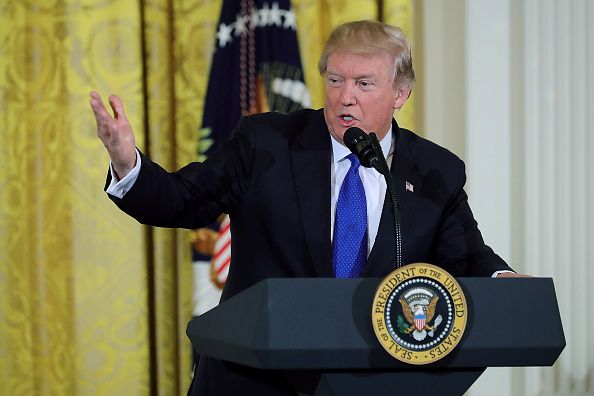 President Donald Trump on Wednesday offered "thoughts and prayers" over the Kentucky school shooting — after staying silent about it for more than 24 hours.
"Earlier today, I spoke with @GovMattBevin of Kentucky regarding yesterday's shooting at Marshall County High School. My thoughts and prayers are with Bailey Holt, Preston Cope, their families, and all of the wounded victims who are in recovery. We are with you!" he tweeted in the afternoon, referencing the two children slain in the shooting.
Trump's slow response did not go unnoticed, as Congress members and even Canadian Prime Minister Justin Trudeau spoke about the shooting a day before the president commented.
The tweet showed Trump employing a line he and the GOP have been condemned for falling back on after deadly tragedies, especially mass shootings. Other Republicans have offered "thoughts and prayers" after recent mass shootings — such as the attacks last fall in Las Vegas and a Texas church that each left dozens of people dead — in lieu of talk about gun control.
Democrats and gun control advocates, conversely, often use each tragedy as a platform to renew calls for gun reform. Former U.S. Representative and shooting survivor Gabrielle Giffords led the latest call, tweeting Tuesday that "Congress can protect kids in their classrooms, in the cafeteria, and on the playground - but to do that they must strengthen our gun laws."
Trump, who campaigned in support of Second Amendment protections, vaguely broached the topic of gun control after the Las Vegas shooting that left 58 people dead in October 2017, but his administration has not pursued any measures.
Tuesday's shooting left two 15-year-old students dead and 18 people injured after a 15-year-old gunman walked into Marshall County High School in Benton, Kentucky shortly before 8 a.m. and opened fire, police said. The teen on Wednesday was charged with two counts of murder and 12 counts of first degree assault. It was the 11th reported shooting on school property this year.
Sterling Haring, a Tennessee doctor who treated several victims from the shooting, tweeted that he thinks politicians "will do nothing" to stop similar massacres, and told Newsweek Wednesday that he believes fellow physicians need to speak up in the debate about gun control.