Trump Threatens '60 Minutes' at Rally After Walking Out of Interview With Lesley Stahl
President Donald Trump told a campaign event crowd in Pennsylvania on Tuesday that they would "get a kick" out of what his administration would do to the CBS News program 60 Minutes. Meanwhile, CBS News reported Tuesday that Trump left an interview with CBS News correspondent Lesley Stahl before it was scheduled to end.
Trump tweeted a short video of Stahl at the White House in which she was seen not wearing a face mask although other individuals in the room were properly masked. Trump also intimated that he may post the entire interview, which was scheduled to be broadcast Sunday.
"You have to watch what we do to 60 Minutes," Trump said on Tuesday. "You're gonna get such a kick out of it. You're gonna get a kick out of it. Lesley Stahl's not gonna be happy."
On Tuesday's edition of the CBS Evening News, anchor Norah O'Donnell said that Trump had cut the interview with Trump short.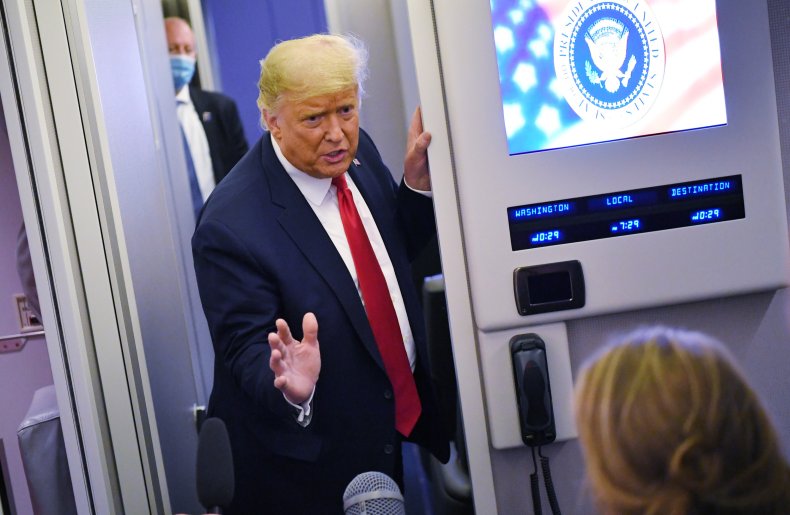 People familiar with the interview told Newsweek on Tuesday that the White House had agreed to record the interview between Trump and Stahl specifically for archival purposes. Although the video purports to show Stahl without a mask, Stahl was had worn a face mask from the time she entered the White House until the interview began.
Trump began tweeting about Stahl Tuesday by tweeting a short video.
"Lesley Stahl of 60 Minutes not wearing a mask in the White House after her interview with me," Trump wrote. "Much more to come."
Trump then tweeted that he was considering posting his interview with Stahl "for the sake of accuracy in reporting."
"This will be done so that everybody can get a glimpse of what a FAKE and BIASED interview is all about," Trump wrote.
Vice President Mike Pence, Democratic presidential nominee Joe Biden and Democratic vice presidential nominee Kamala Harris were also expected to be interviewed for Sunday's episode of 60 Minutes.
Trump has often alleged that media outlets have aligned against him and his administration. According to Trump, he has been asked difficult questions during interviews while Biden has only received simple queries. In September, Trump said during a news conference that Biden had gotten questions that were "meant for a child" after a campaign event in Delaware.
"There were smiles on the reporters," Trump said. "What do you think? Take a look at the questions they asked him. They were not meant for a grown-up. They were meant for a child."