Trump Threatens to Adjourn 'Both Chambers of Congress' So He Can Make Recess Appointments Without Senate Consent
President Donald Trump on Wednesday threatened to use a never-before-used power that allows the president to adjourn Congress if the House and Senate won't voluntarily adjourn, so he can appoint judges and other executive branch officials without the Senate's approval.
While delivering opening remarks at Wednesday's White House Coronavirus Task Force daily briefing, Trump claimed that 129 unconfirmed nominees were stuck in limbo because of "partisan obstruction" by Democrats despite the fact that Republicans—in particular Senate Majority Leader Mitch McConnell and Republican committee chairs—control the pace at which nominees are confirmed.
One such nominee—Michael Pack—is Trump's pick to lead the Broadcasting Board of Governors, which runs the widely-respected Voice of America news service. Both Republican and Democratic senators have expressed concern that Pack is too partisan a figure for the position, and have so far declined to take any action on his nomination.
Pack, Trump said, has been "stuck in committee for two years, preventing us from managing the Voice of America," despite the fact that the agency is legally prohibited from taking editorial direction from the country's political leadership.
"If you heard what's coming out of the Voice of America, it's disgusting—what things they say are disgusting toward our country," Trump said. "And Michael Pack can't get in. He'd do a great job, but he's been waiting now for two years."
"The Senate's practice of gaveling into so-called pro forma sessions where no one is even there has prevented me from using the constitutional authority that we're giving under the recess provisions," he continued. "The Senate should either fulfill its duty and vote on my nominees or it should formally adjourn. So that I can make recess appointments."
The president then threatened to make use of a power that no U.S. president has ever used—the authority to adjourn Congress "to such time as he shall think proper"—if the House and Senate won't allow him to exercise his recess appointment authority because "the current practice of leaving town, while conducting phony pro forma sessions, is a dereliction of duty, that the American people cannot afford during this crisis."
"It is a scam, what they do, it's a scam, and everybody knows it, and it's been that way for a long time," he said.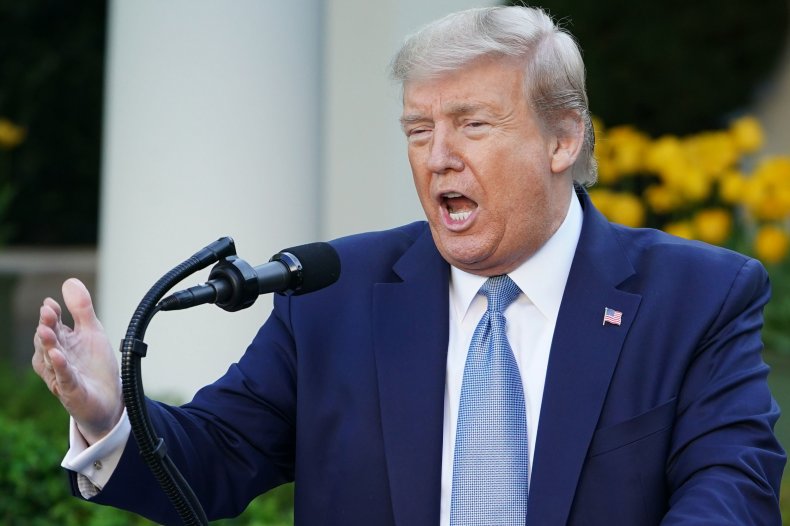 Under the U.S. Constitution, "Officers of the United States" are appointed with the "advice and consent" of the Senate. This category includes all federal judges, ambassadors, cabinet secretaries and the heads of many federal agencies.
While the Constitution provides for the president to make recess appointments to fill positions when Congress has adjourned, presidents have largely been unable to exercise that authority since 2006, when Democrats took control of Congress and began holding pro forma sessions every few days without formally adjourning, to circumvent the requirement that neither chamber adjourn for more than three days without the consent of the other.
Because the Democratic-controlled House has not consented to the Republican-controlled Senate adjourning, both chambers have been holding the brief sessions, which has denied Trump the ability to fill vacancies with nominees who might not be able to gain the Senate's approval.
Asked how exercising the never-before-used power would improve relations between the parties in an already-divided capital, Trump again claimed that Democrats were responsible for the delays even though Republicans have controlled the Senate since he took office, and have even shortened the time it takes to confirm nominees.
"Rather than approving somebody who's highly qualified somebody that everybody knows is going to be approved, rather than going quickly, they take the maximum amount of time, whatever that time may be, and what they're doing by doing that is taking days to approve somebody that could be approved in a quick vote," Trump said. "I'd rather not use that power, but we have way over 100 people that we very badly need in this administration that should have been approved a long time ago."
He then launched into another angry monologue about the Senate's decision to not approve his nominee to run the Voice of America.
"If you look at what they're doing and what they're saying about our country, it's a disgrace," he said. "We have somebody that's really good, really talented, and that loves our country. And I want to get these people approved."