Trump Threatens to Endorse Challengers to Michigan Lawmakers Who Don't Support 2020 Audit
Donald Trump is threatening to endorse primary challengers of Michigan lawmakers who don't support an audit of the 2020 election.
His statement comes after hundreds of people gathered at the Michigan State Capitol Tuesday to demand a forensic audit of the presidential race, despite no findings of widespread fraud.
"Big rally in Michigan yesterday, unbelievable spirit and knowledge of what went on with respect to voting and vote counting in the 2020 Presidential Election," Trump said in a statement released through his Save America political action committee.
Speakers at the event included organizers from a group called Election Integrity Fund and Force, as well as Trump-endorsed candidates Matt DePerno, Steve Carra and Kristina Karamo.
"We had major issues in the last election and if we want to have fair, honest, transparent elections we need to demand a full forensic audit," Carra, a state representative running for Congress, told the crowd.
But local lawmakers and officials who don't back an audit may see their 2022 challengers get Trump's coveted endorsement.
"Why won't they give respected professionals and representatives at yesterday's rally the right to do a Forensic Audit of Wayne County (Detroit) and Macomb County?" Trump said in a statement on Wednesday. "That includes the RINOs in the State Senate and House who for, whatever reason, do nothing but obstruct instead of seeking the truth."
Trump continued, "Hopefully, each one of these cowardly RINOs, whose names will be identified and forthcoming, will be primaried, with my Complete and Total Endorsement, in the upcoming election. Congratulations on the great rally yesterday!"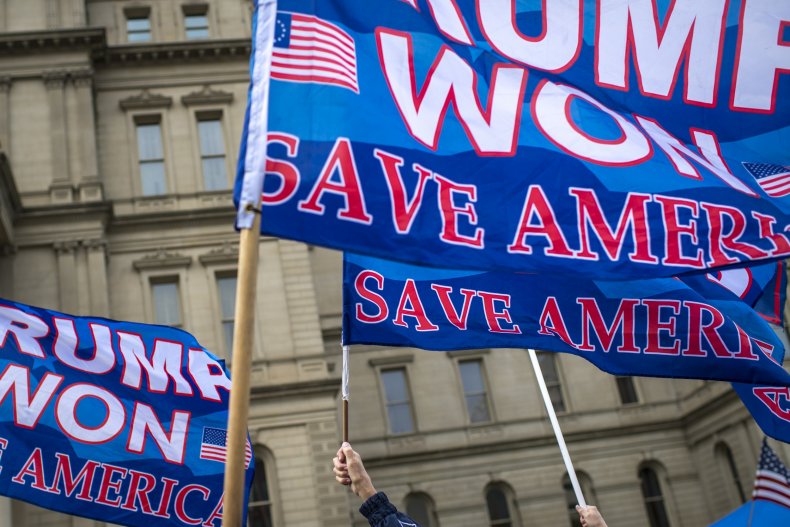 President Joe Biden defeated Trump by more than 150,000 votes in Michigan. The Democrat captured 50.6 percent of the vote, compared to Trump's 47.8 percent.
A Republican-controlled Michigan Senate committee found no widespread fraud in the 2020 race after a months-long investigation. The panel also suggested that Democratic Attorney General Dana Nessel consider investigating individuals who pushed false claims "to raise money or publicity for their own ends."
Supporters of a 2020 audit said Tuesday they will launch a petition drive, which will need 340,047 signatures, to get the matter before the state legislature. If lawmakers then approve the policy, then organizers say Democratic Governor Gretchen Whitmer wouldn't be able to veto the audit.
Newsweek reached out to the Michigan Senate and House Republicans for comment but didn't receive a response before publication.