Former President Donald Trump came out strongly Thursday against the bipartisan gun bill, threatening Senate Minority Leader Mitch McConnell, who has supported advancing the legislation along with 13 other GOP lawmakers.
Twenty Republican and Democratic negotiators—led by GOP Senators John Cornyn of Texas and Thom Tillis of North Carolina, along with Democratic Senators Kyrsten Sinema of Arizona and Chris Murphy of Connecticut—announced a framework for the bipartisan gun bill on June 12 after multiple mass shootings. The legislation, which would be the biggest gun reform measure to pass Congress in years, got through its first major hurdle on Tuesday with the support of 14 Republican senators.
In a Thursday morning Truth Social post, Trump slammed the legislation, calling it a "career-ending bill," and took aim at McConnell.
"Mitch McConnell's push for Republican Senators to vote for Gun Control will be the final straw. Just like he gave away the Debt Ceiling and got NOTHING in return, or handed the Dems a great sound bite and victory with the Infrastructure Bill, which is actually all about the Green New Deal, he is now forcing approval of the FIRST STEP IN TAKING AWAY YOUR GUNS! Republican Senators SHOULD NOT VOTE FOR THIS CAREER ENDING BILL!!!" Trump wrote.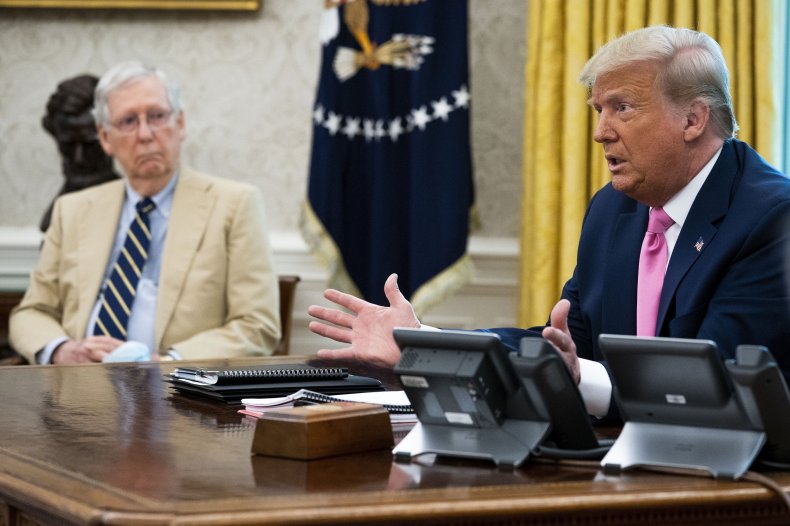 Newsweek reached out to spokespeople for McConnell and Cornyn for comment.
Trump had previously attacked McConnell, issuing a warning about the gun bill in a Truth Social post on Wednesday.
"The deal on 'Gun Control' currently being structured and pushed in the Senate by Radical Left Democrats, with the help of Mitch McConnell, RINO Senator John Cornyn of Texas, and others, will go down in history as the first step in the movement to TAKE YOUR GUNS AWAY. Republicans, be careful what you wish for!!!" the former president wrote.
The acronym "RINO" stands for Republican in Name Only.
The bipartisan bill would toughen background checks for gun purchasers under 21, create grants to fund mental health programs and close the "boyfriend loophole" to prevent people convicted of domestic abuse from owning firearms. It would also provide funds to states for "crisis intervention programs," which include red flag laws in some states.
On Thursday, the bill passed in a Senate vote to prevent a filibuster, with the backing of 15 Republican senators. The bill will come up for a final vote on Friday and is expected to pass. It will then move to the House, where House Speaker Nancy Pelosi has said the chamber will quickly take it up. President Joe Biden has expressed his support for the legislation.
As he addressed a Texas GOP convention in Houston last Friday, Cornyn was booed by fellow Republicans over the legislation he helped negotiate. However, polling suggests that many GOP voters support the gun control measures in the bill.
A survey conducted by Data for Progress from June 15 to 21 showed that 67 percent of likely voters said they "strongly" or "somewhat" support the bipartisan legislation. Eighty-four percent of Democrats, 65 percent of independents and 52 percent of Republicans held that opinion. Recent Fox News polling also showed substantial majority support among Americans for proposed gun restrictions.
Update 6/23/22, 1:30 p.m. ET: This story was updated with more background and information.