As Trump Threatens Social Media Over Bias, Appeals Court Dismisses Suit Claiming Twitter Suppresses Conservative Views
As President Donald Trump leverages accusations and threats against Twitter, a United States Court of Appeals judgement issued on Wednesday dismissed claims the social media platform and others have unlawfully conspired to suppressed conservative views.
The lawsuit, originally filed in Washington, D.C., district court, accused Twitter, Facebook, Google and Apple of violating the First Amendment in addition to antitrust and human rights policies.
The federal appeals court's ruling upheld the D.C. district court's initial judgement, which acknowledged plaintiffs' right to sue but dismissed their complaint. The suit was filed by conservative commentator Laura Loomer and political interest group Freedom Watch.
"Freedom Watch's First Amendment claim fails because it does not adequately allege that the Platforms can violate the First Amendment," the court's ruling read, adding, "In general, the First Amendment 'prohibits only governmental abridgment of speech.'" Its opinion went on to address claims alleging the four companies acted against the Sherman Antitrust and D.C. Human Rights Acts, which protect against collective monopolies and discrimination based on political affiliation, respectively. Both sets of claims were dismissed.
The appeals court filed its judgement amid rising tension between Trump and Twitter, after the platform fact-checked his tweets about mail-in voting and flagged them with an alert message encouraging users to "get the facts."
The alert leads those who click to another page with news articles that explain why the president's comments, which said mail-in ballots would result in voter fraud, were unsubstantiated.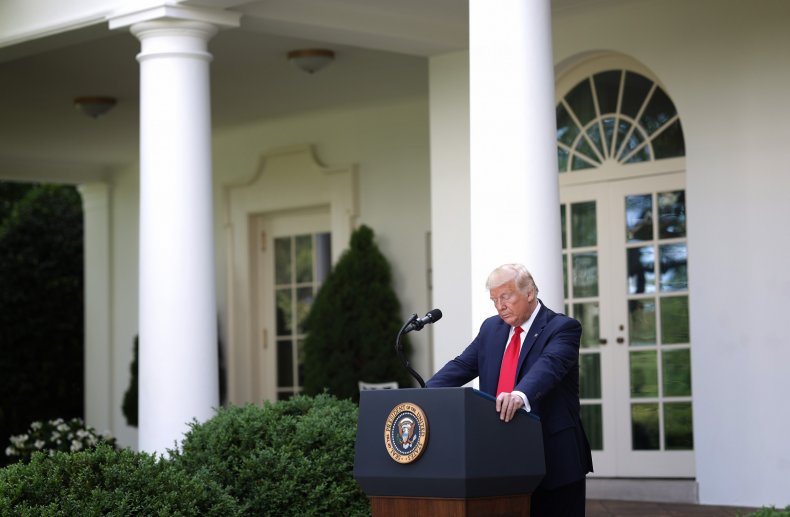 Trump's remarks about mail-in ballots were in response to news that Governor Gavin Newsom was expanding vote-by-mail throughout California. On May 8, Newsom issued an executive order that provided all registered voters the opportunity to cast ballots by mail in November. The rationale behind his decision was rooted in ensuring that voting was widely accessible regardless of the novel coronavirus outbreak's status. Mail-in voting is already permitted in 33 states across the country.
The president penned several messages targeting Twitter throughout Wednesday morning, saying social media platforms "totally silence conservative voices" and threatening to take action against them.
"Republicans feel the Social Media Platforms totally silence conservatives voices. We will strongly regulate, or close them down, before we can ever allow this to happen," he wrote. "We saw what they attempted to do, and failed, in 2016."
Trump then circled back to the ballot conversation, insisting his previous remarks about fraudulent results were not false. "It would be a free for all on cheating, forgery and the theft of Ballots," he continued. "Whoever cheated the most would win. Likewise, Social Media. Clean up your act, NOW!!!!"
Newsweek reached out to the White House, Twitter and Facebook for additional comments but did not receive replies by time of publication.