Russia Says Trump Once Offered to Help Putin Fight Wildfires—Now He's Threatening to Withdraw Aid From California
President Donald Trump seems more willing to help Russia fight wildfires than California, considering he just threatened to cut off federal aid to the state months after offering to aid Russia in battling blazes in parts of Siberia.
On Sunday, Trump slammed California Governor Gavin Newsom for his handling of the wildfires and vaguely warned that he would end the federal funding. Newsom declared a statewide emergency last week in an effort to mobilize resources.
"Every year, as the fire's rage & California burns, it is the same thing—and then he comes to the Federal Government for $$$ help. No more. Get your act together Governor. You don't see close to the level of burn in other states," Trump wrote on Twitter.
Trump kept the criticism going in a brief press conference later that day, telling reporters that "the governor doesn't know—he's like a child. He doesn't know what he's doing."
Newsom responded to Trump's attacks by rebuking the president for denying the effects of climate change and global warming. The governor tweeted back at Trump: "You don't believe in climate change. You are excused from this conversation."
The president's remarks about California's governor come after he offered last summer to help Russia fight a similar battle against wildfires.
According to the Kremlin, Trump made the offer to Russian President Vladimir Putin during a phone call in early August. At the time, the wildfires were so large that Greenpeace Russia said they were creating an "ecological catastrophe." Putin reportedly expressed his "sincere gratitude" to Trump for the offer and said that if necessary he would take him up on it.
The Kremlin was the first to report the phone call between the two leaders. Later, the White House confirmed that Trump "expressed concern over the vast wildfires afflicting Siberia" and that he and Putin "also discussed trade between the two countries."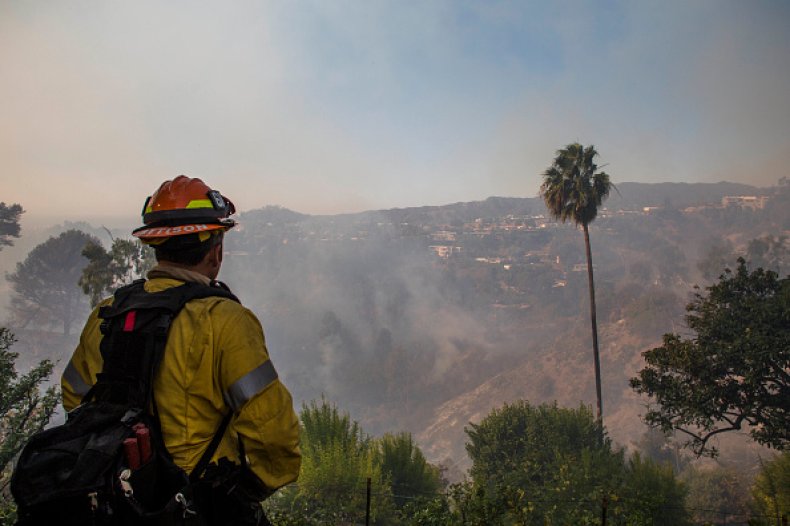 It's not the first time that Trump has threatened to withdraw federal funds to California as it grappled with deadly wildfires.
In January, Trump threatened to withdraw funds from the Federal Emergency Management Agency (FEMA) as the state dealt with the destruction from the 2018 fire season. The president claimed that the fires were caused by inadequate forest management and blamed the state's Democratic leaders.
According to the California Department of Forestry and Fire Protection, last year was the "deadliest and most destructive wildfire season on record." A total of over 7,500 fires had burned in an area of over 1,670,000 acres. The blazes included the Woolsey Fire and the Camp Fire; the latter killed at least 85 people.
"Unless they get their act together, which is unlikely, I have ordered FEMA to send no more money," Trump stated at the time. "It is a disgraceful situation in lives & money!"