President Donald Trump's former Secretary of State, Rex Tillerson, told graduating seniors that they had a responsibility to "confront the crisis of ethics and integrity in our society and among our leaders" in order to prevent "American democracy as we know it" from entering "its twilight years" at a military academy commencement speech Wednesday.
Tillerson did not mention his former boss by name during the 22-minute speech but it was hard not to read much of his address as a veiled and fiery critique of the man who unceremoniously fired him in March. Tillerson alluded to the "alternative realities" that leaders who "seek to conceal the truth" propagate and warned that "when we as a people go wobbly on the truth, we go wobbly on America," at the Virginia Military Institute Wednesday afternoon.
Tillerson's firing reportedly blindsided the former ExxonMobil CEO. Trump later clarified that "Rex and I have been talking about this a long time," and used the Iran nuclear deal as an example of how "we were not really thinking the same."
During his speech Wednesday, Tillerson made allusions to Trump's recent announcement pulling the United States out of the Iran nuclear deal. "When we talk to our adversaries," he said, "we must say what we mean and mean what we say." He argued that the United States should not take its allies for granted and, instead, work to build relationships with them "both in trade relations and national security matters."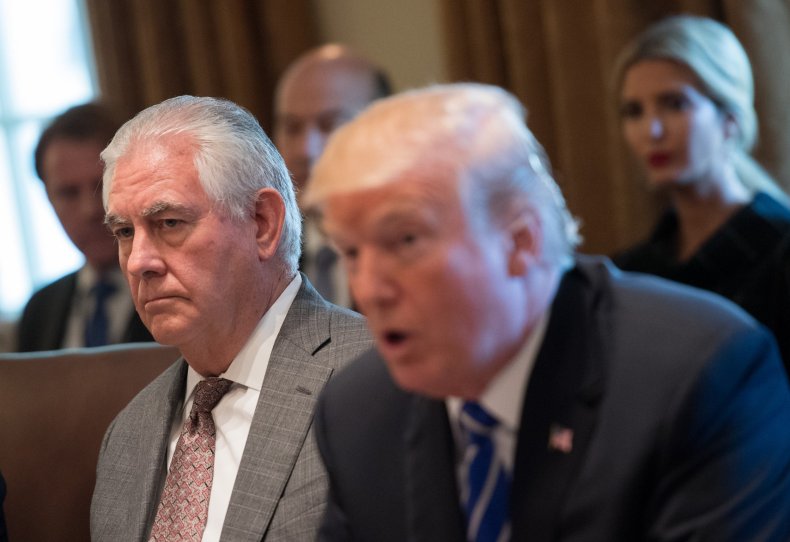 It wasn't only Trump who doubted Tillerson's performance in his former role, however. During his time at the State Department, Tillerson instituted hiring freezes and cut costs leading to what was called "a decapitation of its leadership ranks," by Barbara Stephenson, president of the American Foreign Service Association.
Former State Department special adviser and Pulitzer Prize–winning journalist Ronan Farrow claimed on Tuesday evening that Tillerson admitted that he wasn't prepared for the job, "Tillerson, if he had any logic, knew that he was going to be fired on some level," Farrow told Seth Meyers on Late Night. "He basically says [in an interview for Farrow's new book] 'I didn't know what I was doing, I wasn't experienced enough for it.'"
After Tillerson's speech, some journalists took to Twitter the former secretary of state a hypocrite, accusing him of purposefully obscuring the truth while working for Trump.
"Tillerson had zero respect for the State Dept press corps and only discovered their existence when he was an endangered species," wrote Axios's Jonathan Swan.
"Rex Tillerson brought a single, handpicked reporter on a trip to Japan, China and South Korea under embargo that nothing was published until the end of the trip," added The Washington Post's David Nakamura.
Still, Tillerson warned that obscuring the truth would lead America to become like "Russia, China, Iran or North Korea." It is only by "fierce defense of the truth and common sets of facts that we create the conditions for a Democratic, free society comprised of richly diverse peoples," he said.