Trump Told Hope Hicks She Was 'The Best Piece of Tail' Corey Lewandowski Would Ever Have, Book Claims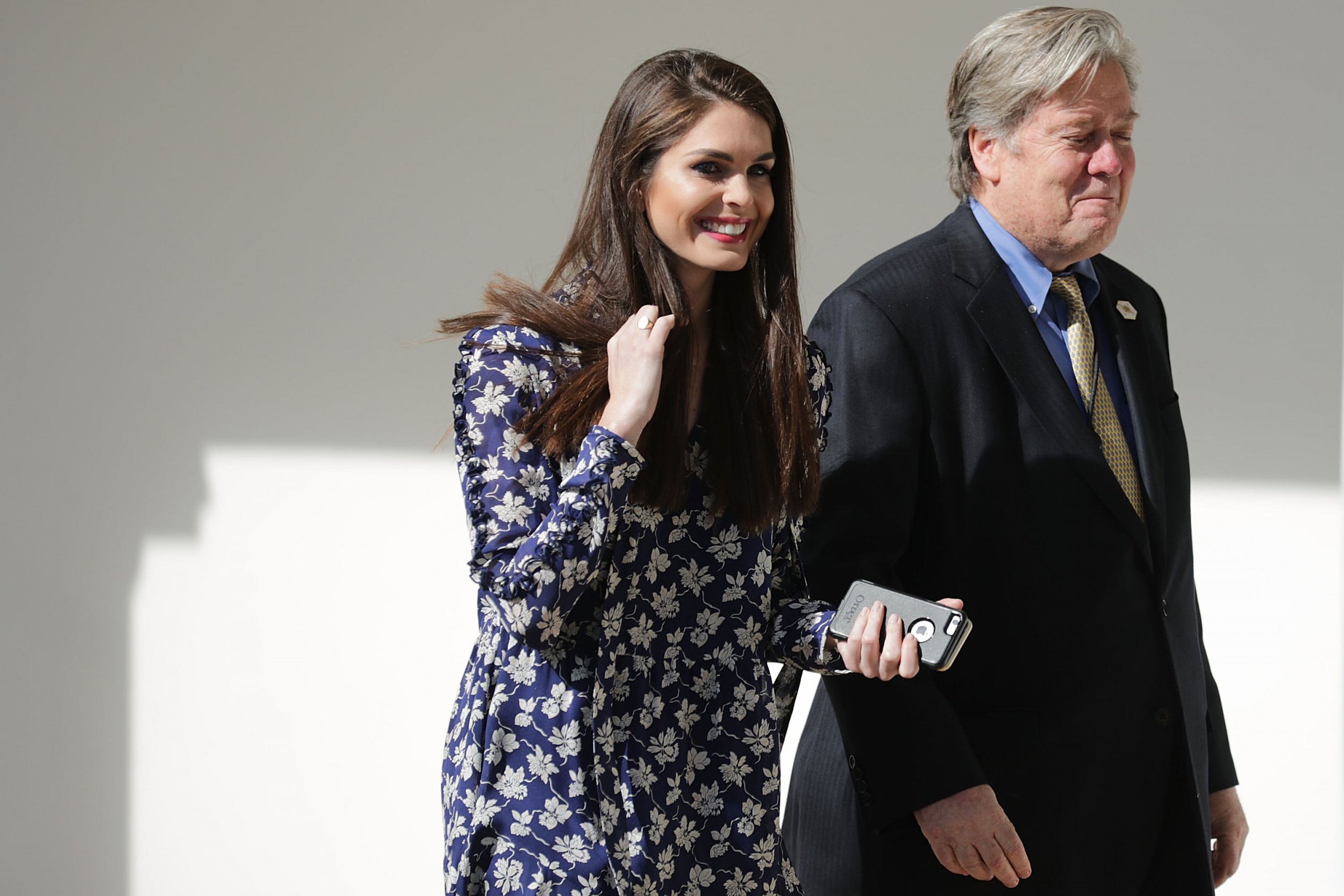 Donald Trump told his communications director Hope Hicks, who reportedly sees him as a father figure, that she was "the best piece of tail" Corey Lewandowski would ever have, an explosive new book about the president claims.
An excerpt from Michael Wolff's Fire and Fury: Inside the Trump White House, reported by MSNBC, claims the president made the comment to his then–press secretary Hicks after she expressed concerns about how the press was treating Trump's former campaign manager Lewandowski.
The book states Hicks was sitting in Trump Tower with Trump and his sons and was "wondering aloud" how she could help him with the press, when the president interjected.
"You've already done enough for him," Trump allegedly responded to Hicks.
"You're the best piece of tail he'll ever have," he added, in a comment that reportedly sent Hicks "running from the room."
The president's comment was an apparent reference to an on-off romantic relationship between Hicks and Lewandowski, the book claims.
Aside from the inappropriate comment to Hicks, who has remained a close confidante of the president where other allies have fallen by the wayside, Wolff's book claims the president "seemed to treat Hicks in a protective and even paternal way."
Indeed, Brad Parscale, the digital director for Trump's 2016 campaign, has previously described Hicks's relationship with Trump as familial.
"She has a great 'Trump radar' [in] understanding how he thinks... She loves him like a father in some ways, and I think that is an important loyalty to the family," he said in a November interview with Newsweek.
The president's questionable comment toward his female employee is just one revelation in the book, which also quotes former White House chief strategist Steve Bannon as using the term "treasonous" to described a June 2016 meeting between Donald Trump Jr. and a Russian lawyer at Trump Tower, prompting the president to lash out at Bannon.