Trump Told McCain 'I Admire You...You're a Good Man' During Private Dinner: Woodward
In a private dinner meeting last year with the late Senator John McCain and his wife, Cindy, President Donald Trump told the Vietnam War veteran that he admired him and believed he was a "good man," Bob Woodward claims in his new book, Fear: Trump in the White House.
The Blue Room dinner, which took place in April 2017, had been set up by Senator Lindsey Graham, who had urged Trump to "get to know key Republicans and Democrats," according to Woodward.
"Invite John McCain and his wife, Cindy, to dinner," Graham reportedly said.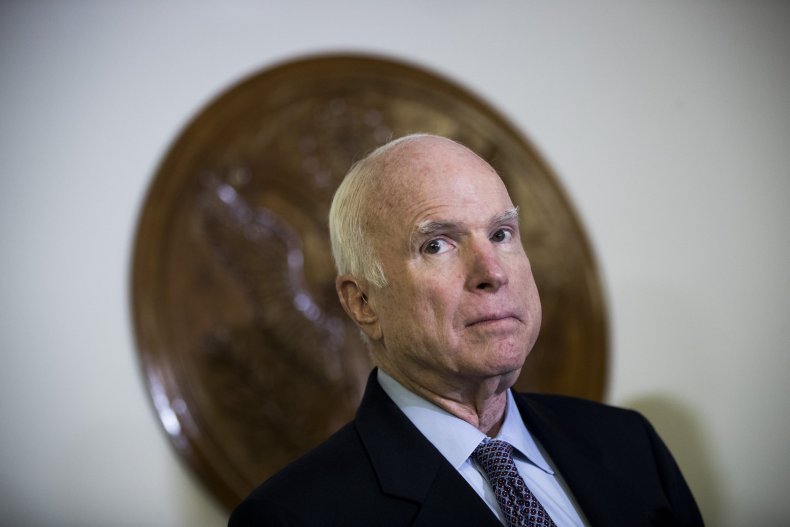 "John is a good guy," the senator said of his colleague, who died on August 25 the day after his family announced that he had made the decision to cease treatment for an aggressive form of brain cancer.
At the time, Graham reportedly told Trump that his "chief job" was to "keep John McCain calm," confiding that Senate Majority Leader Mitch McConnell was "scared to death" of the often-combative senator.
"John knows no boundaries," Graham warned. "He'll pop our leadership as much he'll pop their leadership. And I will, at times, but mine's more calculated. John's just purely John. He's just the world's nicest man."
Graham told the president that he needed to "get along" with McCain, who he said would be able to "help" the president "on lots of things."
The president's highly publicized battle with McCain was, of course, not lost on Graham at the time. In 2015, Trump had made what Woodward described as "one of his most cruel and thoughtless comments about McCain," saying the senator was not a true war hero.
"He's a war hero because he was captured," Trump said at the time. "I like people who weren't captured."
But at Trump's dinner with the McCains, which Graham also attended, the president reportedly shared strikingly different sentiments.
After asking Cindy, who has dedicated her life to fighting human trafficking, to be his ambassador-at-large for the issue, Trump told McCain, "I just want to get to know you," after the senator asked what the president was after.
"I admire you," Trump continued. "You're a very tough man. You're a good man."
Woodward described the remark as being "as close as [Trump] might get to" saying "I'm sorry."
The veteran journalist said McCain appeared visibly "touched" by Trump's comments. "It's a tough world out there," the senator responded. "We want to help you."
Asked by Trump for his thoughts on North Korea, McCain said, "Everybody screwed this up," Democrats and Republicans alike.
Whether the dinner marked a turning point in Trump's relationship with McCain is unclear. The two appeared to be rivals until the very end, with the president failing to receive an invitation to the late senator's funeral. It was attended by former Presidents Obama and George W. Bush, among many others.