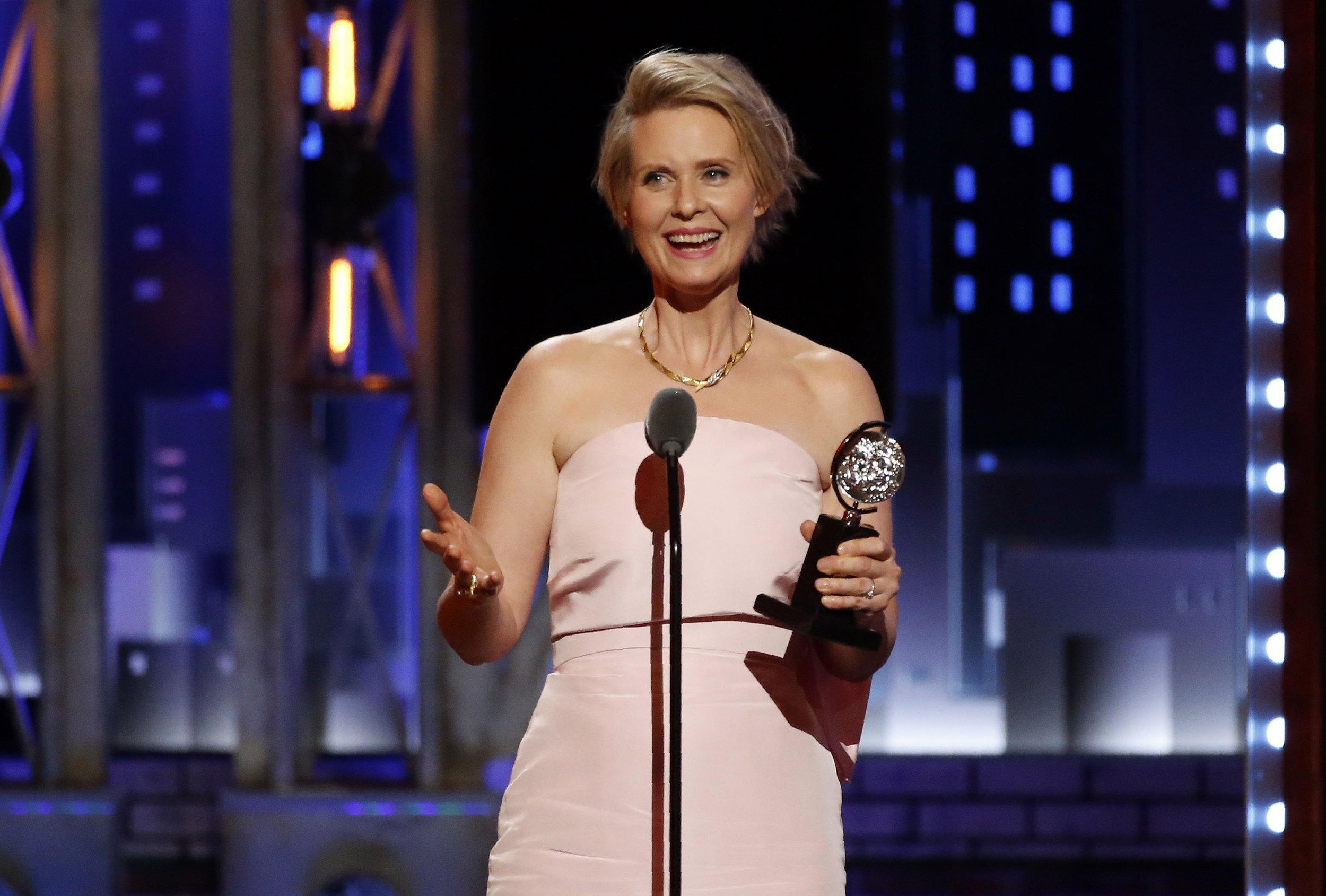 Donald Trump is known more for his tweeting fingers than his jazz hands. But the 45th president of the United States was still a presence at the 71st Annual Tony Awards on Sunday night, even if only in name.
On presenting duties Kevin Spacey may have steered mostly clear of politics early on—minus a quip, saying in a James Earl Jones voice, "This is CNN: The most trusted name in fake news"—but it wouldn't be a post-2016 presidential election awards show without at least a few jabs at the president, his administration and the tense and turbulent political era.
Related: Who won the Tony Awards 2017? 'Dear Evan Hansen,' Ben Platt, Bette Midler, Kevin Kline, Cynthia Nixon and more
At the Emmys in September, even before the election, Julia Louis-Dreyfus said that Veep "started as a political satire but it now feels like a sobering documentary." In January, Meryl Streep called out Trump's bully tactics at the Golden Globes. The Oscars ceremony in February was tinged with political statements, including from Gael Garcia Bernal and Asghar Farhadi, who refused to attend in protest of Trump's travel ban. Farhadi, winner of the Best Foreign Language Film award for The Salesman, had a representative read his speech, in which he explained that "my absence is out of respect for the people of my country and those of other six nations who have been disrespected by the inhumane law that bans entry of immigrants to the U.S."
Some jibes on Sunday were subtle, others explicit, but one thing is certain: The Tonys, coming several months after the election and the other awards shows, wouldn't be the awards to end what's now traditional.
Here are seven times Trump, the White House and the state of the U.S. in 2017 were targeted at the Tonys:
1. Cynthia Nixon on those who refuse to stand by
Nixon was the first and one of the boldest of the evening. "It is a privilege to appear in Lillian Hellman's eerily prescient play at this specific moment in history," she said as she accepted the award for Best Performance by an Actress in a Featured Role in a Play for her part in Lillian Hellman's The Little Foxes. "Eighty years ago, [Hellman] wrote, 'There are people who eat the earth and eat all the people on it and other people who just stand around and watch them do it,'" Nixon said. "My love, my gratitude and my undying respect go out to all the people in 2017 who are refusing to just stand and watch them do it."
2. Sally Field on illuminating the darkness
Field came onstage and told the founding story of the American Theatre Wing, the body that created the Tony Awards. She ended with a few subtle statements about the present day that could be interpreted as a political message, or at least a politics-adjacent one (emphasis ours).
In 1917 in the darkness of war, seven compassionate women gathered hundreds of others from the theater and the American Theatre Wing was born. At a time when national suffrage was yet to be realized the women of the Wing upheld the country's highest ideal—sacrifice for a common cause. They worked 24/7 sewing clothes, packing medical supplies, raising funds and caring for widows, orphans and the wounded.

When World War II threatened, the women of the Wing, now joined by men, returned to the fray. They took in refugees, raised money and morale on the home front and offered respite on the battlefield. Six years before the armed forces were integrated, the Wing boldly established an interracial policy at their stage door canteen.

Tonight as we celebrate the Tony Awards, named for one of the founders, Antoinette Perry, the work goes on. Through grants and programs and outreach, the Wing continues to help artists find new ways to tell the American story, a story that reminds us of our strength in diversity, our common bonds and our enduring national spirit that has always guided us through adversity. Born in perilous times, the Wing in its next century will do what it's always done: Illuminate the darkness with the blazing truth of art.
3. Kevin Kline's pointed thank yous
While accepting the award for Best Performance by an Actor in a Leading Role in a Play for Present Laughter, Kline made sure to "thank a couple of organizations without whom probably half of the people in this room would not be here," he said. He casually but pointedly expressed his gratitude at the tail end of his speech to the National Endowment for the Arts (NEA) and the National Endowment for the Humanities (NEH). Both were slated for elimination under Trump's first budget proposal for 2017. Congress, however, gave both endowments small increases over the 2016 amounts instead. The White House once again expressed its desire to eliminate NEA and NEH funding in the 2018 budget proposal. Congress has yet to have the final word.
4. Kevin Spacey as Bill Clinton on surprising winners
Spacey the chameleon appeared Sunday night not only as himself, but also as Johnny Carson, Frank Underwood and Bill Clinton. "I love the Tonys, I do. I love that House of Cards too, I do," he said as the 42nd president. "Love me some good political theater, I tell you. This season has been full of drama. We've already had some surprising winners, haven't we? I'm not even talking about the Tony Awards."
Under the cover of his impersonation, Spacey allowed himself to get even more explicitly political. "We've had some exciting young performers this season. Ben Platt was named one of Time magazine's 100 most influential people. That's very impressive. I was on that list a couple of times. But Ben, you know who you bumped off that list? My wife," he said as the camera panned to Platt sliding low in his chair. "Now between you and me, you might be a better singer. But after seeing your show, there's no doubt Hillary is much better at creating fake email accounts than you," he added. Then, chuckling and sighing, he said, "That was fun. But I'm going to get in trouble when I get home, that's for sure."
5. A standing ovation for Jill Biden
When the former Second Lady of the United States Jill Biden stepped onto the stage to introduce a musical number from Bandstand—which as she described, highlights the experiences and talents of America's veterans—the audience rose to its feet. It was perhaps the most enthusiastic applause of the evening, and could, perhaps, be interpreted as an expression of nostalgia for a previous administration and even one of displeasure at the current administration. Former Vice President Joe Biden was in the audience.
6. Stephen Colbert on a certain revival
Leave it to Colbert to throw the most explicit shade. He presented the award for Best Revival of a Musical. But before he opened the envelope to reveal the winner (Hello, Dolly!), he really went there. "It's been a great year for revivals in general," especially that one in Washington, D.C., he said. The original show "started off-Broadway in the 1980s. Way off-Broadway, on Fifth Avenue. Huge production values. Couple problems: Main character is totally unbelievable. And the hair and makeup… yeesh mmm nooo noo," he added. "This D.C. production is supposed to have a four-year run but reviews have not been kind. Could close early, we don't know. Best of luck to everyone involved."
(As he described each nominee, he also called Miss Saigon "the only pageant whose locker room our president hasn't walked in on.")
7. Bette Midler on these terrible times
Midler's win for Best Performance by an Actress in a Leading Role in a Musical for Hello, Dolly! surprised no one. Even her long acceptance speech—during which she yelled at the music marking the end of her time, "Shut that crap off!"—wasn't particularly shocking, since Midler is royalty in that room. (Spacey as his House of Cards character Frank Underwood did acknowledge her flouting of the rules later on. "Let's leave and allow them to finish their awards show. I want to get the hell out of here before Bette Midler thanks anyone else," he said. "Oh damn, I think I said that one out loud.) Before Midler finally conceded the stage, she described Hello, Dolly! "Its optimism, its democracy, its color, its love of life, its hilarity. This is a classic, come and see it," she said. "This thing has the ability to lift your spirits in these terrible, terrible times."