Donald Trump Touts 'Criminal Justice Reform' as Polls Show Disapproval of His Race Relations Record
President Donald Trump claimed that he "did criminal justice reform" on Thursday night as new polling showed that most U.S. adults disapproved of his handling of race relations.
Posting to social media as nationwide protests against police brutality and the killing of George Floyd entered their ninth night, the president claimed he had achieved criminal justice reform that neither former President Barack Obama or Vice President Joe Biden could achieve "even if they did try."
Trump also took aim at Biden's record on crime policy, dubbing his support for the 1994 Crime Bill a "total disaster" that led to innocent black people being put behind bars.
"Sleepy Joe Biden's 1994 Crime Bill was a total disaster. It was mass incarceration for Black people, many of them innocent," the president tweeted. "I did Criminal Justice Reform, something Obama & Biden didn't even try to do - & couldn't do even if they did try. Biden can never escape his Crime Bill!"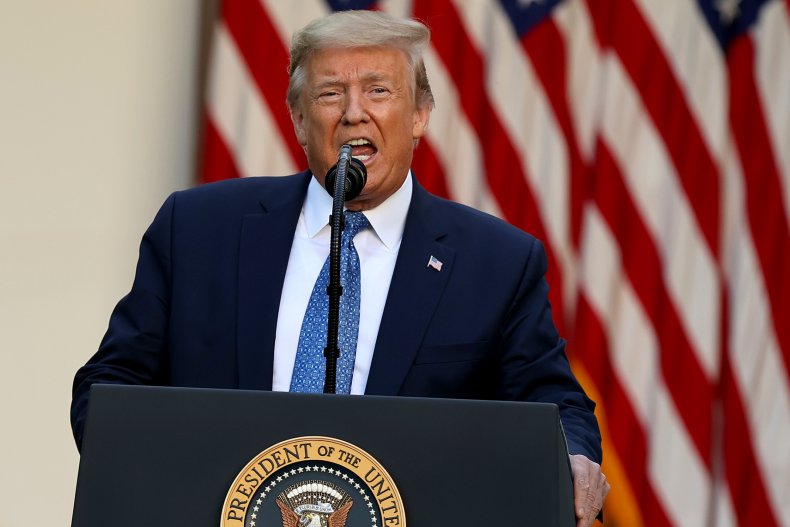 Under the terms of the 1994 Crime Bill backed by Biden, more resources were diverted to prisons as sentences for drug offenses became harsher. The bill also contained the "three strikes" rule that saw life sentences without parole handed down to people convicted of at least three violent felonies or drug trafficking offenses.
In December 2018, President Trump signed the bipartisan First Step Act into law, reducing the mandatory minimum sentences for drug crimes while allowing more federal prisoners to earn early release.
"This legislation reformed sentencing laws that have wrongly and disproportionately harmed the African-American community," Trump said of the First Step Act in his State of the Union address last year.
However, the president's effort to reform federal crime law disproportionately impacting the black community does not appear to have had much cut through with Americans amid protests against the killing of an unarmed black man in Minneapolis Police custody last week.
A poll published by CBS News on Wednesday found that 58 percent of U.S. adults disapproved of the president's handling of race relations following his repeated threats to deploy military personnel at the ongoing protests against police brutality.
Only a third of Americans said they approved of the president's record on race relations, while a further 9 percent told pollsters they didn't know where they stood on the matter.
Asked whether they thought race relations in the U.S. were generally good or bad at the moment, 61 percent said race relations were in a bad place. By comparison, 35 percent of Americans thought race relations in the U.S. were generally good.
There was also little optimism for the immediate future, with 42 percent of respondents telling pollsters they believed race relations were getting worse and 39 percent believing they were staying roughly the same as before. A little less than one in five (17 percent) felt race relations were getting better.
CBS News pollsters surveyed more than 1,300 U.S. adults between May 29 and June 2 for their latest poll. Its margin of error stands at 3.1 percentage points.
Newsweek has contacted the Biden 2020 campaign for comment and will update this article with any response.