After pressure from the White House, former President Donald Trump on Tuesday advised all Americans to get the coronavirus vaccine, saying that it is "safe" and "something that works."
Trump called into Fox News this evening to discuss the success of his administration's Operation Warp Speed, among other political issues. Asked by host Maria Bartiromo whether he would recommend the vaccine to the network's conservative audience, Trump said, "I would. I would recommend it. I would recommend it to a lot of people who don't want to get it and a lot of those people voted for me, frankly."
"But again, we have our freedoms and we have to live by that and I agree with that also," he added. "But it's a great vaccine, it's a safe vaccine and it's something that works."
Trump and former first lady Melania Trump were vaccinated at the White House in January, a source confirmed to Newsweek March 2, weeks after Biden's inauguration.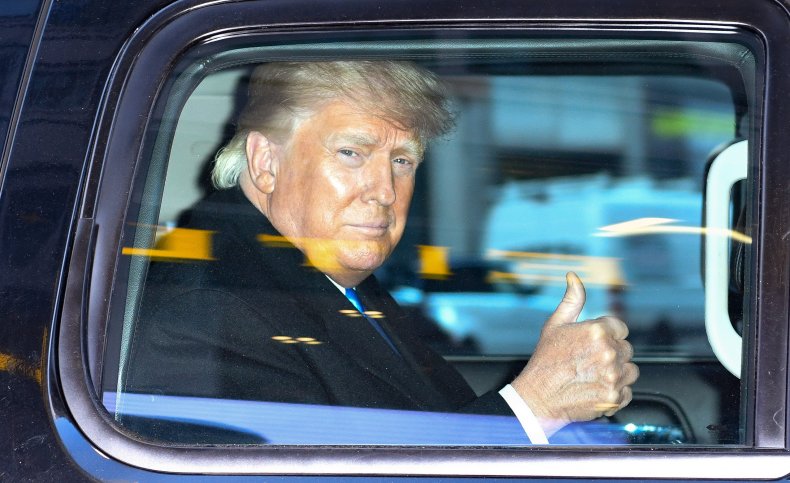 The ex-president's remarks came one day after White House Press Secretary Jen Psaki indicated during a press conference that Trump should be "more vocal about the safety and efficacy" of the vaccine.
"We'd support that," she told reporters, adding that "every other living president has participated in public campaigns."
"They did not need an engraved invitation to do so. He may decide he should do that. If so, great. But there are a lot of different ways to engage to reach out to ensure that people of a range of political support and backing know the vaccine is safe and effective," she added.
On Monday, Biden encouraged local leaders and doctors to reach out to "MAGA folks" because their advice would probably have a greater impact than Trump's.
"I discussed it with my team and they say the thing that has more impact than anything Trump would say to the MAGA folks is what the local doctor, what the local preachers, what the local people in the community say," he said. "So I urge all local docs and ministers and priests to talk about why, why it's important to get that vaccine, and even after that, until everyone is in fact vaccinated, to wear this mask."
Dr. Anthony Fauci, Biden's top pandemic scientist who also served under the Trump administration, disagreed with the president's remarks. In an interview on Fox News Sunday, Fauci said that Trump encouraging his dedicated supporters to get the vaccine would change the game.
"It seems like an intrinsic contradiction, the fact that you had a program that was started during his presidency and he's not out telling people to get vaccinated. I wish he would. He has such an incredible influence over people in the Republican Party," he added. "It would really be a game changer if he did."
Newsweek reached out to the White House for comment.