Trump Touts 'Tremendous' Progress on COVID-19 Vaccine, Treatments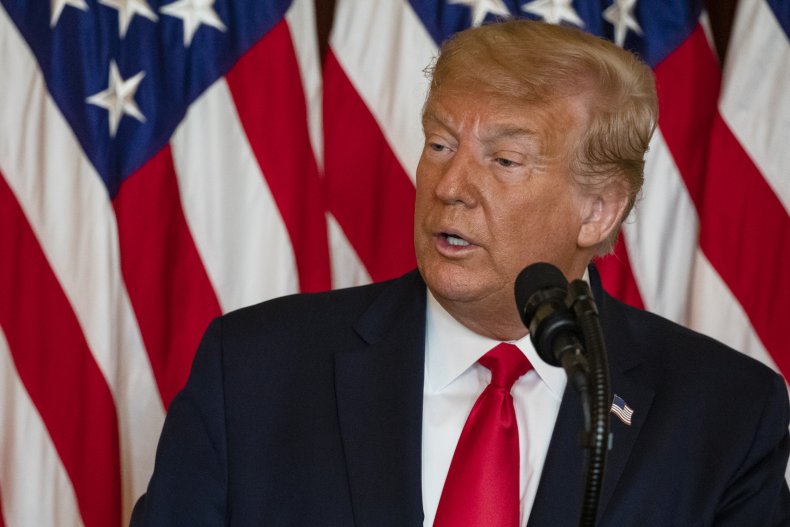 Multiple treatments and vaccines for COVID-19 are already approaching their final trial phases after their development has been fast-tracked, President Donald Trump announced during an at-times boisterous speech in North Carolina on Monday.
"Tremendous progress is being made with all of those proposals," Trump told reporters and others gathered before a tour of one of the research facilities working on the effort. "America will develop a vaccine very soon and defeat the virus."
If true, it would mark a significant achievement months ahead of schedule and give Trump potentially game-changing news as he faces his Democratic rival Joe Biden in the November 3 election. If Trump oversells, it could potentially sink his already struggling campaign.
Trump described Monday nearly $2 billion that the federal government has put toward contracts to develop a vaccine. Part of "Operation Warp Speed," as Trump has dubbed the effort, includes mass production of vaccines before FDA approval so that they are ready to distribute quickly if they do. The Department of Defense is consulting with companies working to manufacture the hundreds of millions of doses.
"We have a system that has never been done before, but I suspect it's going to work and work very well," Trump said.
The speech — peppered with words like "tremendous," "groundbreaking" and "colossal" to describe his administration's work to date on the novel coronavirus that wreaked havoc on the country as he faces a tough election bid — marked another shift in how Trump's handling the disease that's killed at least 149,000 Americans.
The new take-charge and optimistic tone comes as polls have shown disapproval of how he's handled the crisis.
A national Morning Consult poll released Monday showed 59 percent of voters disapprove of Trump's handling of the spread of COVID-19—a record high since Morning Consult has been tracking the pandemic response. Meanwhile, 36 percent of voters approve, a record low.
Early in the virus' spread, Trump downplayed the threat, compared it to the common cold and said it would "go away" by summer.
As cases began to increase throughout the country, Trump pushed most of the efforts to governors to address and resisted shutdowns that medical experts said would help slow the spread.
Earlier this summer, Trump stopped holding regular coronavirus briefings and left updates to the Vice President Mike Pence-led Coronavirus Task Force, which held the events away from the White House.
On Monday, Trump was front-and-center. No one else spoke during the North Carolina briefing, leaving it to him to describe where things stand.
Trump said before departing the White House he met with "doctors and scientists" for the latest updates. Striking a more serious tone, he urged, "all Americans to do the right thing," including maintaining social distancing and rigorous hygiene, avoiding large gatherings and bars, and wearing masks "when appropriate."
"We need all Americans to be conscious about their actions and to exercise extreme vigilance," he said. "This stage of the pandemic is being fueled by younger Americans who generally have little risk of being seriously harmed by the disease but can spread the disease."
During a separate appearance at the University of Miami on Monday, Pence also detailed the rapid vaccine development, but he assured that there would be "no shortcuts" in the ultimate approval process and the development would be done at the "highest standards."
"The American people can be confident," Pence told reporters after a roundtable discussion with university leaders and researchers.