Trump Tower Is Backdrop for Lawmaker's Plea After Ex-Pres Backs Rival
A day after former president Donald Trump endorsed her opponent, South Carolina Representative Nancy Mace warned Republicans that voting for Trump's choice would be the sure way to lose the seat to Democrats.
"If you want to lose this seat once again in mid-term election cycle to Democrats, then my opponent is more than qualified to do just that," Mace said in a tweet taped outside New York City's Trump Tower.
On Wednesday, the former president endorsed Mace's primary opponent Katie Arrington, calling Mace "terrible" and "very disloyal."
In her tweet Thursday, Mace disputed Trump's characterization by touting her allegiance to the former president as one of his "earliest supporters."
However, Mace previously told CNN that Trump's "entire legacy was wiped out" one day after the January 6 U.S. Capitol attack. Mace's criticism of Trump may have triggered the former president to turn his back on Mace in favor of her opponent.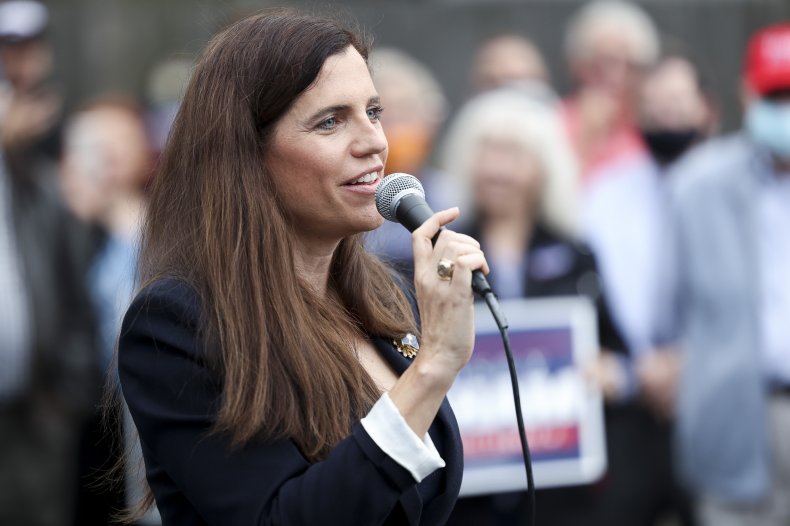 "I remember in 2015 when President Trump announced his run I was one of his earliest supporters," Mace says in the video while standing across the street from Trump's Manhattan high-rise. "I actually worked for the campaign in 2016, I worked in seven different states across the country to get him elected. I supported him again in 2020 because of policies I believed in."
"These are things I still believe in today," she continues. "If you want a Republican majority to thwart the radical far left D.C. Democrat agenda, then we've got to keep this seat in Republican hands, we've got to get a majority back. If you want to lose this seat once again in midterm election cycle to Democrats, then my opponent is more than qualified to do that."
In the days following the January 6 Capitol attack, the first-term congresswoman emerged as one of Trump's harshest Republican critics. While not one of the 10 GOP U.S. representatives who voted to impeach Trump for inciting the riot, Mace repeatedly blasted the former president's role in the attack.
About a week after the riot, Mace told Fox News host Neil Cavuto that Trump had no future in the Republican party and that his actions on January 6 were "indefensible." Mace's criticism of Trump diminished in the months that followed, according to The Atlantic, when it became clear the former president's influence over Republicans was not waning.
Trump supported Mace's successful bid to unseat former Democratic Representative Joe Cunningham in 2020. His opinion of Mace radically changed following her criticism of his role in the Capitol attack. On Wednesday, the former president offered his "Complete and Total Endorsement" to Arrington, who had blasted Mace for having "sold out President Trump" in a recent campaign ad, according to The Hill.
"Katie Arrington is running against an absolutely terrible candidate, Congresswoman Nancy Mace, whose remarks and attitude have been devastating for her community, and not at all representative of the Republican Party to which she has been very disloyal," Trump said in a statement. "Katie Arrington, on the other hand, is liked and respected and a true Republican."
Arrington mocked Mace's Trump Tower video on Thursday, asking on Twitter whether the congresswoman had gotten "lost" on her way to "the Fox News Studio" or was visiting New York City to "fundraise with the progressives."
Newsweek reached out to Mace's office for comment.