Trump Was 'Feared Dead' and Targeted by 'Deep State' in Minor Trump Tower Fire, Conspiracy Websites Claim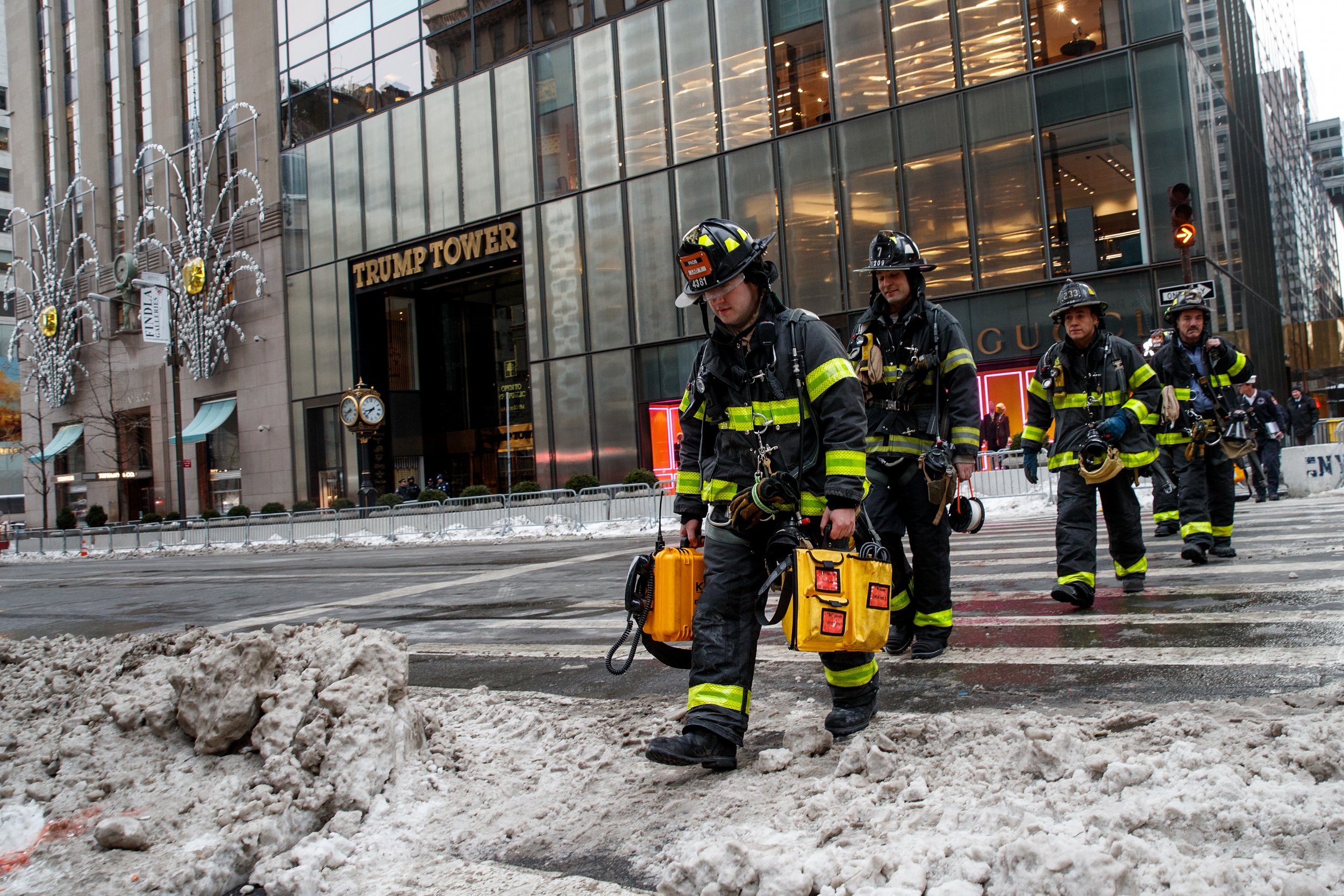 A small fire at Trump Tower on Monday exploded into a giant fake news hoax as conspiracy theory websites pushed false stories about President Donald Trump being targeted by the "deep state" or even killed in the blaze.
One headline on the website Neon Nettle—a popular site notorious for publishing phony political stories—read, "Donald Trump Feared Dead As Huge Fire Breaks Out in Trump Tower," while a second story on the same site reported, "Trump Tower Fire Was a 'Deep State' Assassination Attempt On The President." Trump himself has often alleged that there is a "deep state" network of government officials plotting against his administration.
Alex Kaplan, who researches far-right media and fake news for the nonprofit group Media Matters for America, was among the first to pick up on the articles, which appeared about an hour after the fire occurred.
"Case study in how quickly fake news websites can exploit situations for clicks: a Facebook-verified fake news website has already published a fake story that Trump may have died in the Trump Tower fire," Kaplan tweeted.
The second article claimed, "The President still has yet to be counted for as many fear the fire was 'deliberate.'" It is true that emergency officials would not have been able to locate Trump at the scene—because he was about 230 miles away, in Washington, D.C.
Neon Nettle has about 550,000 followers on Facebook and more than 44,000 on Twitter.
The fire broke out around 6:40 a.m. on the roof of the Fifth Avenue high-rise. Two civilians suffered minor injuries and refused medical attention at the scene, New York City Fire Department spokesman Jim Long told Newsweek. A firefighter also suffered a minor injury and was taken to a nearby hospital for treatment.
There is no evidence the fire was set deliberately. The fire marshal will determine its cause, but Long said there is nothing in preliminary reports that suggested the fire was suspicious.
Eric Trump tweeted that the electrical fire broke out in a cooling tower on the roof.
"There was a small electrical fire in a cooling tower on the roof of Trump Tower. The New York Fire Department was here within minutes and did an incredible job. The men and women of the #FDNY are true heroes and deserve our most sincere thanks and praise!" he tweeted.
Videos of the scene showed firefighters on top of the 58-story building as white smoke billowed out and fire engines lined the street below.
Neon Nettle is a frequent source of false stories, according to the fact-checking website Snopes, which called it "part of a network of fake news sites that deals in invented stories and clickbait."
Neither Trump nor the White House commented on the fake news stories, despite the president's fixation on finding "fake news" from news outlets covering him. Trump even plans this month to give a "Fake News Award" to a mainstream media outlet.
"The Fake News Awards, those going to the most corrupt & biased of the Mainstream Media, will be presented to the losers on Wednesday, January 17th, rather than this coming Monday. The interest in, and importance of, these awards is far greater than anyone could have anticipated!" he tweeted.
A minor fire broke out last week on the Chappaqua, New York, property of Hillary Clinton, Trump's Democratic rival. Neon Nettle also reported on the incident, falsely claiming a "room containing servers and computer hard drives was completely destroyed during the house fire." Snopes found that report to be false. The fire occurred in a detached garage and no one was injured. Nick Merrill, a spokesman for the Clinton family, confirmed via twitter, "All is OK!"