Dozens of Trump Tower Workers Improperly Vaccinated, Hospital Admits
Dozens of Trump Tower workers have been vaccinated by a Chicago hospital, despite the fact they weren't eligible yet.
George Miller, president of Loretto Hospital on the city's West Side, revealed in a memo to staff that 72 Trump International Chicago employees had been improperly vaccinated.
Under current rules, restaurant workers and hotel staff aren't eligible for the vaccine yet. Since January 25, only frontline essential workers have been able to get their jab under the City of Chicago's 1B eligibility group.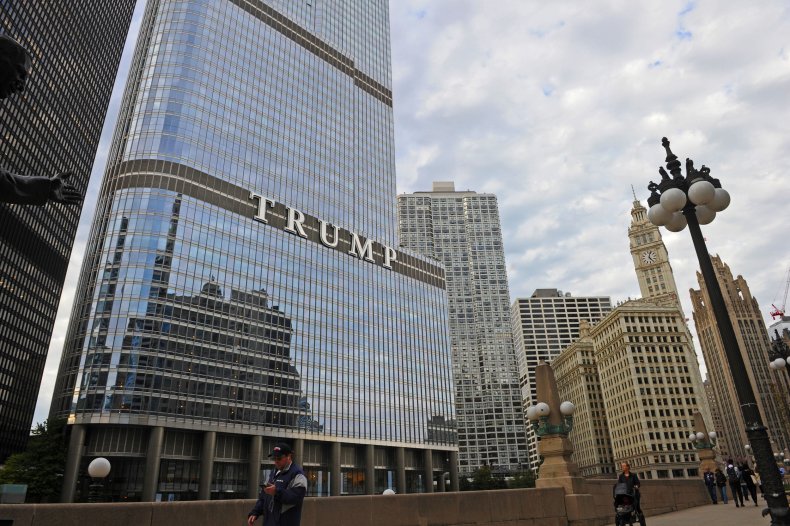 This includes correctional workers, grocery store workers, daycare, K-12 and early education workers, public transit, manufacturing, and agriculture workers, government and postal workers and caregivers.
Miller reportedly wrote that the hospital was "mistaken" in thinking that restaurant and hospitality workers were considered "essential" under the 1B group.
He said: "I now understand, after subsequent conversations with the Chicago Department of Public Health, that we were mistaken."
Miller also reportedly said that the vaccines administered to Trump Tower were part of Loretto Hospital's allotment rather than a batch from the Protect Chicago Plus scheme, which aims to ensure vaccines reach people and communities in the city most impacted by the COVID-19 pandemic.
Chicago's ceremonial first COVID-19 vaccine was administered in Loretto Hospital, a 122-bed facility in the Austin neighborhood, which has a mainly Black and Latino demographic.
The community around the hospital has been hit disproportionately hard by COVID-19 since the start of the pandemic and is one of the 15 neighborhoods targeted by Protect Chicago Plus.
The city's Public Health Department data shows one in every 430 people died from the virus in the past 10 months compared with one in every 605 residents citywide, according to AP.
It also shows that 771,043 vaccines have now been administered in the city so far.
Meanwhile, the latest figures from the Illinois Department of Public Health show that nearly 4.2 million people have been vaccinated in the state.
It comes as the state has seen 1.2 million cases and 20,973 deaths.
Loretto Hospital said in a statement to The Associated Press: "This effort was one of multiple off-site community vaccination initiatives undertaken by The Loretto Hospital in accordance with its mission of ensuring vaccine accessibility to the minority communities hardest hit by the COVID-19 pandemic."
Meanwhile, a health department spokesperson told the agency the city is investigating the hospital's actions.
Newsweek has contacted Loretto Hospital and the City of Chicago Health Department for comment.