Records Reveal Pattern Of 'Significant' Inconsistencies At 3 Trump Organization Properties
Tax filings by President Donald Trump's real estate company show new inconsistencies with the filings, this time pertaining to one of his marquee properties, Trump Tower in New York City.
According to a report from ProPublica, tax filings obtained by the investigative journalism nonprofit through New York's Freedom of Information Law found that the Trump Organization reported higher numbers to lenders and lower numbers to tax officials.
Here are the discrepancies that arose around Trump Tower and what is known about them:
Inflating occupancy rates
Trump Tower's commercial space occupancy rate was listed in three consecutive years as 11, 16 and 16 percentage points higher, respectively, in reports to lenders versus to New York City tax officials, ProPublica found.
For December 2011 and June 2012, the Trump Organization reported 99 percent and 98.7 percent commercial space occupancy rates, a loan document reflected. But the organization's tax filings stated that the tower had 83 percent commercial space occupancy in January 2012.
New York property tax attorney Susan Mancuso told ProPublica that the 16 percentage point gap poses a "very significant difference."
Trump may have benefited from claiming a higher occupancy rate to lenders in 2012, as he received a favorable $100 million loan that year after refinancing part of the tower.
The Trump Organization did not immediately respond to a request for comment from Newsweek on Wednesday. A spokesperson for the organization told ProPublica that guidelines for reporting to lenders and city tax officials are so different that "comparing the various reports is comparing apples to oranges."
Amount of its own space used
Besides filing different commercial space occupancy percentages, the Trump Organization reported different figures for how much its own company and its affiliates used within the tower.
In loan documents, the Trump Organization stated it occupied 74,900 square feet, or 31 percent, of the tower in the middle of 2012, but in tax filings from the prior January stated they were using 41,600 square feet, which is only 18 percent, ProPublica reported.
Regarding that discrepancy, Montclair State University real estate professor and financing expert Kevin Riordan told the nonprofit: "I cannot give you an explanation."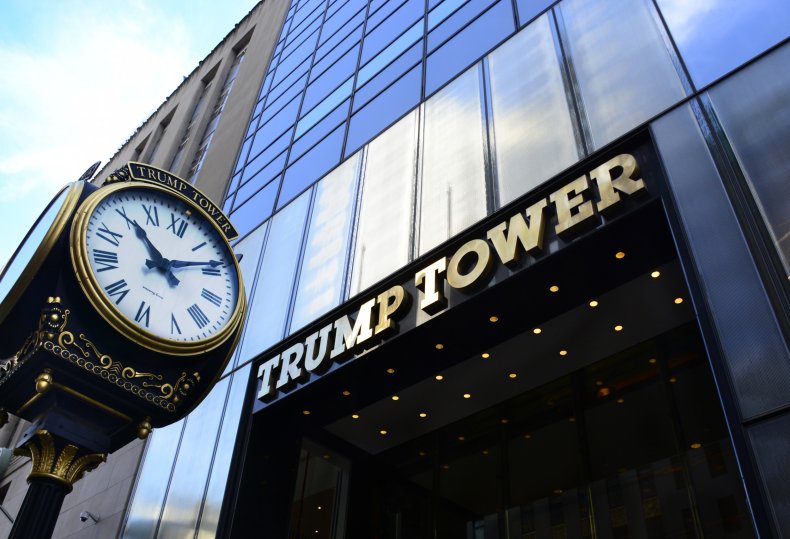 Haas School of Business finance and real estate professor Nancy Wallace told ProPublica that the inconsistencies in the Trump Organization's filings are "versions of fraud."
In October, the nonprofit found similar discrepancies in the organization's filings for two other properties in its portfolio in Manhattan: Trump International Hotel and Tower near Columbus Circle and another building on Wall Street.
Before becoming president, Trump had an office on the 26th floor of Trump Tower and lived in the building as well. The tower was also the site of a controversial June 2016 meeting in which Trump's eldest son Donald Trump Jr., his son-in-law Jared Kushner and then-Trump campaign chairman Paul Manafort met with a Russian lawyer who promised dirt on Democratic presidential candidate Hillary Clinton.