Thieves Steal More than $350,000 in Jewelry from Trump Tower, Suspected to Have Been Inside Job
Hundreds of thousands of dollars worth of jewelry has reportedly been taken from apartments in the New York skyscraper that bears President Donald Trump's name.
The New York Post reported that more than $350,000 worth of valuables had been taken from two apartments in Trump Tower in two separate incidents.
Sources told the paper that they believe the thefts were inside jobs as there were no signs of forced entry and the residences had not been turned inside out. Insurance fraud is also not suspected, and police are compiling lists of those who had access to the building, such as cleaners and contractors.
There is no indication as to whether it was a single thief acting alone or whether the thefts were linked.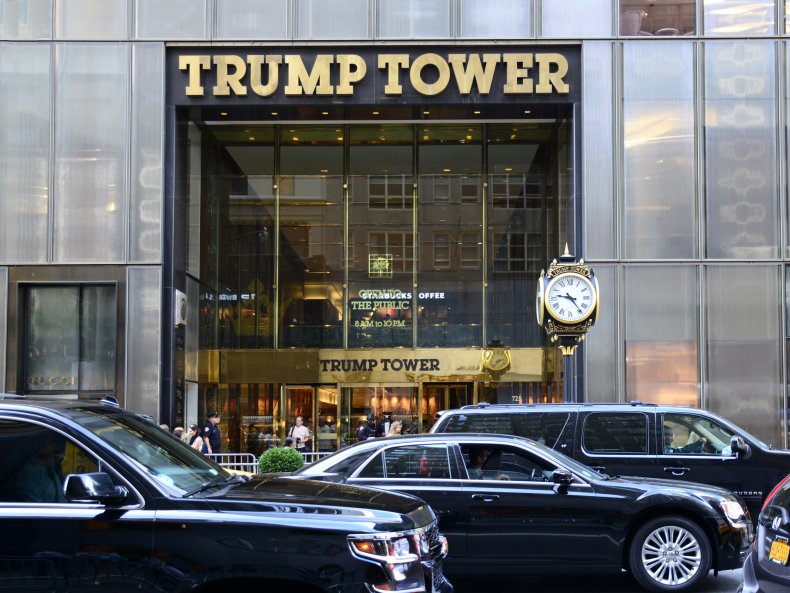 One victim, who is 67 years old, told police that her missing valuables included a Harry Winston diamond bracelet and a diamond-and-emerald necklace.
The woman also said that some earrings, a necklace and a ring, which were decorated with diamonds and sapphires, had disappeared between June 21 and September 9. The total value of the stash was around $236,000.
In the other incident, Isabelle Bscher, 33, who runs the Galerie Gmurzynska on East 78th Street, said a $117,000 Graff diamond bracelet had been taken from her 59th-floor apartment between September 4 and September 9, the paper reported.
"It's not somebody breaking into the building or roaming the halls, trying the doors until they find one that's open," a source told the Post.
The White House said that Trump arrived at the skyscraper, located at 721 Fifth Avenue, where he owns a triplex penthouse, on Sunday night.
The New York Times reported that security at the building had already been stepped up in advance of Trump's visit to New York where he is scheduled to give a speech to the UN General Assembly on Tuesday.
Police will close to vehicular traffic 55th Street from Sixth to Madison Avenues, and 56th Street between Fifth and Sixth Avenues, though the sidewalks will remain open.
However, pedestrians may come across Secret Service screening checkpoints, the Times reported.
The 58-floor Trump Tower in Midtown Manhattan, which was completed in 1983, is the headquarters for the Trump Organization and will again be the center of Trump's election campaign in 2020, as it was in 2016.
Trump's penthouse, where he is believed to prefer staying over the White House, occupies floors 66 through 68.
Last August, the five-bedroom, 6,000-square-foot apartment below Trump's bedroom went up for sale for $24.5 million, which, as Page Six reported, would have posed a headache for his security services.