Trump 'Missed a Big Opportunity' to Gain Ground on Biden as Odds Stall After Town Hall
Donald Trump "missed a big opportunity" to narrow the polling gap with Democratic rival Joe Biden as betting odds showed no movement despite the president's fiery televised town hall Thursday, bookmakers said.
Betting websites reported exactly the same odds the morning after both men took part in separate TV grillings—with pundits suggesting it was the president, trailing in national polls, who stood most to gain from the event.
"With more low key town hall events replacing the second debate, the president— a 2/1 outsider for November's election—missed a big opportunity to have all eyes on him and steal the attention away from odds-on favorite Joe Biden," said Betfair spokesperson Sam Rosbottom.
In the hour before the town hall, Trump was on 2/1, according to the Betfair Exchange, while Biden was out in front at 8/15.
But those odds remained static overnight, suggesting neither candidate was able to clinch a decisive victory.
Oddschecker, which aggregates betting data from dozens of bookmakers, gave Trump odds of +188 and Biden odds of -200 before the town hall–and they stayed flat into Friday morning.
Put simply, that means Biden had an implied probability of 66.67 percent compared with Trump's 34.78 percent.
"Amazingly, the best price of each man hasn't changed at all following the debates, with both candidates still able to be backed at the same price as 24 hours ago," an Oddschecker spokesperson said.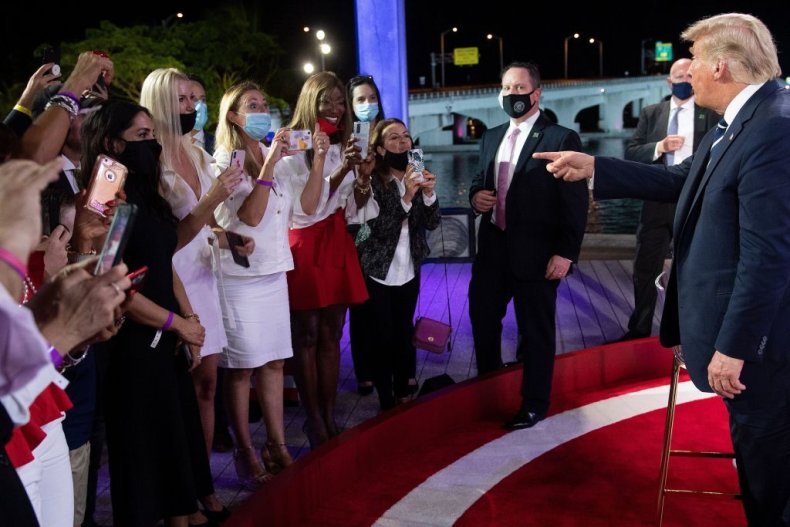 However Betfair pointed to more positive news for Trump in state betting this week. The president even made ground overnight in Florida, shifting his odds from 11/10 to 21/20 to win the Sunshine State.
In Iowa, while Trump remained steady on 8/13 (a 62 percent implied probability of winning the state), Biden fell back from 7/5 (41 percent) to 6/4 (40 percent), Betfair said.
In the crucial battleground state of Pennsylvania, Trump's odds shortened from 13/5 (28 percent) to 5/2 (29 percent), while Biden was steady on 1/3 (74 percent).
But there was better news for Biden in North Carolina and Texas, Betfair said. In the former, Trump's odds lengthened from 6/5 to 5/4 after the town hall, shifting from 44 percent to 43 percent, while Biden moved in the opposite direction, from 8/11 (57 percent) to 5/7 (58 percent)
In the Lone Star State, Trump's odds slipped slightly, from 1/3 (74 percent) to 4/11 (73 percent), while Biden's chances improved, from 11/4 (26 percent) to 5/2 (28 percent).