John McCain: Trump Trade Policies Could Lead to 'Deep Recession'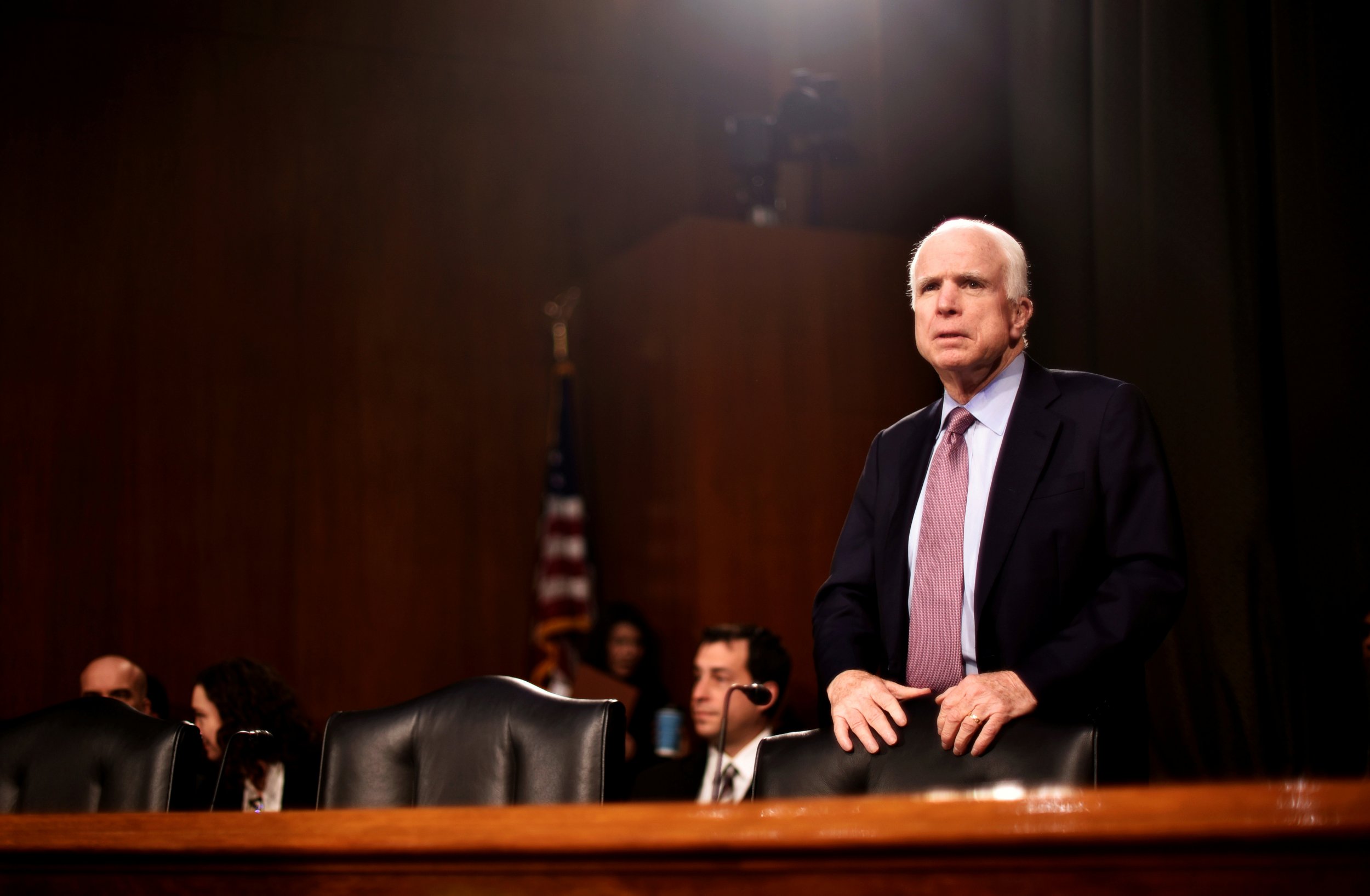 The isolationist America First trade policies favored by President Donald Trump will lead to a recession in Arizona, and perhaps more widely affect the U.S., the state's Senator John McCain said over the weekend.
"If you cut off that trade across border between Arizona and Sinora, Mexico, I'm telling you you would have a serious and deep recession," McCain told CNN's David Axelrod, a former senior Obama administration advisor, during a long interview.
"For example, in my state, the finance minister of Mexico told me that Mexico does more business with Arizona than it does with Spain," McCain said. " There's a couple hundred thousand jobs that are directly—not indirectly—related to our trade with Mexico. If we continue with this poisoning of the environment between the United States and Mexico, they're going to elect a far-left president."
Mexico is set to hold a national election in 2018 and Trump has called for a new 20 percent tax on goods imported from Mexico to the U.S. The president has said this is to offset the cost of building his promised border wall—estimated by the government to cost as much as $21.6 billion—to block illegal immigration.
Other border states are worried about the impact that higher tariffs would have too. During a hearing on international trade at the Texas state house in March, the governor's economic development director Bryan Daniel said Texas' "basic starting position is, these are good markets for us."
"What you sell to my country is worth 6 percent of your state GDP, compared to 1.3 percent nationally," Carlos González Gutiérrez, the Consul General of Mexico in Austin, told the state's top trade experts during the same hearing. Other experts present pointed to a joint car-manufacturing system where plants in Mexico and Texas work in tandem with each other.
In 2015 Americans spent $316.4 billion on goods from Mexico and exports going the other way accounted for $267.2 billion, a trade deficit of $49.2 billion. But trade experts have said that if cheap Mexican goods and produce are cut off, or prices rise, the impact will be felt most by poorer American consumers who rely on cheap goods.
"Honestly, anybody who studies history knows the lessons of the Smoot–Hawley Tariff Act back in the '30s which led to protectionism and lead, over time—it wasn't the only factor—but it was a major factor in a global economic collapse," said Senator McCain.
The act, passed in 1930, raised average U.S. tariffs on more than 20,000 imported goods from 40 percent to 48 percent. But in combination with a deflation trend and a simultaneous fall in imports, the act contributed to a rise in duties of as much as 20 percent.
An even wider impact on American trade is germinating in Trump's America First policies, said McCain. As one of his first acts as president, Trump withdrew from the Trans-Pacific Partnership (TPP) trade deal that would have lowered tariffs with 11 nations including Japan, Malaysia, Vietnam, New Zealand, Australia, and Singapore.
McCain said that in his view, scrapping TPP "basically gave the economy of Asia over to China," citing the fact that New Zealand and China last week agreed to expand their existing free trade deal. "China will be going around filling in the vacancy that was created by these America Firsters," he said.