President Donald Trump's Agriculture Secretary Sonny Perdue has admitted that farmers are "one of the casualties" of the White House's ongoing trade war with China.
"I think they are one of the casualties there of the trade disruption," Perdue told CNN in an interview aired on Tuesday.
Trump is headed to the G20 Summit in Japan this week, during which he plans to meet with China's Xi Jinping to discuss trade tensions face to face. Perdue told CNN that he didn't believe a trade deal would be made at the summit, however.
"I don't think he'll come home with a deal but I think he could come home with a beginning of 'let's really get serious about negotiation,'" the secretary of agriculture said. Perdue also said he'd "love to see a resolution by the end of this year."
Meanwhile, bankruptcies among farmers are up 20 percent and past-due agricultural loans are up 287 percent over last year, according to a May report by Bloomberg. The Trump administration last year allocated $12 billion in aid to farmers, and announced last month that $16 billion more would be set aside to subsidize the struggling sector of the U.S. economy this year.
Trade tensions have been high between Washington and Beijing since Trump added tariffs on hundreds of billions of dollars of Chinese products last year. Xi's government responded in kind, adding tariffs to billions in U.S. imports and taking other retaliatory measures. Earlier this spring, it appeared that the U.S. and China were about reach a deal to end the dispute, but Trump stepped back from the agreement, accusing the Chinese of backing away from previous commitments.
The U.S. agricultural sector has been particularly hard hit, as many farmers relied on the Chinese market to purchase their products. As a result of Chinese tariffs, American produce and other agricultural products are now far more expensive and many purchasers in China have found alternatives from other countries.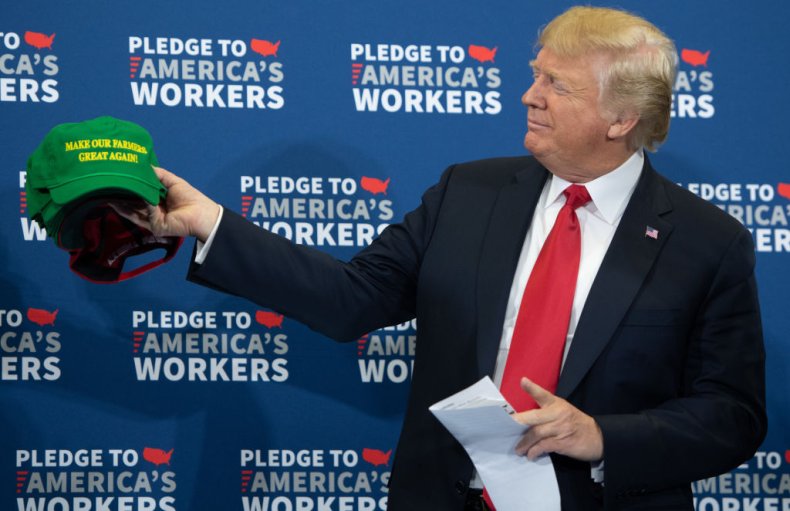 Trump has repeatedly insisted that his tariffs on China's imports benefit the U.S. because they are being paid for by the Chinese. However, that assessment is inaccurate, as tariffs are paid for businesses in the U.S. that import foreign products, meaning the prices will be passed on to consumers.
Despite the economic problems, many farmers still support the president's policies. They believe his policies could pay off in the long run to their benefit.
"He does really seem to be fighting for us," Iowa farmer Tim Bardole told the Associated Press last month. "even if it feels like the two sides are throwing punches and we're in the middle, taking most of the hits."
But others disagree. Larry Angler, who is also a farmer in Iowa, told CNN in May that he voted for Trump back in 2016 but now expects his family to lose $100,000 to $150,000 this year.
"I'll never vote for him again!" he said.