Taxpayers Will Pay for $12 Billion in Aid to Farmers to Cover Losses Caused by Trump's Tariffs
The Trump administration announced Tuesday a $12 billion emergency aid package for farmers caught in the middle of his ongoing and escalating trade wars with China, Europe, Canada and Mexico.
The White House has reportedly been searching for ways to supply farmers with much-needed funding without reneging on their agenda of increased tariffs abroad. They have now settled on pumping money into three programs intended to aid farmers through the Department of Agriculture. One program will provide direct monetary assistance, another will work to purchase and distribute food and a third will promote trade.
Farmers are being hit hard by Trump's trade war. Corn and soybean crop prices have dropped dramatically since the U.S. began implementing new tariffs on its allies in June. Pork farmers, who typically export pig hoofs and heads to China, have also been hit after China added a 50 percent tariff on the animal parts. The chart below from Statista illustrates the scale of the aid package compared to the biggest export goods from the U.S. to China.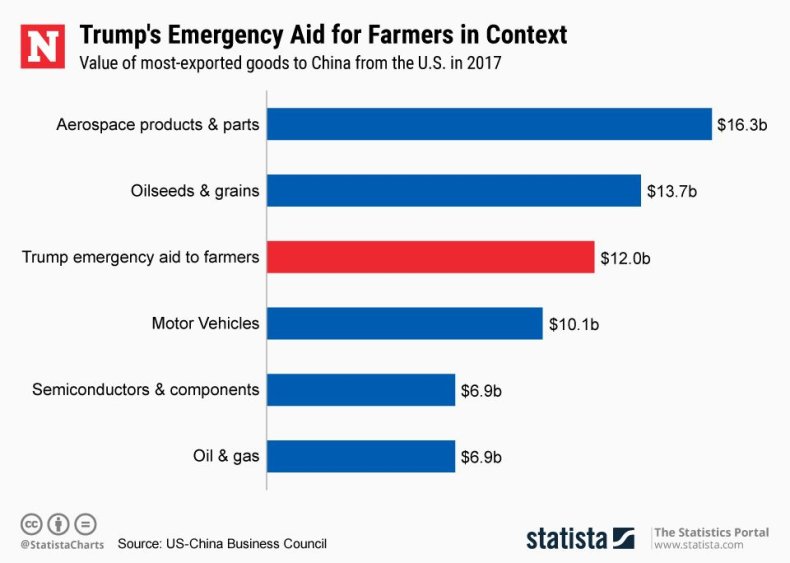 "The Chinese aren't going to get hurt by this," said Ken Maschhoff, chairman of The Maschhoffs, the largest family-owned pork producer in the United States, to Reuters. "Chile or Europe or somebody else is going to say, 'Well, we've got a bunch of stomachs or livers or feet that we're not using...'"
The White House will use a Depression-era program called Commodity Credit Corporation which allows the administration to borrow up to $30 billion from the Treasury Department in order to protect farmers' incomes without Congressional approval.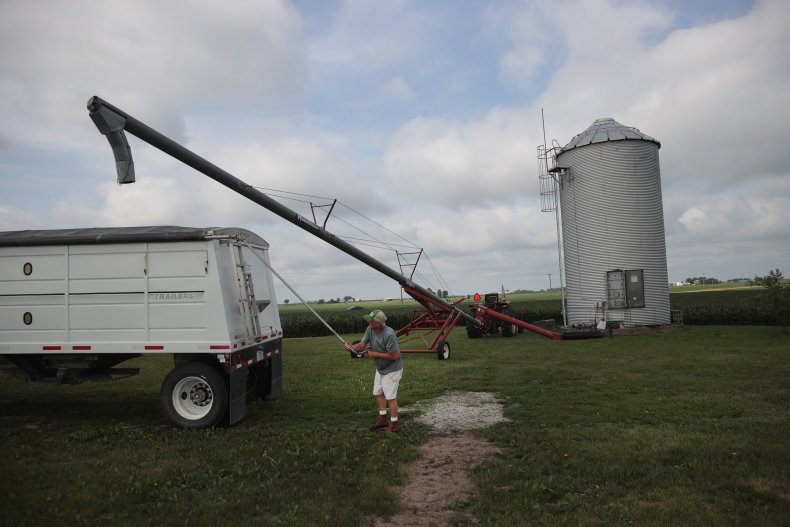 President Trump has long extolled increasing tariffs on other countries in order to increase revenue to the United States but has faced increasing retaliatory tariffs from those countries. Still, on Tuesday the president took to Twitter to defend his plans.
"Tariffs are the greatest!" he wrote. "Either a country which has treated the United States unfairly on Trade negotiates a fair deal, or it gets hit with Tariffs. It's as simple as that - and everybody's talking! Remember, we are the 'piggy bank' that's being robbed. All will be Great!"
Farmers make up a significant part of the president's constituency and play a large role in his optics. In recent months, some elected Republican officials in farmland states have appealed to the president, telling him that the agricultural industry is being rocked and that it might make some impact at the polls in November. They've also made attempts to distance themselves from his trade strategy.
Senator Ron Johnson of Wisconsin said at The Heritage Foundation Tuesday that he's heard from stakeholders that tariffs "could just totally run out of control" and that the president is "throwing a hand grenade of uncertainty" into the economy. House Speaker Paul Ryan also spoke out against the tariffs. On Tuesday he told reporters that "I've made it pretty clear I don't think tariffs are the right answer."
Farmers are also unhappy with the proposal. "Rather than accepting retaliatory tariffs and seeking to offset them with federal assistance, America's producers believe the administration should look toward solutions that will enable them to export their homegrown goods to critical markets around the globe," wrote advocay group Americans for Farmers & Families in a statement.
President Trump has long said he would work to protect farmers. Speaking at the Farm Bureau in Tennessee this January he said, "Oh, are you happy you voted for me," as farmers applauded. "You are so lucky that I gave you that privilege."
President Trump did not waiver on his trade policy after the bailout, saying that farmers will be the "biggest beneficiary" from his increased tariffs, but that they'd have to "just be a little patient" in order to see them.
This article was updated to include an infographic from Statista.