Trump Continues Tradition of Dyeing White House Fountain Green for St. Patrick's Day - Who Started It?
Ahead of St. Patrick's Day, President Donald Trump continued the tradition of dying the White House fountain green, an annual change that was started by former First Lady Michelle Obama.
After growing up in Chicago, Obama decided to bring one of her hometown traditions to Pennsylvania Avenue. In 2009, the first lady came up with the idea of dyeing the White House fountains green in honor of St. Patrick's Day, taking a page out of former Chicago Mayor Richard J. Daley's book.
"It's a little piece of home for our new home," her then-spokeswoman Katie McCormick Lelyveld, who is also from Chicago, told the New York Post.
Since the Chicago River's inaugural dyeing in 1962, each year, the city transforms the river's murky waters into a festive and vibrant green. Thousands of people enjoy the yearly spectacle and getting it ready for the crowds takes planning.
Two motorboats, one about 12 feet in length and another about 18 feet in length, are donated by volunteers and manned by crews of four and two, respectively. Dyeing the river begins under the Michigan Avenue bridge, according to the Chicago Tribune, and volunteers use a flour sifter to dump an orange powder into the river. While the powder is orange, when it hits the water, it turns green.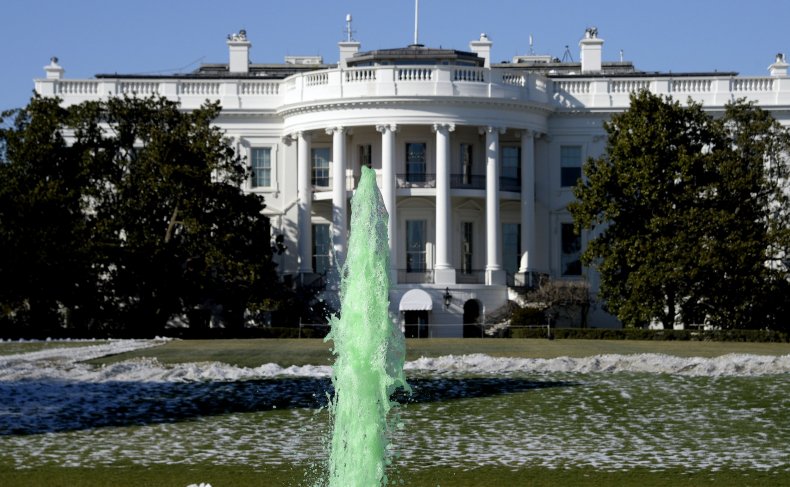 The second, smaller boat, follows behind the larger boat, and helps churn the water to mix the powder in so the entire river gets dyed. After about 45 minutes, the river is entirely green and can stay green for days.
The green fountains at the White House coincided with Trump's visit with Irish Prime Minister Leo Varadkar. From the Oval Office, Trump said he was "honored" to have Varadkar at the White House for the two countries' annual meeting.
"I will be coming [to Ireland] at some point during the year," Trump told reporters. "I missed it last time and I would have loved to have been there and it's a special place and I have a very warm spot for Doonbeg."
Along with being a festive touch for the St. Patrick's Day holiday, several people who work for people in Trump's administration commented that they enjoy the change. Jacob Wood, the Deputy Communications Director for Director of the Office of Management and Budget Mick Mulvaney, posted a photo on Twitter of the fountains and called it one of his favorite traditions.
Vice President Mike Pence's press secretary Alyssa Farah also posted on Twitter that it was a favorite White House tradition of hers and shared a video of the green fountain.