Trump Trails Biden In Key States Michigan, Wisconsin, Pennsylvania, Florida and Arizona: Polls
President Donald Trump continues to trail Democratic presidential candidate Joe Biden in a slew of key battleground states, including Michigan, Wisconsin, Pennsylvania and Florida—which voted for former President Barack Obama in 2008 and 2012 then flipped red in 2016.
The current averages of state level polls compiled by FiveThirtyEight show Biden up by 6 or more points in the four swing states, which are seen as key to victory come November. Averages compiled by Real Clear Politics also show the Democratic challenger ahead of Trump by 5 or more points in the key battleground states.
In Michigan, FiveThirtyEight shows Biden ahead of the Republican incumbent by an average of 9.4 points, while Real Clear Politics shows the former vice president ahead of Trump by about 7.5 points. The results are similar in Wisconsin, with FiveThirtyEight showing Biden with a nearly 8 point lead and Real Clear Politics showing him ahead by an average of 6.5 points.
When it comes to Pennsylvania, the Democratic candidate leads by about 7.3 percent, according to FiveThirtyEight, and by an average of 6.5 points, according to Real Clear Politics. In Florida, the first site shows Biden ahead by approximately 6 points, while the latter has him in the lead by about 5.2 percent. Nationwide, both FiveThirtyEight and Real Clear Politics show Trump trailing Biden by about 9 points.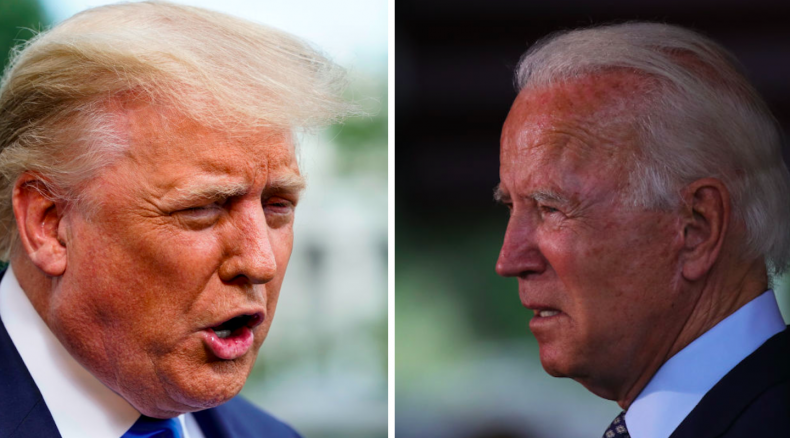 Trump appears to be at a disadvantage in Arizona, a state that has been reliably red in the presidential election for decades—with the exception of the 1996 election when it went for former President Bill Clinton. The latest FiveThirtyEight and Real Clear Politics averages show Trump trailing his Democratic challenger by more than 2 points in the southwestern state.
Texas, another Republican stronghold which last went blue in the 1976 presidential election, also appears to be a toss up and leaning toward Biden. The current FiveThirtyEight average for the state shows Trump ahead by just 0.1 percent, while Real Clear Politics lists the president as tied with Biden. A recent poll by The Dallas Morning New and University of Texas at Tyler showed Biden ahead of Trump by 5 points, however, with the Democratic challenger backed by 48 percent of voters compared to just 43 percent who supported the incumbent president.
Despite Biden's apparently commanding lead nationwide and in key battleground states, the Trump campaign has consistently dismissed public polling, arguing it is an inaccurate measure of the president's support. In previous comments to Newsweek and other media outlets, the campaign has said that many public polls are biased and do not adequately sample the president's supporters.
Campaign officials point to 2016 as well, when polls suggested that former Democratic presidential candidate Hillary Clinton would beat Trump. Regardless of those predictions, Trump won big in the Electoral College with a series of victories in key battleground states, although Clinton won nearly 3 million more individual votes nationwide.
Mercedes Schlapp, a Trump campaign adviser, dismissed Trump's negative polling numbers in Texas, questioning the methods used by the pollsters during a Monday morning interview with Fox News.
"The partisan split is just way off," Schlapp said. "What we're seeing in our internal polls is that the president is very strong in Texas," she said.