New Hampshire voters overwhelmingly support Democratic presidential nominee Joe Biden over incumbent President Donald Trump, according to a poll released on Thursday.
New Hampshire, considered to be a battleground state in the November election, has not voted for a Republican presidential candidate since 2000 when George W. Bush picked the state's four electoral votes. However, Trump nearly defeated Democrat Hillary Clinton in the 2016 New Hampshire presidential election.
Clinton defeated Trump by less than half of 1 percentage point. While the Trump campaign may be looking for an influx of Republican voters to give Trump a victory in New Hampshire on Tuesday, polling information from the American Research Group could indicate a different outcome.
Biden has the support of 58 percent of New Hampshire voters while Trump received 39 percent of the likely voter support, a difference of 19 percentage points.
Democrats comprised 97 percent of Biden's supporters in the poll with voters who had not declared a political affiliation making up 57 percent of the Biden lead. Biden also received the support of 16 percent of New Hampshire Republicans.
Only 2 percent of Democrats said they would likely cast their vote for Trump but 79 percent of the Republicans polled said they would likely vote for Trump. Trump also had the support of 40 percent of undeclared likely voters.
Respondents to the American Research Group's New Hampshire poll were comprised of 600 likely voters in New Hampshire and carried a margin of error of plus or minus 4 percentage points. The poll was conducted between October 26 through October 28.
Newsweek reached out to the Biden campaign for comment.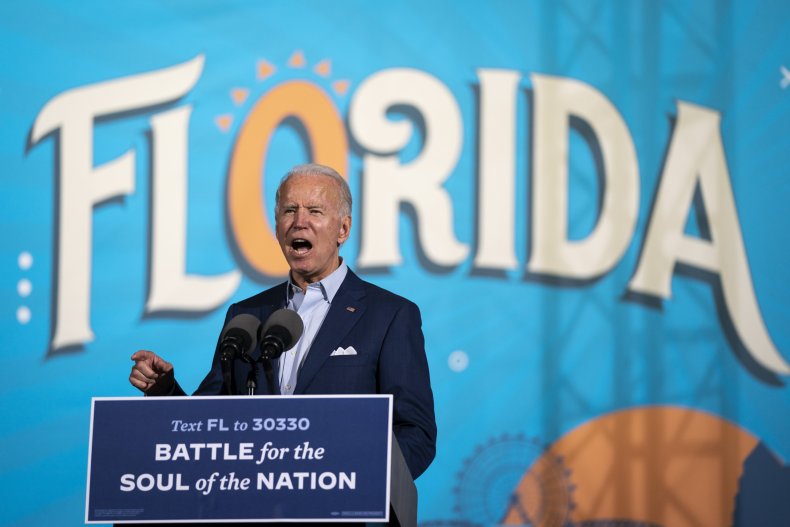 Biden's current numbers in New Hampshire are vastly different from his low placement in the February New Hampshire primary elections. Running against a crowded field, Biden placed fifth in the primary garnering only 8.4 percent of the vote. Biden left the state before the primary polls closed, moving on to a campaign stop in South Carolina.
Vermont Senator Bernie Sanders won the New Hampshire Democratic primary with 25.7 percent of the vote. However, Sanders suspended his campaign in April and gave Biden his endorsement.
Trump reminded supporters of Biden's February loss during a campaign event in Manchester, New Hampshire on Saturday.
"Sleepy Joe Biden doesn't care about New Hampshire," Trump said. "I saw that. He left this state before the primary was even over. He abandoned you."
While Biden is expected to campaign in the midwest on Saturday, including appearing alongside former President Barack Obama in Michigan, other Democrats have campaigned for the Biden campaign in New Hampshire during October.
On Tuesday, former Democratic presidential candidate Amy Klobuchar told New Hampshire residents that Biden will be "a president for all of America" that will "wake up every day and work on people's problems and fix things."
Averages of political polls compiled by Real Clear Politics show Biden with 51.1 percent of voter support and Trump with 43.7 percent, a difference in Biden's favor of 7.4 percentage points.