Trump Train Station: Israel To Name Jerusalem Stop After President As Thank You For Embassy Move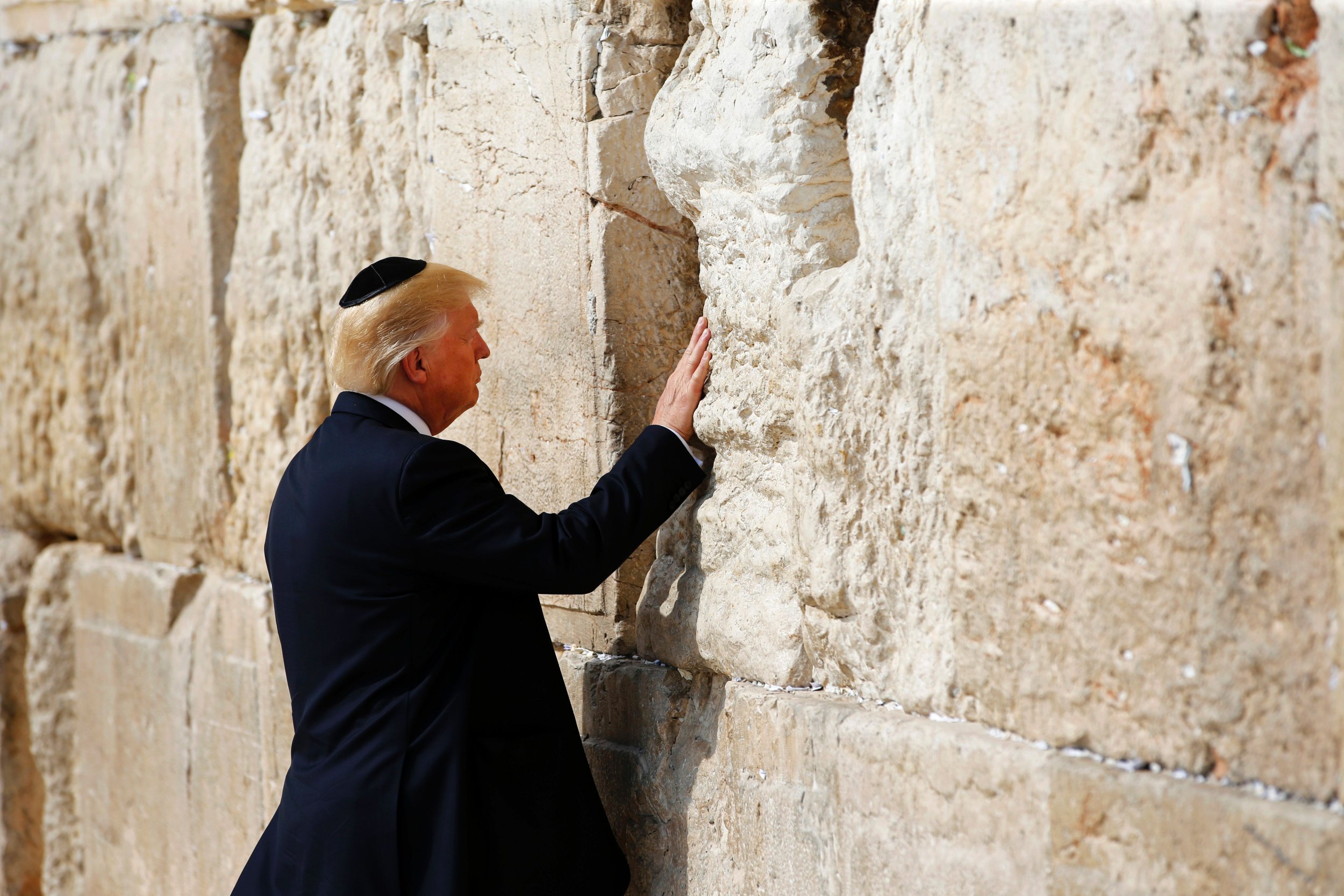 The Israeli government is to name a train station after President Donald Trump following his decision to recognize Jerusalem as the capital of Israel earlier this month.
The station will be built at the Western Wall, the site where Jews pray and believe to be a standing wall of the Second Temple, an ancient holy site revered in Judaism. Trump became the first sitting U.S. president to visit the site in May.
Prime Minister Benjamin Netanyahu and his cabinet lauded the Dec. 6 announcement as a recognition of reality and were moved to show their appreciation to the American leader.
"The Western Wall is the holiest place for the Jewish people, and I decided to name the train station that leads to it after President Trump—following his historic and brave decision to recognize Jerusalem as the capital of the State of Israel," Israeli Transportation Minister Israel Katz said, according to The Jerusalem Post.
Katz has ordered the acceleration of plans for the Jerusalem-Tel Aviv railway that has been in development since 2001. The delayed project will be faster than the current railway between the contested city and Tel Aviv.
As part of the plans, two underground stations connected by three kilometers of tunnel would be built under the contested Old City at a cost of $700 million. Once approved, the development will take about four years to build.
The exact name of the station remains unknown, but the American construction magnate is fond of having his name attached to prominent landmarks around the world, with a swathe of licensing agreements for his Trump Tower brand in cities as far flung as Istanbul and Manila.
The Western Wall, where the station will be built, is attached to the Temple Mount, the east Jerusalem site contested by Muslims and Jews and the holiest site in Judaism. It is also known as the Haram al-Sharif, or Noble Sanctuary, to Muslims and is the third-holiest site in Islam. It remains under the guardianship of a Palestinian-Jordanian waqf, or Islamic trust, which prevents Jews from praying at the sensitive site.
Trump angered Arab leaders with his Jerusalem announcement, ignoring their protests that effectively acknowledging Jerusalem as the capital of Israel would set off a wave of anger across the Muslim world. Palestinian President Mahmoud Abbas called Trump and his administration biased and pledged to never accept a peace agreement with the sitting president. The Palestinians seek east Jerusalem as the capital of any future state.
The U.N. General Assembly last week rejected Washington's recognition of Jerusalem as Israel's capital, reaffirming that the city's status should be agreed between Israelis and Palestinians through direct negotiations.