'Traitor Trump,' and 'Lock Him Up' Projected on San Francisco Federal Building After President's Putin Summit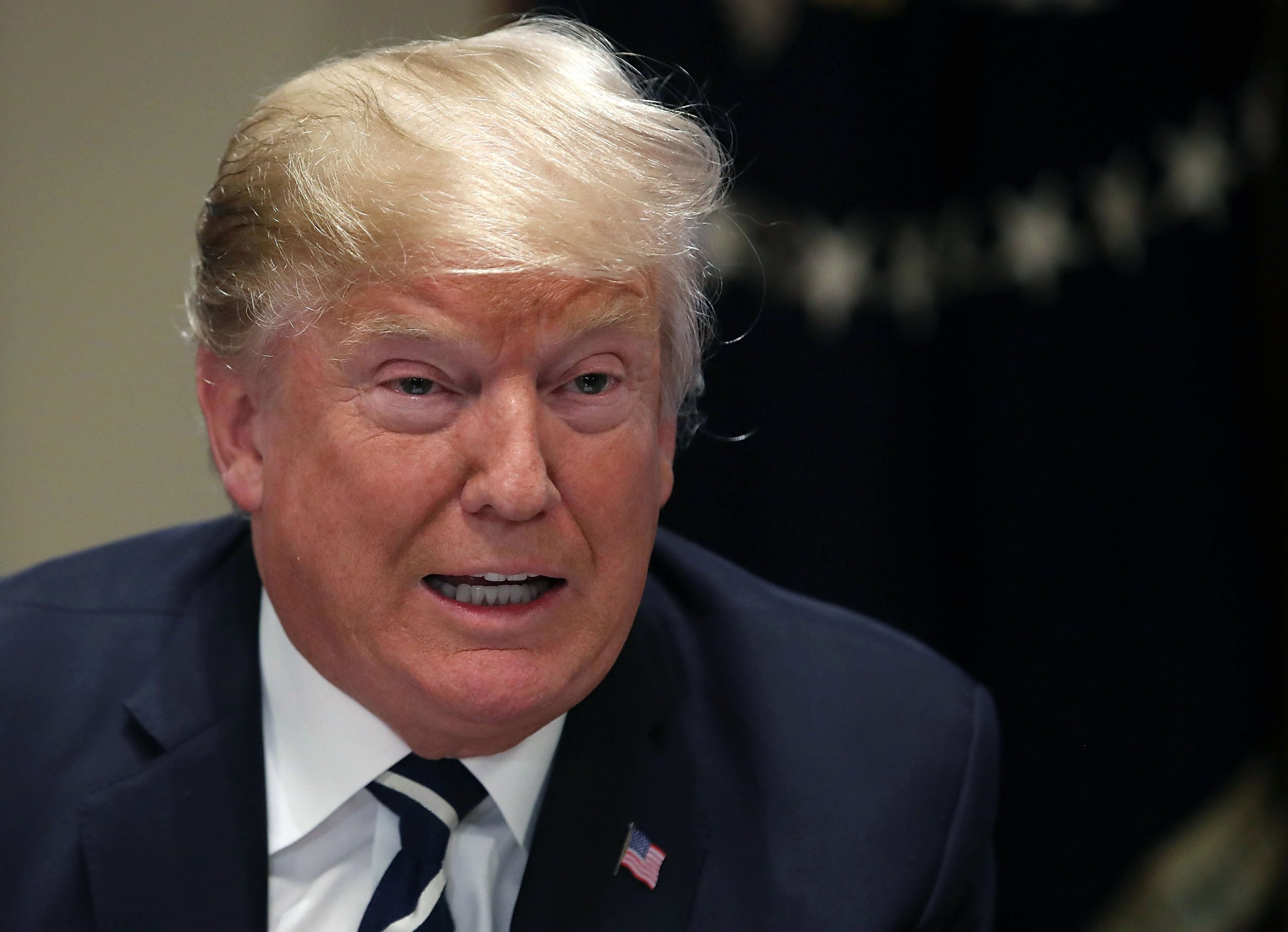 Protesters in San Francisco projected the phrase "Traitor Trump" on the city's federal building Monday following President Donald Trump's controversial remarks during his press conference with Russian President Vladimir Putin.
The accusation was accompanied by the hashtag "LockHimUp," according to CBS San Francisco, a variation of the phrase the president's campaign used against Democrat Hillary Clinton during the 2016 election. Cartoons of Trump and Putin were also put on display.
The protest came after Trump's chaotic summit and subsequent comments to reporters in Helsinki. The president suggested he believed Putin's denials of election meddling over the conclusion of the U.S. intelligence community, while again asserting there was no collusion between his campaign and Russia to claim the White House.
"And I say it all the time. There was no collusion," Trump said with Putin standing beside him. "I didn't know the president. There was nobody to collude with. There was not collusion with the campaign, and every time you hear all of these, 12, 14…It's stuff that has nothing to do, and frankly they admit these are not people involved in the campaign…But to the average reader out there, they're saying 'maybe it does.' It doesn't."
The projected image was not the first such visual protest against the president. Most recently, protesters in London last week flew a "Trump Baby" blimp during his visit to the United Kingdom.
The anniversary of Trump's inauguration in January also led protesters to play his infamous Access Hollywood tape, in which the now-president bragged about committing sexual assault, on a loop near the White House for 12 consecutive hours.
And several billboards have gone up around the country calling for Trump's impeachment, including some just miles away from his Mar-a-Lago country club in Palm Beach, Florida.
While repeating his attacks on the FBI, Justice Department and Clinton, Trump also said that he did not "see any reason why it would be" Russia who interfered in the 2016 election. Those comments were a direct contradiction of U.S. intelligence, including the House and Senate Intelligence Committees, and immediately led to widespread condemnation from both Republicans and Democrats.
Trump's words sparked accusations of treason by some of his staunchest critics, like former CIA Director John Brennan.
"Donald Trump's press conference performance in Helsinki rises to & exceeds the threshold of 'high crimes & misdemeanors.' It was nothing short of treasonous. Not only were Trump's comments imbecilic, he is wholly in the pocket of Putin. Republican Patriots: Where are you???" Brennan tweeted Monday.
Trump on Tuesday claimed he had misspoken and attempted to clarify that he meant to say there was no reason why it "wouldn't" be Russia who interfered in 2016.