Trump Banned Transgender Troops for 74 Miles of Border Wall Funding: Report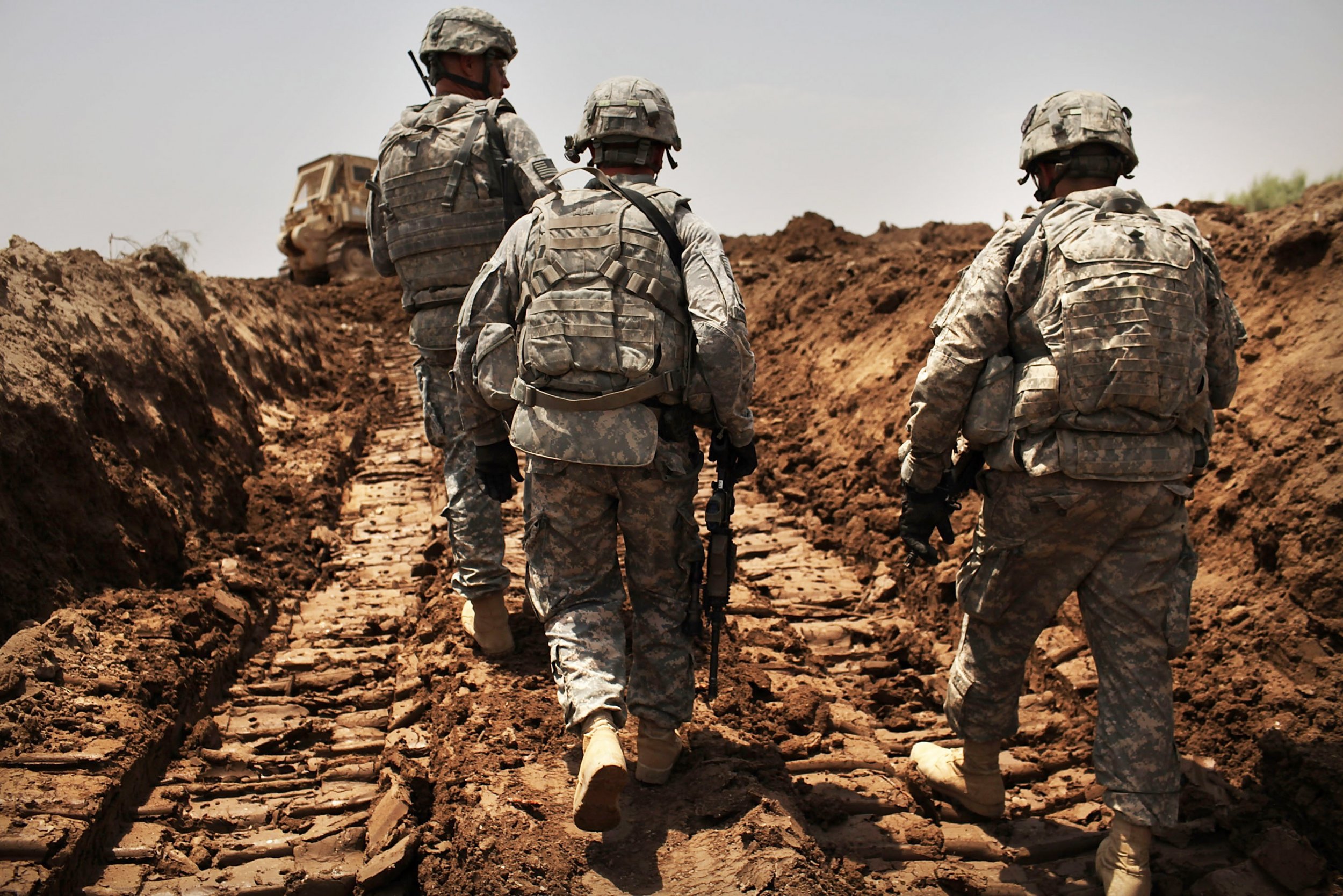 The reasoning behind President Donald Trump's sudden Twitter announcement Wednesday—that transgender people would be banned from military service—and that upended Capitol Hill, the military and LGBT rights activists reportedly came down to one factor: funding for the billionaire's much-hyped idea of constructing a wall along the U.S. border with Mexico.
In order to boost that funding, public funding of surgeries for transgender service members would be removed from a defense spending bill that would fulfill the president's promises to increase military spending and construct that wall. Conservative Republicans and national defense "hawks" had been focusing on the costs of surgeries as the House tinkered with the bill, and Trump made his decision in order to make sure the bill would move forward, Politico reported, citing White House and congressional sources.
There are nearly 7,000 transgender individuals who are serving in the military in some capacity, and how they would be affected going forward has yet to be announced. A policy put in place by President Barack Obama, which is now being overturned, allowed transgender troops to serve openly.
Stating that the president had made his decision Tuesday, White House press secretary Sarah Huckabee Sanders said during Wednesday's press briefing that the Defense Department and the White House would coordinate on how to "lawfully" determine and implement the new policy toward transgender members of the Armed Services.
Sanders also said the military's current acceptance of transgender individuals is an "expensive and disruptive policy."
Secretary of Defense Jim Mattis had been quiet on the issue, but the report asserts he had been consulted before Trump's tweets.
Trump unleashed a series of tweets stating that after he had consulted with top military brass it was decided the government would not "accept or allow...Transgender individuals to serve in any capacity in the U.S. Military."
For some Republicans, the announced ban was not a matter of discrimination but of the use of taxpayer dollars.
"There are several members of the conference who feel this really needs to be addressed," said Representative Robert Aderholt, the Republican from Alabama and member of the House Appropriations Committee, according to Politico. "This isn't about the transgender issue; it's about the taxpayer dollars going to pay for the surgery out of the defense budget."
A slew of LGBT and human rights groups quickly responded to Trump's transgender ban, but it appears the president was focusing more on his wall idea than necessarily affecting individual rights.
Earlier this month, Trump spoke to reporters about the wall while on Air Force One, saying it could run from 700 to 900 miles long and be transparent or even be covered with solar panels, according to The Washington Post.
Yet, how the president intended to pay for the construction—after repeatedly saying that Mexico would bear the cost—has always been a contentious issue.
The defense spending bill that is making its way through the House could now put aside $1.6 billion for the wall, but even that would only cover 60 miles in Texas and secondary or backup fencing along 14 miles in California, according to The Dallas Morning-News.