Inauguration Singer Jackie Evancho's Sister Won a Transgender Rights Victory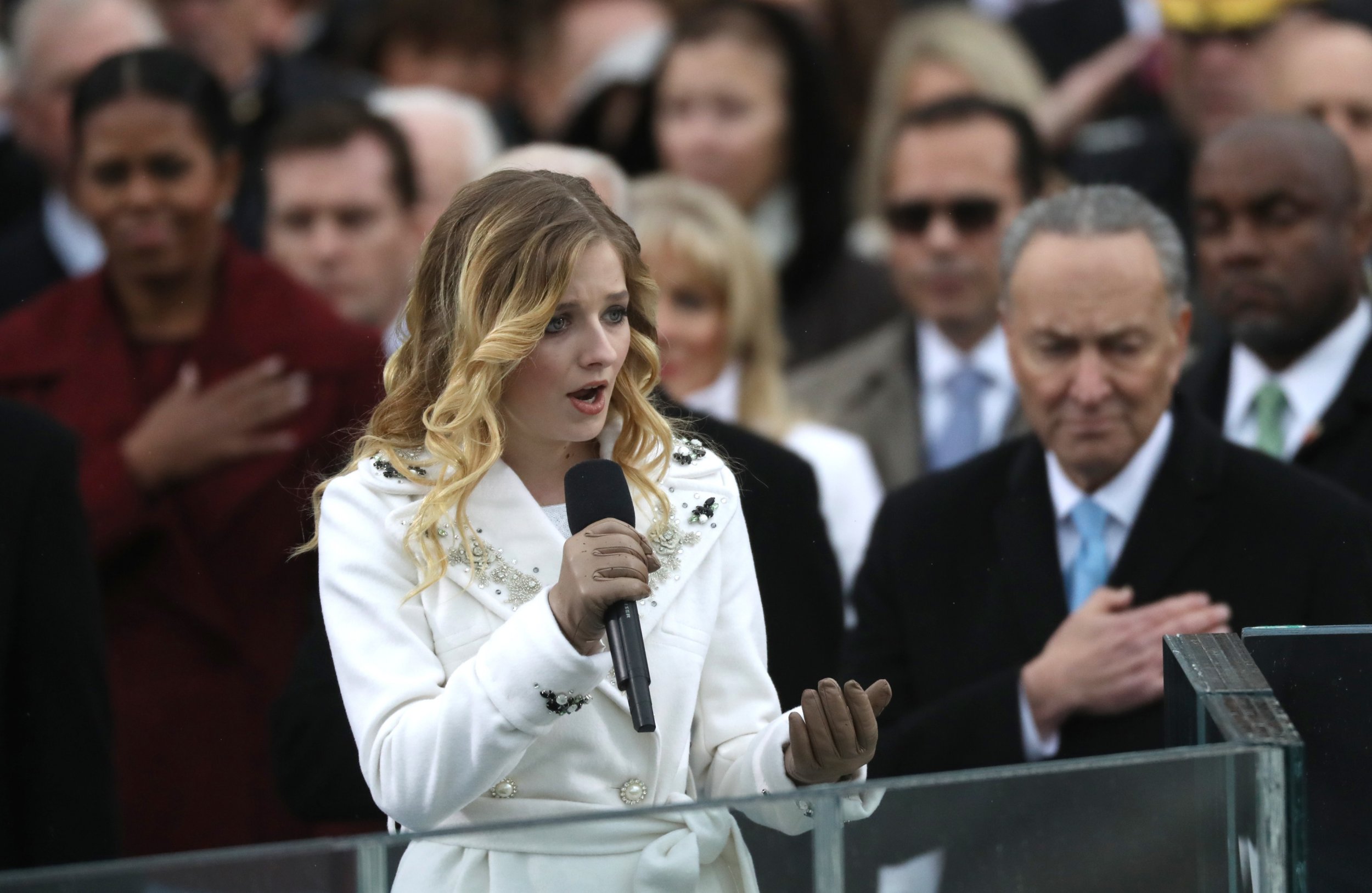 Updated | Juliet Evancho, the sister of Jackie Evancho, who sang the national anthem at President Donald Trump's inauguration in January, won a court victory on February 27 in a case involving her school district. Juliet is transgender and had filed a lawsuit against the district for preventing her and others from using the women's bathrooms. The court order came days after Jackie, the singer, had requested a meeting with Trump to discuss the rights of transgender people.
Jackie had long tried to stay out of politics. The 16-year-old classical crossover singer agreed to perform at Trump's inauguration, even as other musicians refused to participate, because she felt doing so was an honor and a duty to her country. She's witnessed how politics can divide people. "I see that it causes a lot of conflict in the world and I really try my best to avoid conflict as much as possible," she says. "Unless it affects my family, obviously."
But now that the Trump administration has withdrawn federal guidance that enabled students to use the public school bathrooms matching their chosen gender identities, Jackie is speaking up. She has asked for a meeting with the president, and as of now it looks like that meeting could move forward.
Related: Trump overturns guidelines defending transgender students
"I am obviously disappointed in the @POTUS decision to send the #transgender bathroom issue to the states to decide," Jackie tweeted following the United States Department of Justice announcement about the guidance, using the hashtag "#sisterlove." She also tweeted, ".@realDonaldTrump u gave me the honor 2 sing at your inauguration. Pls give me & my sis the honor 2 meet with you 2 talk #transgender rghts."
When a reporter asked whether Trump would meet with Jackie at a briefing the next day, White House Press Secretary Sean Spicer responded, "Yeah, I think the president would be welcome to meet with her."
Speaking with Newsweek by phone on Sunday in between tour stops in Florida, Jackie, who finished as runner-up on America's Got Talent when she was 10, says she was thrilled to hear Spicer's comment, and that her father and manager are working to arrange the meeting. "Definitely we're making the first steps because it's something that we're so passionate about, and there's not much time," she says.
The Evancho sisters are close, and Jackie says she's seen how Juliet has struggled as a transgender person. "My sister, the things that she has to go through every day, are so heartbreaking to me, and I know that there are so many other people out there who go through the same exact thing," she says. "It breaks my heart, the discrimination that happens, and I really want to help her to change it."
The lawsuit is one of the ways that their family is trying to change things. Juliet is one of three plaintiffs in a case filed last October against the Pine-Richland School District in Pennsylvania. Juliet and the other plaintiffs alleged that the school district violated their civil rights by passing a resolution that requires students use the bathrooms associated with their biological sexes, not their chosen gender identities. Juliet says she had previously been allowed to use the women's bathroom and that her classmates largely hadn't had a problem with that. "The younger generation is so much more tolerant of the issues that we're talking about, and the only older generation is the one that [isn't] necessarily understanding of it," Juliet says.
The school district asked the judge to dismiss the case, saying the bathroom resolution does not violate Title IX, the federal law that prohibits discrimination based on sex in federally funded education programs. "The valid privacy concerns of biological female students are not obviated if male students believe they are girls," the district said in a court filing. "A male remains a male and a female remains a female, no matter how he or she identifies and presents."
On February 27, a federal judge for the western district of Pennsylvania issued an opinion and order denying the motion to dismiss and granting a temporary injunction that prevents the district from enforcing its bathroom rule. "The Court concludes that the Plaintiffs have a reasonable likelihood of success on the merits of their Equal Protection claim," the judge wrote in the opinion, though he added that they might not succeed with the Title IX claim.
Still, the case isn't finished, and the Trump administration's revocation of the bathroom guidance doesn't help. If she is able to meet with Trump, Jackie says, "I'm just going to try to have a calm conversation with him about the discrimination that my sister deals with every day and how much of a struggle it is in our school."
"For me it's kind of like common sense… Leaving it in the states' hands is only going to divide the country," Juliet says. She also noted that she would like to tell the president about her personal experience.
Apparently there is a price for performing for Trump and later coming out against one of his actions; Jackie says she's gotten negative feedback in recent days. "A lot of people say that I've turned on the president, but I haven't," she says. "I'm just an American disagreeing with something that the president has done, and that's completely normal and human."
During his campaign, Trump had criticized North Carolina's "bathroom law," which Governor Pat McCrory signed into law last March and says people must use the public restroom matching the gender on their birth certificates. As of February, 18 states are considering similar bills.
This article has been updated to include information about a February 27 court order in Juliet Evancho's case involving her school district.