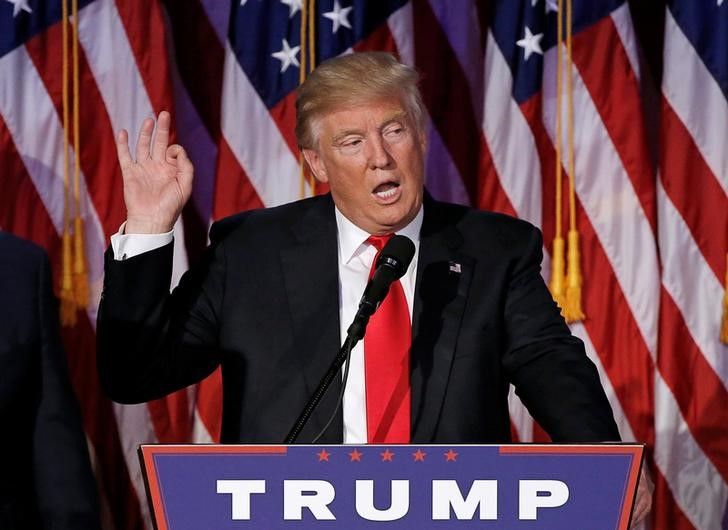 Welcome to Newsweek's daily rundown of President-elect Donald Trump's transition process. There are about 4,000 positions to fill, and we'll be keeping track of appointees through the January 20 inauguration.
Cabinet tally: 0
Updated | We're starting today with disturbing news: On Wednesday night, Trump support Carl Higbie spoke with Fox News's Megyn Kelly and cited Japanese internment camps as "precedent" for a proposed Muslim registry. The idea of a registry is supported by Kris Kobach, a potential pick for U.S. attorney general, who said it could be used for the "extreme vetting" of some Muslim immigrants that Trump called for on the campaign trail.
Acknowledging that such a registry is likely illegal, Higbie told Kelly: "I know the ACLU is going to challenge it, but I think it will pass. We've done it with Iran, we did it during World War II with Japanese." Kelly pushed back, saying: "You can't be citing Japanese internment camps as precedent for anything the president-elect is going to do."
Higbie replied: "Look, the president needs to protect America first and if that means having people that are not protected under our Constitution have some sort of registry so we can understand...until we can identify the true threat and where it's coming from, I support it."
What's Going On Today?
Amid the uproar over this exchange, Trump is set to meet with Japanese Prime Minister Shinzo Abe on Thursday, his first meeting with a foreign leader since winning the U.S. presidential election last week. During his campaign, Trump suggested that Japan should acquire nuclear weapons, and said that allies such as Japan might have to pay more for U.S.-provided military defense. Meanwhile, Mike Pence, the vice president-elect, will meet with Democratic leaders in an attempt to reach across the aisle.
U.K. broadcaster Channel 4 News and C-SPAN have set up live streams in the lobby of Trump Tower, documenting the comings and goings of people meeting with Trump, including potential cabinet picks. Former New York City Mayor Rudy Giuliani was among those who took the short walk from the front door to the elevator on Thursday morning.
The Trump transition team on Thursday started daily press calls to offer updates on the transition progress. Trump is also meeting with a number of other officials on Thursday, including former Secretary of State Henry Kissinger, South Carolina Governor Nikki Haley and Florida Governor Rick Scott. Trump and Pence have spoken by phone with dozens of foreign leaders over the past few days, leading to speculation about whether the calls are secure. Asked about the existence of a secure phone line in Trump Tower, Jason Miller, Trump's communications director, said: "Appropriate precautions are being taken with regards to the phone calls."
Over the coming days, the transition team is preparing to send out "landing teams" to liaise with government departments. On Thursday, the national security team will be the first "wave," with scheduled meetings with the State Department, the Justice Department, the Department of Defence and the National Security Council. The economic and domestic landing teams, which include the Department of Veterans Affairs, Health and Human Services and the Environmental Protection Agency, will meet with officials over the next few days.
Rumored Positions
Attorney General: Ted Cruz, who ran against Trump and refused to endorse him during his July speech to the Republican National Committee, and Kobach are both rumored picks for attorney general. Bloomberg Politics reported that Cruz was pitched the position after meeting with Trump at his New York City home on Tuesday. Trump famously referred to Cruz as "Lyin' Ted" during the Republican primaries earlier this year, while Cruz called Trump a "pathological liar."
Kobach, who is staunchly anti-immigration, told Reuters on Tuesday that Trump's immigration policy group could "recommend the reinstatement of a national registry of immigrants and visitors who enter the United States on visas from countries where extremist organizations are active," to help with the so-called extreme vetting of Muslims that Trump promised on the campaign train. Kobach helped draft an Arizona law that required state and local officials to check the immigration status of people stopped by police.
Secretary of Education: Eva Moskowitz, CEO of the largest charter school network in New York City, was reportedly being considered for education secretary, but quickly squashed that rumor. During a press conference with New York City Mayor Bill de Blasio at a press conference on Thursday, Moskowitz said: "At this time I will not be entertaining any prospective opportunities." Ben Carson, a Trump rival-turned-surrogate, took himself out of consideration for the position earlier this week. Michelle Rhee, former chancellor of the DC Public School system, is reportedly also being considered.
Secretary of the Treasury: Maria Bartiromo, anchor of Fox Business show Mornings With Maria, tweeted on Wednesday afternoon that Jamie Dimon, JP Morgan's CEO, and Steve Mnuchin, banker and financer of movies including Mad Max: Fury Road, are both serious contenders for the treasury secretary position. Bartiromo added that a decision will be made on Thursday and announced on Friday.
Secretary of Energy: In a bizarre twist, former Texas Governor Rick Perry is reportedly being considered for energry secretary in Trump's administration. That makes him the potential head of one of three government departments he wanted to abolish—but couldn't remember the name of—during his ill-fated run for president in 2011.
This article has been updated to reflect that Eva Moskowitz said she will "not be entertaining" any opportunity to be education secretary under Trump.