Trump Transition: China 'Seriously Concerned' Over President-Elect's Comments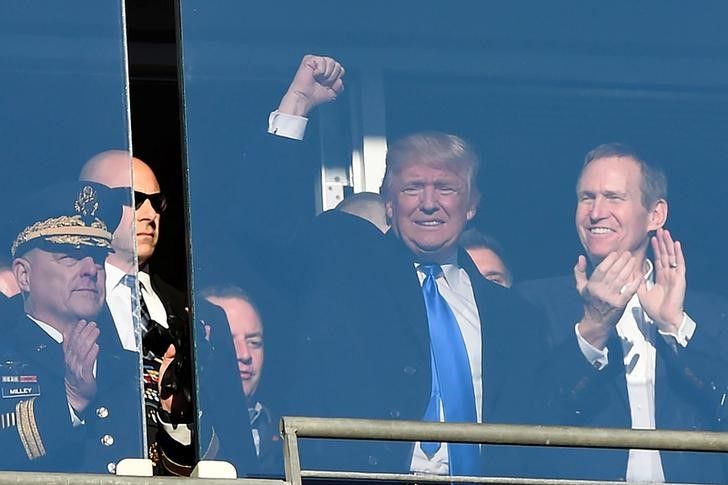 Welcome to Newsweek's daily rundown of President-elect Donald Trump's transition process. There are about 4,000 positions to fill, and we'll be keeping track of appointees through the January 20 inauguration.
Updated | We begin this week with news that China is "seriously concerned" about comments made by Trump regarding the U.S.'s "One China" policy, which has been in place since 1979. Speaking with Fox News Sunday, Trump said that U.S. doesn't have to be "bound by a One China policy," but added that Washington would keep the policy during his administration if it was part of a deal that included "China having to do other things, including trade."
Trump's comments follow his controversial phone call with Taiwanese President Tsai Ing-wen earlier this month, the first time leaders from the two countries have spoken since 1979.
Related: Trump decries CIA report that Putin's Russia tried to help him win the election
China voiced its concerns after a weekend of diplomatic furor in the wake of a report from the CIA that Russia interfered with November's election and helped sweep Trump into power. Trump said on Sunday that he doesn't believe the "ridiculous" report. Meanwhile, Republican Senator John McCain said on Sunday that a wide-ranging investigation of alleged Russian hacking, which he called "another form of warfare," will begin soon and will likely include the Senate Armed Services Committee, the Senate Foreign Relations Committee and the Senate Intelligence Committee.
Speaking at a press conference on Monday, Senate Majority Leader Mitch McConnell said that he has the "highest confidence in intelligence community, and especially the Central Intelligence Agency," and added that "the Russians are not our friends." While the Republican didn't comment specifically on reports that Exxon-Mobil Chairman and CEO Rex Tillerson (who once received an "Order of Friendship" award from Russian President Vladimir Putin) is Trump's pick for secretary of state, McConnell said he supports a bipartisan investigation into the alleged Russian hacking.
Asked about McConnell's statement, Jason Miller, communications director for the Trump transition team, said the "overall narrative that is in the news right now...is an attempt to delegitimize President-elect Trump's win."
"That really seems to be what's going on here," Miller said. "First after the election it was the recount nonsense, then it was the discussion of a popular vote, now it's anonymous, off-the-record sources with conflicting information trying to raise other issues."
The transition team said the secretary of state announcement would be made "in the coming days."
In response to the report on Friday, Trump in a statement referred to the U.S. intelligence community as "the same people that said Saddam Hussein had weapons of mass destruction."
On Sunday night, Trump took to Twitter, naturally, first blasting NBC's Nightly News program and its "biased, inaccurate and bad" reporting. "Just can't get much worse, although CNN is right up there!" Trump added. He then tweeted about the CIA's Russia report, concluding that if the Democrats had won the election and Republicans claimed Russian interference, "it would be called a conspiracy theory."
Cabinet nominee tally: 14
Attorney General: Jeff Sessions
CIA Director: Mike Pompeo
U.N. Ambassador: Nikki Haley
Education Secretary: Betsy DeVos
Secretary of the Department of Health and Human Services: Tom Price
Transportation Secretary: Elaine Chao
Treasury Secretary: Steve Mnuchin
Commerce Secretary: Wilbur Ross
Defense Secretary: Retired General James Mattis
Secretary of the Department of Housing and Urban Development: Ben Carson
Homeland Security Secretary: General John Kelly
Head of the Environment Protection Agency: Scott Pruitt
Head of the Small Business Administration: Linda McMahon
Labor Secretary: Andrew Puzder
White House staff tally: 5
Chief of Staff: Reince Priebus
National Security Advisor: Lt. General Michael Flynn
Deputy National Security Advisor: Kathleen Troia "KT" McFarland
Senior Counselor: Stephen Bannon
Assistant to the President and White House Counsel: Donald F. McGahn
According to an official with the Trump transition team, the president-elect on Monday will meet with Carly Fiorina, a possible pick for director of national intelligence. Fiorina, who ran against Trump for the Republican presidential nomination, clashed with the president-elect on the campaign trail; "Look at that face!" Trump said of Fiorina during an interview with Rolling Stone magazine. Former Texas Governor Rick Perry, reportedly among the president-elect's possible picks for energy secretary, also met with Trump on Monday. No word on whether Perry remembered the name of the Department of Energy this time.
Trump is also meeting with West Virginia Senator Joe Manchin; Idaho Representative Raúl Labrador; Washington Representative Cathy McMorris Rodgers, who is reportedly being considered for the interior secretary position; and Representative Ryan Zinke of Montana.
This article has been updated to include additional information on tranistion efforts.
Read more on Newsweek.com
-China "seriously concerned" by Donald Trump's Taiwan comments
-Will Donald Trump tap Rick Perry for secretary of energy?
-Rex Tillerson's tied to Putin worry Trump's critics