Trump in Transition: Giuliani, Christie Top Day of Meetings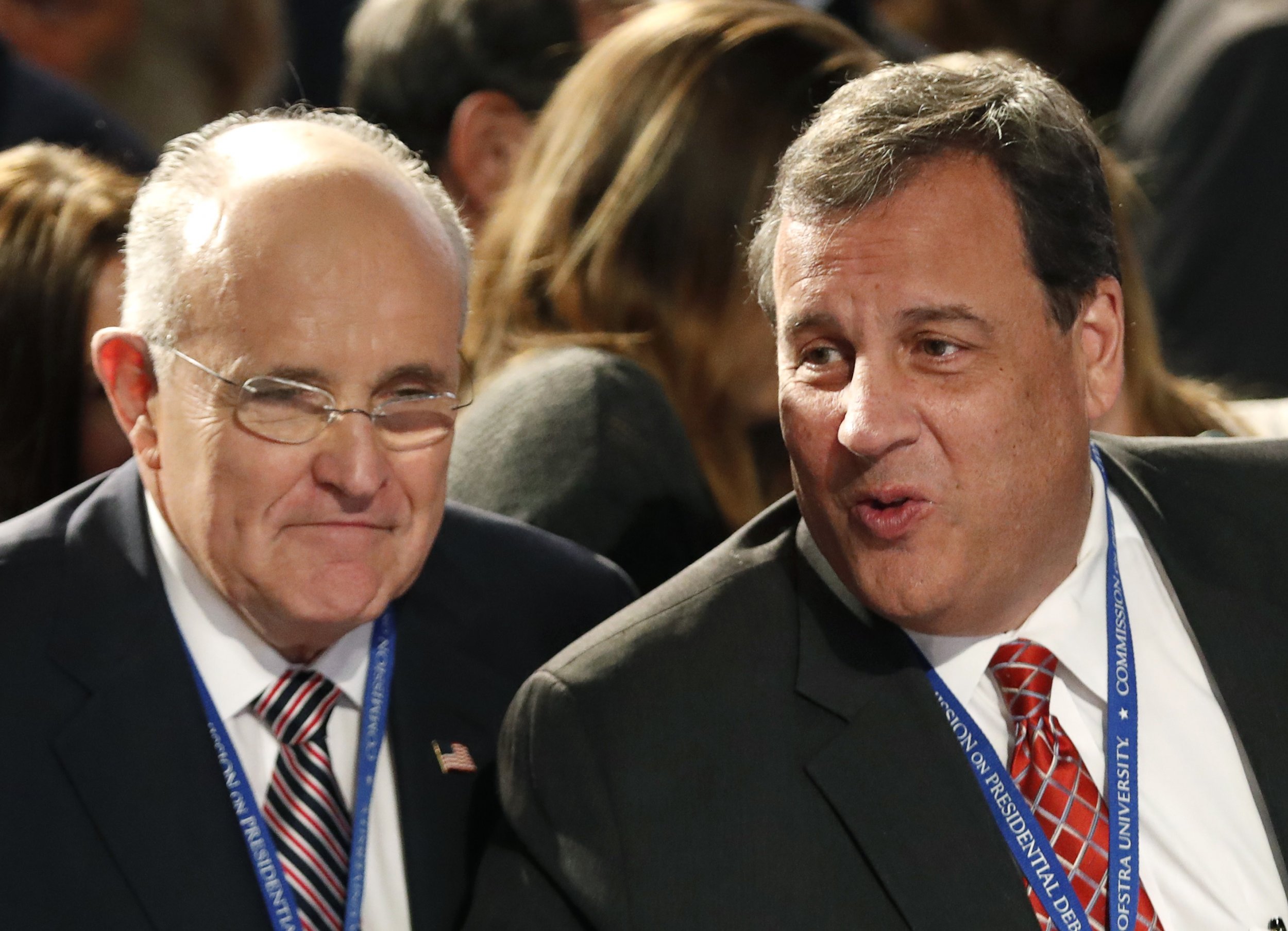 Welcome to Newsweek's daily rundown of President-elect Donald Trump's transition process. There are about 4,000 positions to fill, and we'll be keeping track of appointees through the January 20 inauguration.
Cabinet nominee tally: 2
Attorney General: Jeff Sessions
CIA Director: Representative Mike Pompeo
White House staff tally: 3
Chief of Staff: Reince Preibus
National Security Advisor: Army Lt. General Michael Flynn
Senior Counselor: Stephen Bannon
New Jersey Governor Chris Christie and former New York Mayor Rudy Giuliani are among those meeting with President-elect Donald Trump and Vice President-elect Mike Pence on Sunday, with the "possibility of additional appointments today and into tomorrow," according to Trump spokesmen.
Trump and Pence are on their second day of meetings at Trump National Golf Club in Bedminster, N.J., as the incoming administration vets candidates for various White House and Cabinet positions. Trump spokespersons had said Saturday that an announcement of an additional appointment was possible, but there have been no decisions made public since the Friday announcement of Jeff Sessions as attorney general.
Trump will start the day of meetings at noon with Ari Emanuel, the co-CEO of William Morris Endeavor and the reported inspiration for the brash Ari Gold character on HBO's "Entourage." The schedule continues as follows:
Peter Kirsanow, a member of the U.S. Commission on Civil Rights;
Jonathan Gray, the global head of real estate at Blackstone Group;
Kris Kobach, Kansas secretary of state;
Wilbur Ross, a billionaire investor;
Christie;
Giuliani;
Robert Johnson, BET founder;
David McCormick, an investor with Bridgewater Investments;
T.W. Shannon, former Oklahoma House speaker;
Representative Cathy McMorris Rodgers, R-Washington;
Retired Marine Corps General John Kelly.
Several of the people meeting with Trump have been rumored as possible administration hires, with Giuliani and Christie being the most high profile. The former NYC mayor has served as an informal adviser to Trump and is reportedly being considered as either secretary of state or homeland security secretary. Christie, who was among the first mainstream Republicans to embrace Trump, appears to have fallen out of favor in the wake of the guilty verdicts for two former aides in the New Jersey "Bridgegate" trial. The former U.S. attorney was recently replaced as the head of the Trump transition team by Pence.
Saturday's slate of meetings also included several possible candidates for administration appointments. Trump spokesmen talked up retired Marine Corps General James Mattis in a call with the press Sunday, and the president-elect himself tweeted, "General James 'Mad Dog' Mattis, who is being considered for Secretary of Defense, was very impressive yesterday. A true General's General!" Trump also had a "very positive and productive conversation" with former presidential candidate Mitt Romney, who spent the primary season railing against Trump's candidacy but is reportedly being considered as secretary of state.
The charter school movement could see a champion in the White House, if Saturday's conversations are any indication. Trump met with Michelle Rhee, former chancellor of the Washington, D.C. school system, and Betsy DeVos, a political activist from Michigan. Jason Miller, communications director for Trump's transition team, said Sunday that Trump and Rhee talked about charters and "the future of public education" while DeVos spoke to Trump about the Common Core educational standards and "promoting growth and school choice."
Rumor of the Day: Trump's spokesmen declined to confirm or deny a New York Post report that claims Melania Trump and young Barron Trump will not move to Washington D.C. after the inauguration and will instead stay in their midtown Manhattan Trump Tower penthouse. However, spokesman Sean Spicer did say there is "obviously a sensitivity to pulling their 10-year-old out of school in the middle of the school year."