Trump Transition: General James "Mad Dog" Mattis Picked for Pentagon as Hillary Clinton's Popular Votes Rises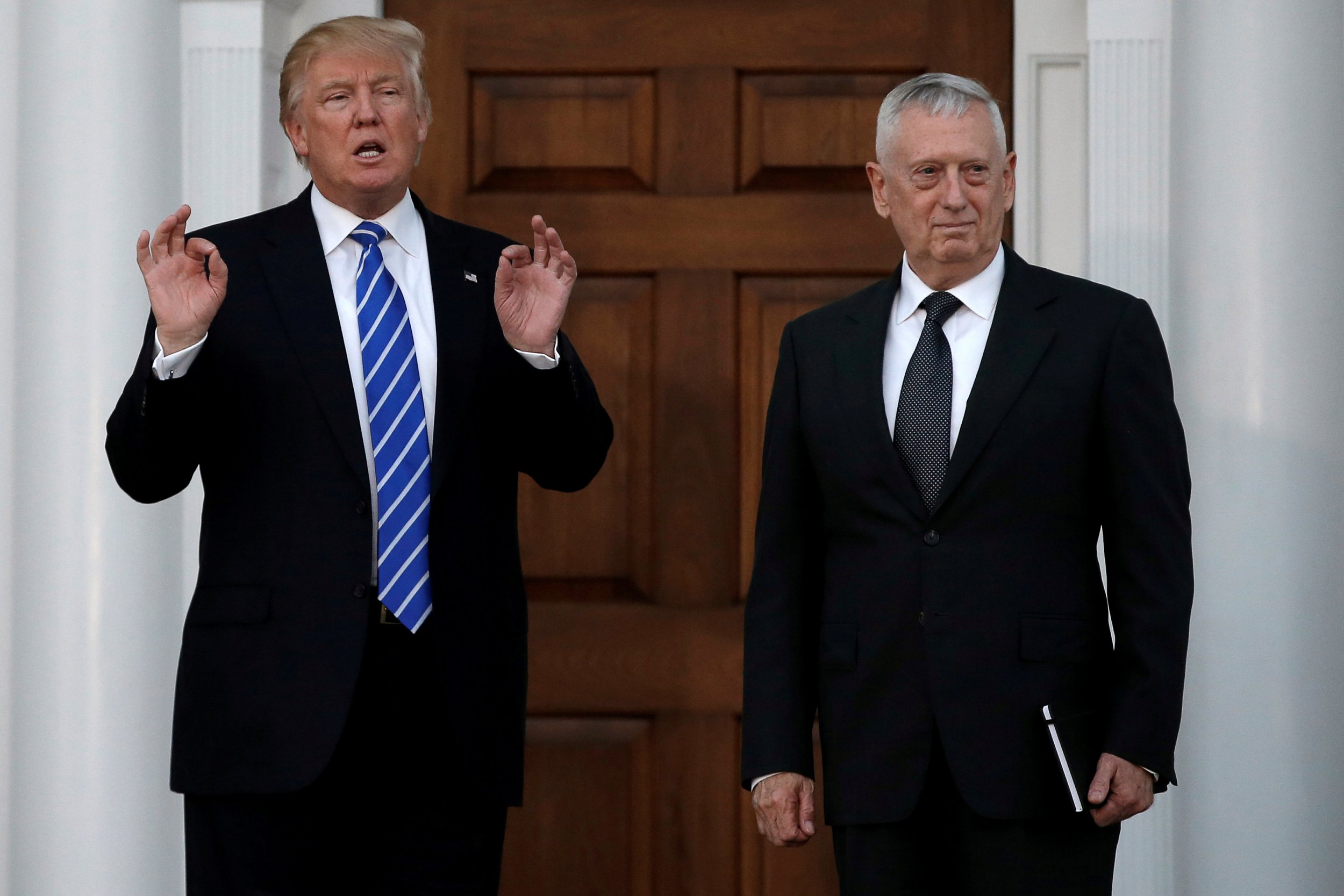 Welcome to Newsweek's daily rundown of President-elect Donald Trump's transition process. There are about 4,000 positions to fill, and we'll be keeping track of appointees through the January 20 inauguration.
Updated | Hillary Clinton's share of the popular vote continues to grow, nearly one month after the U.S. presidential election. On Friday, an independent analysis by Cook Political Report found that Clinton has 65,250,267 votes, compared to 62,686,000 for Trump, a lead of more than 2.5 million votes. This is the fifth time in U.S. electoral history a candidate has lost the presidency despite winning the popular vote, and it has raised questions regarding using the Electoral College as the method of deciding the presidency.
Trump has defended the Electoral College and made unsubstantiated claims this week that he would have won the popular vote were it not for "millions" of undocumented immigrants who voted illegally.
Speaking on ABC's Good Morning America on Friday, Kellyanne Conway, Trump's spokesperson and former campaign manager, said the president-elect has "been receiving information about the irregularities and about the illegal votes, particularly from sources, officials, like Kris Kobach." The Kansas secretary of state, Kobach is a candidate for homeland security secretary in Trump's cabinet and a supporter of a federal Muslim registry, which would create a database of Muslim visitors and immigrants from countries known to have problems with extremist groups. Kobach also told Reuters last month that Trump's administration could build a border wall between the U.S. and Mexico without congressional approval.
Related: Who will be in Donald Trump's cabinet? Here's a list of possibilities
On Friday, Trump will meet with Georgia Senator David Perdue, former U.N. Ambassador John Bolton, retired Navy Admiral Jay Cohen; former Defense Secretary Robert Gates; Florida Attorney General Pam Bondi; and North Dakota Senator Heidi Heitkamp, a Democrat, in New York City. Bolton is rumored to be one of Trump's picks for Secretary of State.
Meanwhile, vote recount efforts chug along in Michigan, Wisconsin and Pennsylvania. Michigan Attorney General Bill Schuette tweeted on Friday that he's filing suit to stop Green Party leader Jill Stein's "frivolous, expensive recount request." Stein is seeking a recount after some reports suggested voting discrepancies between areas that used paper ballots and those that used electronic voting.
"This lawsuit is a brazen attempt to stop the process of verifying the vote in the 2016 presidential election in Michigan," John Bonifaz, a voting rights attorney, tells Newsweek. "The voters of Michigan have the constitutional right to have their votes accurately counted and presidential candidate Jill Stein has satisfied all of the requirements under state law to initiate this recount."
Another recount is going on in Wisconsin, and Trump supporters, including the Great America PAC and the Stop Hillary PAC, have filed their own federal lawsuit in an attempt to halt it. The Wisconsin recount must be completed by December 13.
In a surprise move, meanwhile, Trump announced on Thursday afternoon that retired Marine Corps General James "Mad Dog" Mattis is his pick for defense secretary. He did so despite his transition team earlier saying that no additional cabinet member announcements would be made this week. Trump informed the crowd about Mattis during a rally at the U.S. Bank Arena in Cincinnati, Ohio during his "thank you tour."
"We are going to appoint Mad Dog Mattis as our Secretary of Defense," Trump said on Thursday. "But we're not announcing it until Monday, so don't tell anybody." Of course, Trump can only nominate—not appoint—people to cabinet positions, as they must be confirmed by the Senate. Jason Miller, communications director for Trump's transition team, tweeted on Thursday that "no decision has been made yet with regard to Secretary of Defense." Alright, then.
Cabinet nominee tally: 9
Attorney General: Jeff Sessions
CIA Director: Mike Pompeo
U.N. Ambassador: Nikki Haley
Education Secretary: Betsy DeVos
Secretary of the Department of Health and Human Services: Tom Price
Transportation Secretary: Elaine Chao
Treasury Secretary: Steve Mnuchin
Commerce Secretary: Wilbur Ross
Defense Secretary: Retired General James Mattis
White House staff tally: 5
Chief of Staff: Reince Priebus
National Security Advisor: Lt. General Michael Flynn
Deputy National Security Advisor: Kathleen Troia "KT" McFarland
Senior Counselor: Stephen Bannon
Assistant to the President and White House Counsel: Donald F. McGahn
Mattis, long considered a favorite for the position, is known for his strong personality and anti-Iran stance. Memorable Mattis quotes include some advice, "Be polite, be professional, but have a plan to kill everybody you meet," and his assertion, "Actually it's quite fun to fight them, you know. It's a hell of a hoot. It's fun to shoot some people." Trump has previously called him "the closest thing we have to General George Patton."
Speaker of the House Paul Ryan supports Trump's pick, calling Mattis "exactly the right choice" to lead the Pentagon. In a statement released on Friday, Ryan said: "With this selection, it's clear President-elect Trump is serious about rebuilding our military, defeating ISIS, and keeping America safe."
Mattis retired in 2013, and thus Congress will have to grant an exception to a federal law that dictates defense secretaries can't have been on active duty within the past seven years. General George Marshall was the last to be granted the exemption, in 1950.
Mattis is perhaps the least controversial of Trump's cabinet picks so far. The attorney general nominee, Senator Jeff Sessions, for example, is under scrutiny for his record on issues such as race and LGBT people. In 1986, Sessions was failed in his bid to become a federal judge after it was disclosed he claimed the NAACP was "un-American" and taught "anti-American values," and said he supported the Ku Klux Klan "until I learned they smoked pot." In 1996, while serving as Alabama's attorney general, Sessions attempted to stop an LGBT conference from taking place on the public campus of the University of Alabama.
Also on Thursday, a shouting match broke out between Clinton and Trump aides at a post-election event at Harvard University's Kennedy School of Government. Jennifer Palmieri, Clinton's communications director, criticized Trump's hiring of Steve Bannon, former CEO of Breitbart, and the "platform [the Trump campaign] gave to white supremacists and white nationalists."
Kellyanne Conway, Trump's spokesperson and campaign manager, asked Palmieri: "Do you think I ran a campaign where white supremacists had a platform?"
"You did, Kellyanne. You did," Palmieri replied.
This article has been updated to include additional information on the transition process and recount efforts in Michigan and Wisconsin.
Read more on Newsweek.com:
-Trump transition: President-elect celebrates Carrier job-saving deal
-Mo Farah: Donald Trump could force me back to Britain
-Why Trump's flag-burning tweet is disturbing