'We Are Not Welcome Here': Arab-Americans React to Trump Travel Ban Ruling That Leaves Families Separated
In a small corner office in the Bay Ridge neighborhood of Brooklyn, New York, Mugeeb Alrubyee is still angry and surprised by Tuesday's Supreme Court ruling that upheld President Donald Trump's travel ban. The ban, which originally focused exclusively on Muslim-majority countries, is still derided as a "Muslim ban" by activists.
"We didn't expect that the Supreme Court would uphold such a racist ban," he told Newsweek. "For me, I feel like our families are not welcome, which means we are not welcome."
Yet the Court's 5-4 decision Tuesday held that Trump's travel ban was "squarely within the scope of presidential authority." Trump has said the policy is not a Muslim ban but a necessary precaution to be used against countries that don't comply with U.S. vetting standards. But his earlier statements focused on Islam. "Without looking at the various polling data, it is obvious to anybody the hatred is beyond comprehension," Trump said when he first introduced the idea as a candidate in 2015.
North Korea and Venezuela are the only two countries on the list that are not majority-Muslim after Chad was removed for complying with vetting standards. The restrictions on Venezuela apply only to a small categorary of government officials.
For Alrubyee, the ban is personal. His cousin lives in Yemen, one of the countries affected by the ban. His cousin is not a U.S. citizen but was applying for a visa to join his family, Alrubyee said. "He sold his taxi back home," Alrubyee said of his cousin's preparations. "He was like, 'After I sold all my property...and now I cannot make it.'"
While Trump celebrated the decision as "a tremendous victory for the American people and the constitution," for some it felt more like a personal attack. "They cannot come to the United States because of an unjust and unconstitutional travel ban," Alrubyee said. "Racist. Pure racist."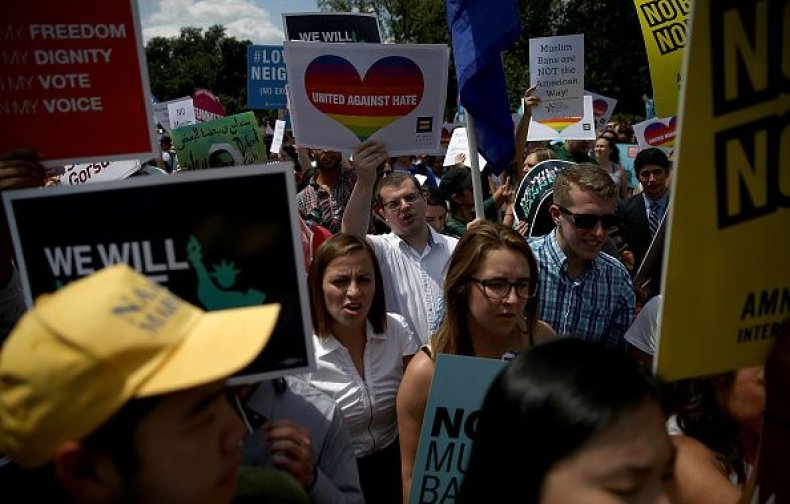 Mohamed Mahmoud works across the street from Alrubyee in a printing shop. He was born in Egypt, a country that's not on the list, but he still worries about the message the Supreme Court ruling sends. "This ban is not America," he said. "Trump, when he came he said he was going to control the borders. I agree with him 100 percent, but you have to do it in the right way."
Mahmoud also said he had tried to support public officials whom he believed would defend Muslim Americans in the future. "We try to use our rights to make ourselves safe," he said. "I'm an American."
Najib Mubarez, who works at Mubarez Travel, a small travel agency in Queens, is optimistic that the ban will not hold. "It's not going to be for long," he said. To Mubarez, the ban is a reflection of Trump more than it is of America, and the future of the policy will depend on if the president can win re-election.
"Hopefully, he will not," said Mubarez.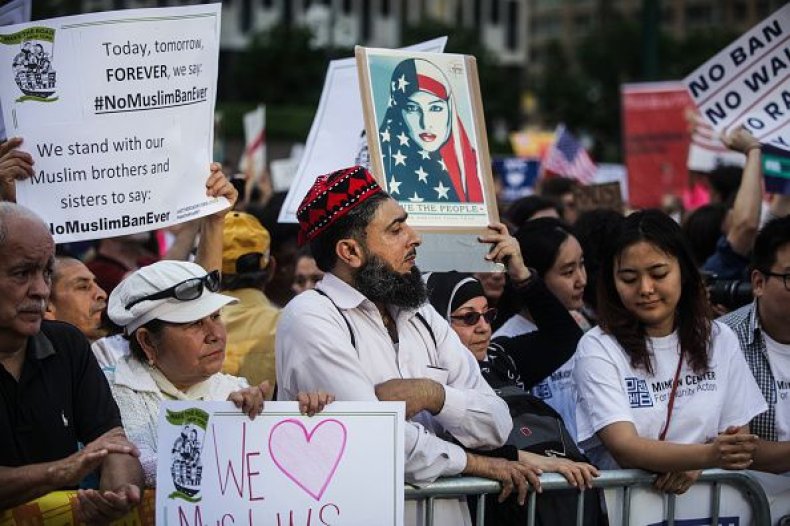 Yemen is one of the countries Mubarez Travel coordinates travel arrangements for, but Mubarez said he's hopeful the ban will not slow down his business. "People are still traveling in different ways," he said.
While Trump insisted the Supreme Court ruling was "vindication," Alrubyee labeled the policy something else altogether.
"You guys are talking about liberty and the land of the free and you're talking about freedom," he said. "It's all bullshit."